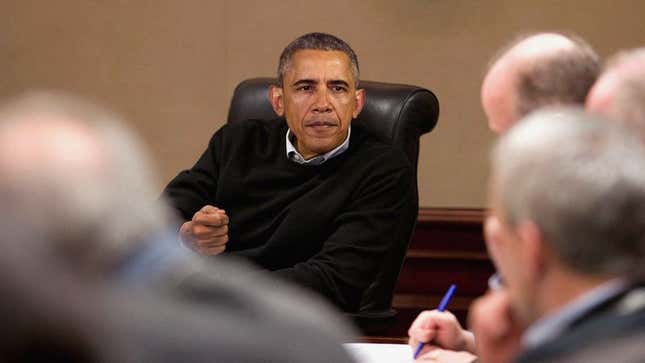 WASHINGTON—Shortly after arriving in the Oval Office early Thursday morning, President Obama reportedly met with key advisors to receive his daily classified briefing on the likelihood of a reboot of the 1983 science-fiction film Krull.
This Week's Most Viral News: September 29, 2023
The private meetings, which have been held at the start of each day since Obama assumed office in 2009, are said to bring together top intelligence officials to address the latest evidence for a forthcoming remake of the sword-and-sorcery cult classic and evaluate the possibility of a wide-scale theatrical release. According to reports, Thursday's meeting focused primarily on recent intel regarding likely funding sources for a hypothetical reboot, plausible casting scenarios, and rumors of an updated screenplay obtained from online sci-fi message boards.
"As soon as I finish my morning security meeting with the director of national intelligence, I consult with my Krull advisory team to get a better sense of where we stand on a potential remake," said Obama, who was reportedly briefed today on unverified claims of a major release date timed for the 2019 holiday season. "I believe we need to be prepared for any possible outcome, including everything from a shot-for-shot remake of the original story of a hero defending his planet from a humanoid invader known as the Beast, to the far more drastic possibility of a full-on reimagining of the Krull cinematic universe."
"We've also assembled a detailed list of who might emerge to helm a possible remake in the wake of the death of the film's director, Peter Yates," Obama continued. "And we continue to monitor those individuals with utmost vigilance."
Obama, who first saw Krull in theaters in the summer of 1983, is said to spend as many as two hours each day poring over possible plans for cameos, reviewing classified satellite imagery of potential filming locations for the Iron Desert battle sequence, and considering the latest intelligence assessments of whether traditional effects or CGI would be employed to recreate the original's Crystal Spider character.
The president has also instructed staff to interrupt him at any time, day or night, with high-priority Krull developments, according to White House sources. As recently as last week, Obama was reportedly roused at 2 a.m. to survey what was believed to be an intercepted concept rendering of the Glaive—an iconic five-pointed throwing blade telepathically controlled by protagonist Prince Colwyn—until forensic analysis revealed it to be merely a piece of fan art unassociated with a new production.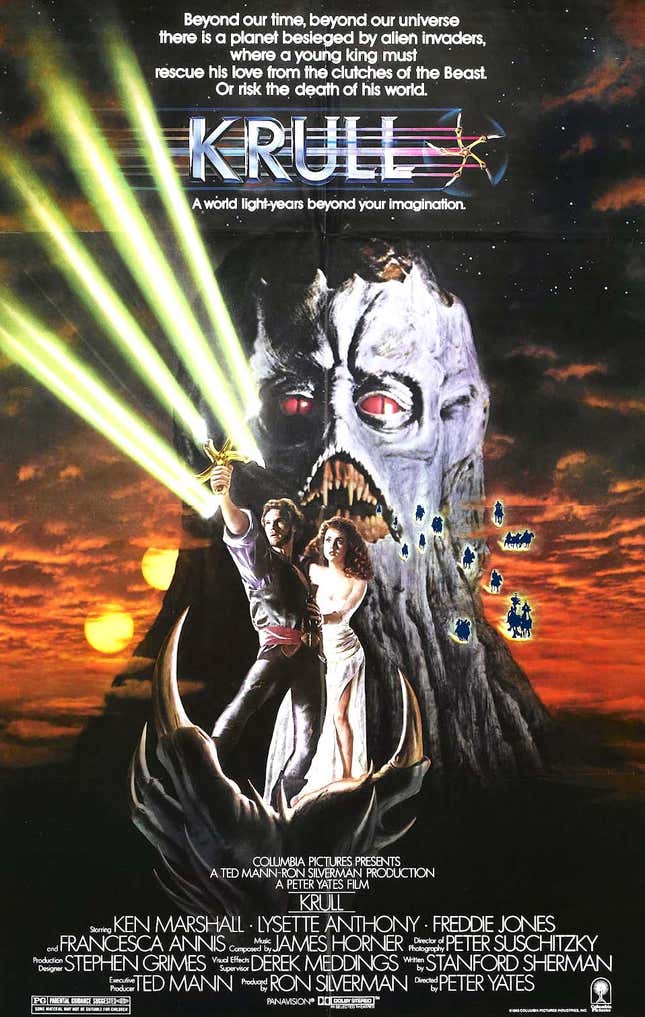 "When we first picked up online chatter in February that Freddie Jones may have been approached by a casting director to reprise his role as Ynyr, the Old One, I went immediately to pull the president from his meeting with Angela Merkel," said David McKinley, one of several top-level analysts handpicked by Obama from the Central Intelligence Agency. "We later determined it to be a false lead, but not before the president had us all convene in the Roosevelt Room for an emergency meeting to ascertain the last known whereabouts of every cast member still alive."
"After an hour or so of heated discussion, I remember the president became deadly sober and went around the room one by one asking each of us our best-guess percentage on the prospect of Liam Neeson coming back as Kegan," he added. "That's as focused and intense as I've ever seen him."
Several West Wing sources confirmed that the commander-in-chief has, at times, acted on credible information related to the film. In 2012, Obama is said to have signed a top-secret executive order to extend the visa of Lysette Anthony, the British actress who played Princess Lyssa, on the off-chance a trip to the U.S. might include meetings with Krull screenwriter Stanford Sherman.
Reports also suggest that the possibility of a reboot weighed heavily on Obama's mind while he brokered last year's Trans-Pacific Partnership, with the president repeatedly suggesting to aides that Asia could be an extremely receptive market for Krull's unique, genre-defying blend of science fiction and high fantasy.
"What you have to understand is that the president believes the Krull world has franchise potential that could conceivably stretch on for years if handled correctly," said White House aide Alison Furman. "I think he sees ensuring that the next generation of moviegoers gets to watch Ergo the Magnificent and his band of thieves triumphantly ride their Fire Mares into battle against the Slayers as potentially the defining accomplishment of his presidency."