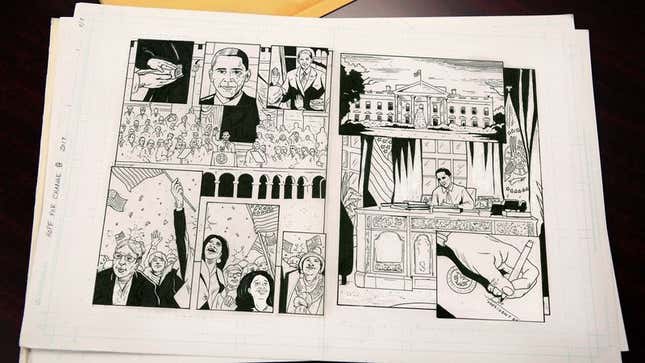 WASHINGTON—Saying the finished work would become the "definitive take" on his time in the White House, Barack Obama reportedly submitted a collection of pages from his presidential graphic novel, Barack Obama: Renegade, to publisher Image Comics on Thursday.
This Week's Most Viral News: September 29, 2023
The 16-page packet of artwork and sample issues, which Obama confirmed he has also mailed to Fantagraphics Books, Dark Horse Comics, and DC's Vertigo imprint, is said to serve as a proof of concept for what he envisions as a sprawling eight-volume memoir of his presidency. According to Obama, creating an authentic representation of his two terms in office has required him to use every tool of the comics medium, from dramatic splash pages in which he appears silhouetted behind the Resolute desk, to an extended dream sequence set on the eve of his 2012 reelection, which he said takes "definite cues" from the casual surrealism of graphic novelist Chris Ware in order to fully realize the emotional truth of the moment.
"I've poured everything into Renegade's panels, and when it's complete, it will depict these eight years of my life precisely as I experienced them," said the 44th president of the United States, who told reporters that he planned to pencil, ink, and hand-letter each page of the series himself. "Readers will get a true sense of my time as president right from the opening of Volume #1: Preambles & Promises, where I cut between full-color panels of my first inaugural address and stark black-and-white illustrations of ordinary Americans disillusioned by the Great Recession, two protracted wars overseas, and a lack of access to healthcare."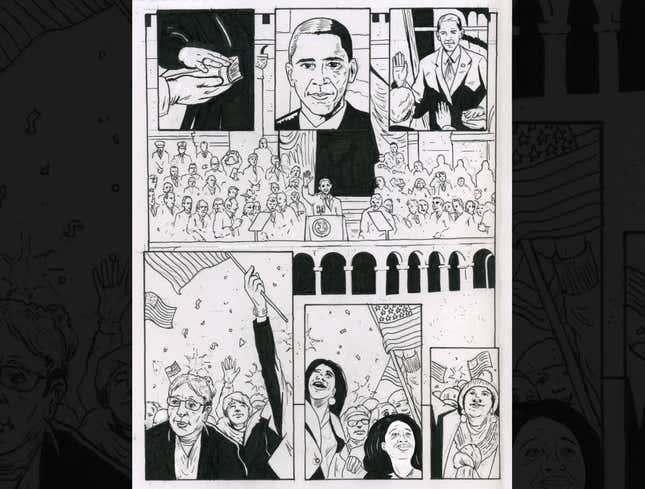 Added Obama, "By the time the editors over at Vertigo read the sequence where I'm climbing the steps of the North Portico, and we suddenly flash back to a parallel scene of my origin story in Honolulu, climbing up a volcanic rock in the exact same pose, I'm pretty sure they'll be hooked."

The idea for Renegade, which is expected to span more than 1,200 pages when completed, reportedly emerged in the aftermath of the disastrous 2010 midterm elections, when a brooding Obama would stay up late in the darkened Oval Office, drafting hundreds of variations on his concept art to "nail the look" of minor details such as the sunlit sheen on an MQ-1 Predator drone or the exact shade of primary antagonist John Boehner's blue eyes.
Discussing his efforts to capture events on the page just as they happened in real life, the former commander in chief admitted he owed much to Y: The Last Man co-creator Brian K. Vaughan, whose "masterful blend" of rapid-fire action and political intrigue influenced his own approach to the bin Laden raid, which will appear in Volume #4: Infiltration & Exfiltration. Obama said he created a kinetic sense of motion by extending SEAL Team Six's HK416 assault rifles into the page's bleed and lettering the onomatopoeic "chh-chh-chh" of the helicopters in such a way that the words wrap around their whirring blades.
"Back in 2013, when I was really torn about how to respond to Bashar al-Assad's use of chemical weapons, I started imagining myself as two different presidents simultaneously enacting two different policies—and suddenly I knew that was exactly how I had to illustrate this moment of my presidency," said Obama, whose graphic novel also features dual versions of himself that voice opposing sides of tense debates that play out within his mind. "I started sketching right then and there­: one set of panels in which I launch military strikes, and one in which I don't. Both end in disaster, showing that, in the end, no good choices were available."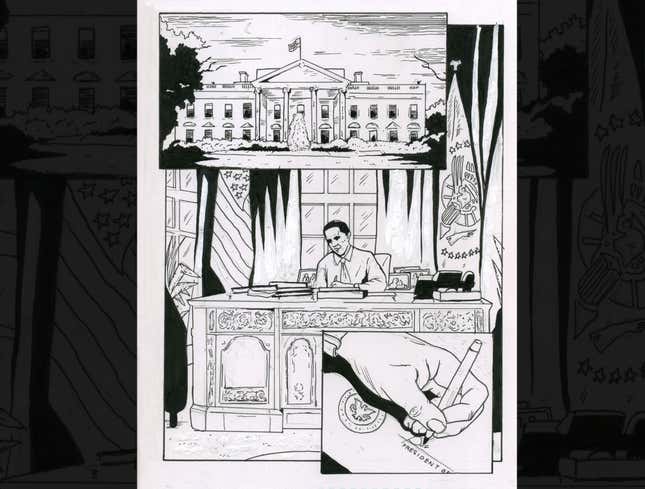 "I bet Batman: Year One illustrator [David] Mazzucchelli would be perfect for capturing the mood of a war-weary nation in those scenes," Obama continued, saying he would be open to collaboration with outside colorists. "God, that would look so freaking cool."

Despite Renegade's dense political narrative, the former president was quick to note it would also include moments of humor and even tenderness, such as episodes imagined from the perspective of first dogs Bo and Sunny Obama, and recurring romantic vignettes about first lady Michelle Obama, which will be painted in watercolors to provide a stark break from the more rigid inking used to portray his actions as the nation's chief executive.
Obama stressed that, overall, his series would be "gritty, heady stuff," and more akin to a novel than traditional superhero fare.
"Generations from now, I want Americans to be able to read these pages and be confident they're getting an unalloyed picture of my presidency," he said. "Renegade will cover mature, difficult subjects, and some of it may require multiple readings to understand, but this graphic novel is the only way to accurately convey my experiences. I realize, of course, it may be a bit too much for more sensitive readers to handle."
"Especially once you get into Volume #8," Obama added. "Right at the beginning, Justice Scalia is killed off, and after that things start to turn dark pretty fast."