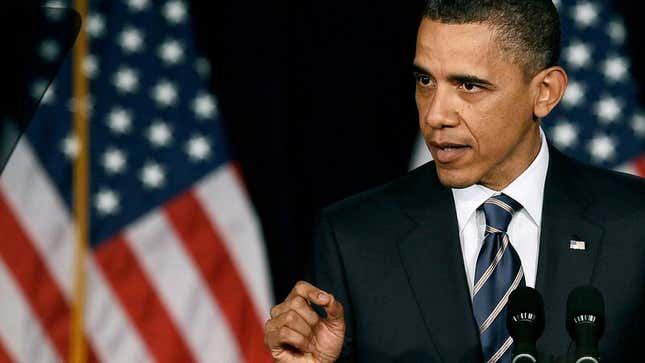 WASHINGTON—Saying the nation must face the "grave realities" of its mounting debt, President Barack Obama unveiled a deficit-reduction plan Wednesday that included far-reaching spending cuts, pulling off a daring robbery of the heavily fortified Fort Knox bullion deposi-tory, and repealing Bush-era tax cuts for the wealthy.
Edgelords Explain Why They Love Elon Musk
In a televised address, Obama outlined his proposal to eliminate $4 trillion from the federal deficit over the next 12 years, and expressed his vision for a future in which the government was leaner, more efficient, and had billions and billions of dollars worth of stolen gold stashed in D.C.-area safe-deposit boxes.
"We cannot continue to live beyond our means," the president said. "Unless we want to cripple our grandchildren with this debt burden, we must act now by eliminating tax loopholes and pulling off what all Americans—Republicans and Democrats alike—can agree is the greatest heist of all time."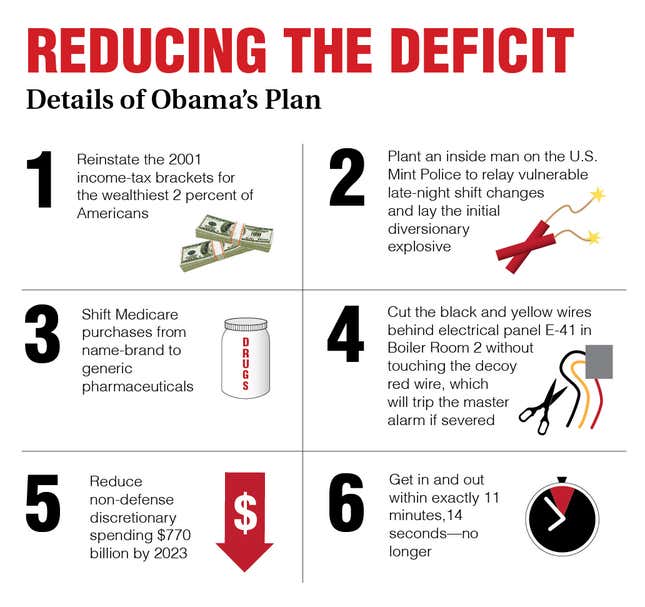 "It's time to stop kicking the can down the road to future generations," Obama added. "We must empty that vault and ensure our country's full economic recovery."
According to a fact sheet issued by the White House, the proposed measures include slashing farm subsidies, cutting federal pension insurance, tricking Fort Knox security personnel into thinking that the president and five others are ordinary elevator repairmen, capping Medicaid's outlays on equipment, shaping C4 charges to blast 21-inch-thick vault doors off their hinges, and curbing discretionary spending.
In spite of the admittedly "formidable" challenges that his plan faced, Obama insisted that "the time for action is now," noting that last week the price of gold rose above $1,500 an ounce for the first time ever.
"Reining in the runaway growth of entitlement programs and the defense budget will not be easy," Obama said. "And neither will silently ferrying 5,000 tons of bullion through a network of ventilation ducts. But just trust me on this; I've got the blueprints and I think I found a way out through a drainage pipe."
According to Obama's senior adviser David Plouffe, the president's plan will assure the nation's long-term solvency while also producing immediate tangible benefits, including, but not limited to, a gigantic pile of gold.
"The president looked at every conceivable option," said Plouffe, who is expected to externally coordinate the six-man Fort Knox team from a van outfitted with multiple video screens. "He considered trimming the federal workforce, scaling back welfare payments, taking out a $4 trillion fire insurance policy on the Pentagon and burning it to the ground, even raising the retirement age—everything was on the table."
"Ultimately, the president selected measures that will have a minimal impact on the middle class," Plouffe continued. "Indeed, his plan places an added burden only on those who either earn more than $250,000 annually or house 368,000 bars of pure gold. Most Americans won't be affected at all."
Republican leaders were quick to unleash a barrage of criticism, blasting the administration's proposal for its "unacceptable" reliance on tax increases and grand larceny, and accusing Obama of offering few concrete details in his speech.
"The president conveniently avoided any specifics on his Medicare Independent Payment Advisory Board and his getaway plan," House Budget Committee Chairman Paul Ryan (R-WI) said. "And his speech contained not one mention of those laser-beam motion detectors that you can't even see unless you have an aerosol spray that makes them visible. What about those, Mr. President?"
In a party-line vote earlier this month, the House of Representatives passed Rep. Ryan's rival plan, which includes across-the-board tax cuts, tunneling under the Bureau of Printing and Engraving, sending an electrical surge through its security system, and stealing the engraving plates so that "we can print off as much money as we want."