30-Year-Old Married, Pregnant Law School Grad Needs To Slow It Down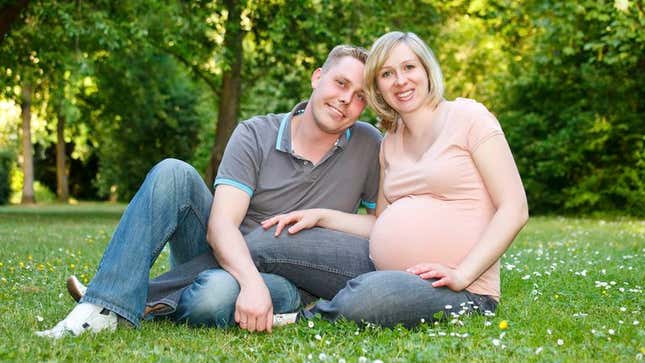 ALEXANDRIA, VA—Annoyed sources confirmed this week that married and pregnant local woman Ashley Canfield will not stop achieving significant life milestones, unanimously agreeing that the 30-year-old law school graduate seriously needs to just cool it with the achievements.
Saying they were tired of hearing about her steadily progressing life via occasional e-mail, telephone, or face-to-face interactions, Canfield's peers told reporters that the woman should just do everyone a huge favor and dial back her professional, social, educational, and familial accomplishments for the indefinite future.
"I must have seen 50 or 60 pictures of Ashley's wedding on Facebook last year, and then just a few weeks ago she posted an ultrasound image of the baby she's having—she just won't stop," said former college classmate Gabby Acosta, who expressed aggravation at the four-year progression of Canfield's relationship status from "single" to "in a relationship" to "engaged" to "married." "I really don't think I can take hearing any more about grad school, her honeymoon to Hawaii, or her new job title."
"I can't even remember the last time I hit a major milestone in my life, and Ashley's having, like, one every nine or 10 months or so," Acosta added. "She needs to just tone it down."
According to friends and acquaintances, Canfield's frustrating succession of landmark life events began immediately after college, when she was able to land a solid entry-level position within just weeks of graduation. At the age of 26, Canfield moved out of the apartment she shared with roommates and into a one-bedroom of her own, prompting many to question whether Canfield's nonstop milestones were becoming a bit too much.
Others, however, identified Canfield's purchase of a brand-new Honda Civic in 2009 as the moment they first realized she needed to knock it off.
"I usually see Ashley around the holidays, and I swear she gets another promotion at work nearly every year and a half. I mean, come on already," said Canfield's cousin Sean Wilkins, 31. "And then I heard last summer that she got her J.D. That means she got into law school, which means she did pretty good on her LSAT, which means she got her shit together enough to decide to go to law school. That's three more milestones right there."
"Hey, Ashley," Wilkins continued, "do me a favor and give it a goddamn rest."
Claiming that the milestones "just won't fucking end," several of the woman's acquaintances noted that Canfield now has several employees working below her, while others expressed irritation over reports that Canfield and her husband had recently purchased a house—a "real, honest-to-God house with a stupid little yard and everything."
In spite of Canfield's continuous achievements, many of those close to the woman acknowledged that they still hold out hope that she will encounter a fallow period in which she ceases reaching momentous life goals.
"Sometimes I won't hear anything about Ashley for a few months, and I'll think that's the end of it," 29-year-old friend Ellen Maurer said. "But then she'll e-mail a picture of her new puppy or mention that she just attended the baptism of some godchild of hers. It's unbelievable."
"And now I hear she's an aunt, too," Maurer added. "I mean, come the fuck on."
Several of Canfield's closer friends acknowledged that, because of her steady attainment of noteworthy milestones, catching up with Canfield has become incredibly trying.
"Even when Ashley's father died last summer, it was really obnoxious," said longtime friend Deanna Light, who claimed that Canfield was at least five life-defining moments ahead of her. "I guess I can't blame her for being the first to lose a parent, but I'm beginning to wonder if she ever doesn't have some major life event happening, you know?"
"I'd just like to go a few months without being reminded about how much she has going on," continued Light. "But I guess that'll have to wait until after her baby shower this weekend."
At press time, sources simultaneously threw up their hands in exasperation upon learning that Canfield had slid into an acute depression as she entered the early throes of a midlife crisis.