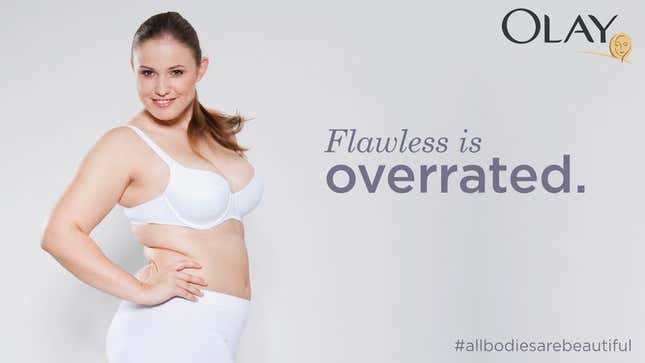 CINCINNATI—Laying out a new marketing strategy to reach customers and promote their brand, skin care giant Olay announced plans Thursday to run just enough nonjudgmental ads to get women to let their guard down before it absolutely nails them with body shame.
Worst Mistakes All Brides Make On Their Wedding Day
At a press conference, company executives rolled out a number of body-positive advertisements for Olay's age-defying anti-wrinkle day lotion, eye-awakening cream, micro-sculpting serum, and other products, saying they hoped to lure women in and then, right when they're least expecting it, bombard them with an all-out barrage of magazine spreads and primetime TV spots that promote shockingly unattainable standards of beauty.
"We'll lull them into a false sense of security by throwing an affirming message or two their way, starting with our new tagline: 'Embrace you,'" said Olay marketing director Devin Salazar, who told reporters the goal was to get as many women as possible to leave themselves wide open for what comes next. "And as soon as they start to feel comfortable in their own skin, we'll let loose a nonstop flood of ads featuring the photo-retouched faces of models so young they don't even need our products. Women won't even know what hit them."
"When an 18-year-old with a perfect complexion holds up a tube of our anti-aging eye roller on television and says, 'Are you ready for your close-up?' it's game over," he continued. "We've got them right where we want them."
According to company sources, Olay plans to "reel them in" first with a campaign of billboards, web videos, and banner ads that feature a curvy, average-looking woman dancing in her underwear along with positive slogans about loving yourself and accepting your body the way it is, which officials hope will convince women to temporarily buy into the message that one's physical appearance isn't what's important in life.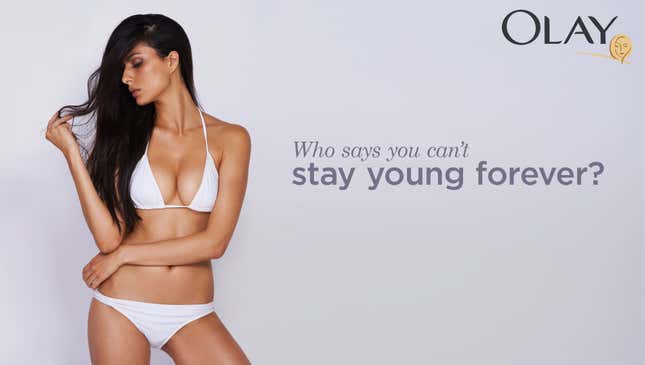 Approximately a month later, when marketing professionals believe the first wave of ads will have made enough women feel sufficiently vulnerable, a second wave will reportedly introduce a new tagline—"Who says you can't stay young forever?"—and deliver a hefty dose of shame about having crow's feet, laugh lines, or even one single visible pore anywhere on your face.
Sources confirmed Olay will also unleash a variety of dermatological terms on customers like "hyperpigmentation" in order to keep them apprised of cosmetic defects they didn't even know they had.
"The moment they begin to embrace their imperfections and finally see themselves as strong, beautiful human beings—that's when we'll line up the crosshairs," said Salazar, describing plans to deploy a series of supermodels to suggest to customers that they're somehow inadequate as women if they don't use various chemical exfoliants and detoxifying scrubs to fight the natural aging process every step of the way. "Then all of a sudden—bam!—we tell them they'll never be happy if their skin begins to sag or they have any blemish of any kind."
"We hit them real hard with that quick one-two and they'll definitely be extra critical the next time they look in the mirror," he added. "Then we just sit back and let women's negative images of their bodies take over. Easy as that."
Olay executives said they also plan to launch a social media campaign using the hashtag #allbodiesarebeautiful, which the company anticipates will raise women's self-esteem just enough so that it can "really knock them on their asses" with an ad in which women are warned that they are not fit to be seen in public wearing a swimsuit if they haven't been applying a firming body lotion.
"Sure, we could probably just slam them with the body shame immediately, but it's way more effective to do something that makes them feel good about themselves, earn their trust, and then really clobber them with the unrealistic expectations," Salazar said. "Once we get them to bully themselves, they're ours for the long haul. Plus, we can build them up and tear them down as often as we want. We could temporarily switch back to an empowering ad campaign just to soften them up again before we take another crack at them."
"And we can keep doing this over and over and over again," he continued. "Look, we're a $2 billion brand—who's going to stop us?"
Salazar assured reporters that both phases of the advertising strategy would be effective in getting women to spend more money on skin creams.