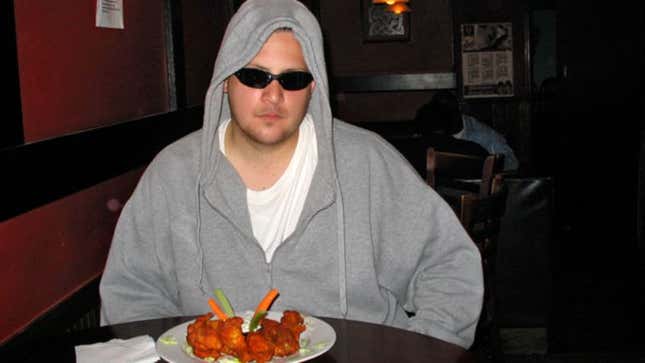 BUFFALO, NY—It's 1:30 a.m. Chris Rierden breathes a beleaguered sigh as he counts a large wad of singles next to the dumpsters behind a local Hooters. Though you wouldn't know it to look at the haggard, sauce-covered 32-year-old, Rierden—who currently ekes out a living hustling unsuspecting locals in impromptu low-stakes chicken-wing-eating contests—was at one time the most promising competitive eater on the professional circuit.
This Week's Most Viral News: September 22, 2023
But with one bad decision, that once-bright future went dark forever. Gone is the $85,000 home outside of Akron. Gone is the ESPN2 guest-commentator spot. Gone are the mid-range American cars, the weekend miniature-golf outings, and the decent-looking women.
Chris Rierden threw it all away.
"I never got a legitimate shot at [retired world champion Takeru] Kobayashi, but I know I could have taken him," Rierden says over two dozen hot dogs. "Anybody who's seen my old tapes would tell you that. I was good. Maybe I could've been the best. Of course, there's no use dwelling on it now."
How could such a talented gurgitator have fallen so far from the glory of rapidly forcing 13 pounds of calf brains down his throat on national television? As Rierden will candidly admit, the answer is an all-too-familiar story of hubris and greed.
"I took a dive, plain and simple," Rierden says. "A heavily invested party who shall remain nameless paid me $30,000 to throw up while eating a five-gallon tub of mayonnaise in a competition where I was the clear favorite. I had just come off a strong showing in matzo balls and I thought I was invincible. The [International] Federation [of Competitive Eating] caught wind of it, and I was banned for life."
"I betrayed the gift, and now I can't even look at 19 pounds of deep-fried asparagus without feeling sick," adds Rierden, staring vacantly into a bucket of french fries.
Rierden's circumstances steadily declined after his 2002 ejection from the world of competitive eating. After falling off his training program, the former 230-pound gastronomic athlete ballooned to a doughy 245. In September 2005, after losing his third job in a row and being served with an eviction notice, a destitute Rierden began entering illegal backroom eating contests.
"The money was good, but it was just too dangerous," Rierden says of the thriving black- market sport, where the average life span of unsanctioned eaters is three to five years. "You never know when someone with a lot riding on a match is going to spike a 10-gallon bowl of jambalaya with habaneros. I saw grown men forced to use the same rusty spoons over and over again without washing them. There are zero rules or regulations. Two guys just eat until someone's stomach explodes."
After nearly dying from ingesting 12 pounds of tainted cookie dough during an illegal competition, Rierden left the underground eating rings and started hustling amateurs full-time.
Rierden is the first to admit that the sports bars and other dives he can be found in most nights are a long way from the glitz and glamour of official events sponsored by the IFOCE. These days, a typical evening for the former champ consists of casing 10-cent wing promotions at local watering holes in search of drunken frat boys and other would-be challengers willing to lay down quick bets on eating contests.
"You get friendly with some cocky chump who thinks he can pack it away, and you ham it up," Rierden says. "You nibble at a few wings and say you had a big dinner, or complain about how spicy they are and maybe pop a few Tums for effect. After a couple of friendly challenges, you suggest making it interesting. Then you waste the dupe by pounding 40 or 50 wings in eight minutes and you're on your way to the next dump."
But even in this simple con, things don't always go so smoothly. Rierden now sports a full set of dentures after a gang of bikers he divested of $32 in an Albany honky-tonk dragged him into a back alley and pulled out all of his teeth with pliers.
"Good wings at that place, though," Rierden says.
Although Rierden has begun crawling his way up from rock bottom, those lucky enough to have seen him in action still consider his story one of the greatest tragedies in the sport. Friends who are still involved in competitive eating and stay in contact with him often lament his wasted talent and singular stomach capacity.
"He's still more than good enough to compete, but with this lifetime ban, there's really nowhere for him to go," says Rierden's former trainer and IFOCE contender Rick "The Tummy" Mickelson. "Chris is like Icarus. He flew too close to the sun and then ate his own wings."