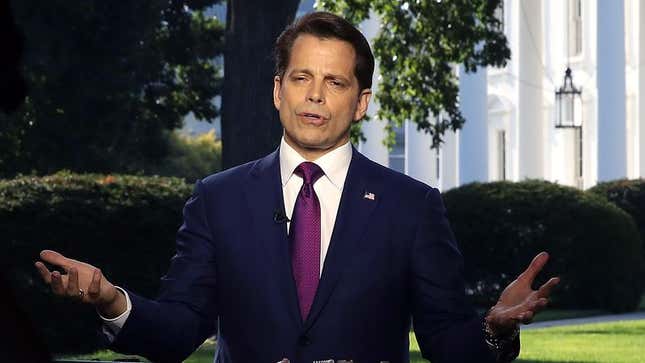 In an interview with The New Yorker earlier today, White House communications director Anthony Scaramucci leveled harsh criticism against the FBI and members of the Trump administration. The Onion fact-checks Scaramucci's claims.
---
"I'm not Steve Bannon, I'm not trying to suck my own cock."
TRUE: Scaramucci understands that true inner peace comes from accepting one's flaws and only very rarely sucking oneself off.
---
"I've done nothing wrong on my financial disclosures, so they're going to have to go fuck themselves."
TRUE: Scaramucci's financial records appear accurate, so under U.S. federal statutes his detractors are required by law to go fuck themselves no later than 10 business days from the date of filing.
---
"What I want to do is I want to fucking kill all the leakers and I want to get the president's agenda on track."
PARTIALLY TRUE: He omitted that he also wants to fuck the leakers' bitches in front of their kids and then carve a nice 6-inch souvenir on their face for their trouble.
---
"They're trying to resist me, but it's not going to work."
TRUE: The Mooch is hot, baby! Sizzling! Nobody can stop this kid!
---
"Yeah, let me go, though, because I've gotta start tweeting some shit to make [Reince Priebus] crazy."
FALSE: Priebus was driven far beyond the point of mental insanity by members of this administration many months ago.
---
"Reince is a fucking paranoid schizophrenic, a paranoiac. 'Oh, Bill Shine is coming in. Let me leak the fucking thing and see if I can cock-block these people the way I cock-blocked Scaramucci for six months.'"
TRUE: If you or someone you love is currently abusing cocaine please call this toll-free addiction hotline: 1-888-988-7934.
---
"Okay, the Mooch showed up a week ago."
FALSE: The Mooch has been slowly developing in Scaramucci's troubled subconscious since his tender childhood.
---
"Get this through your head, you Jew motherfucker, you. You only exist out here because of me. That's the only reason."
FALSE: Sorry, this is Joe Pesci in Casino. We got confused.
---
"I'm going to fire every one of them…the entire place will be fired over the next two weeks."
OH, PLEASE, PLEASE, PLEASE BE TRUE: Seriously, please.
---
"This is a major catastrophe for the American country."
TRUE: This is the most accurate statement yet made by an administration official.