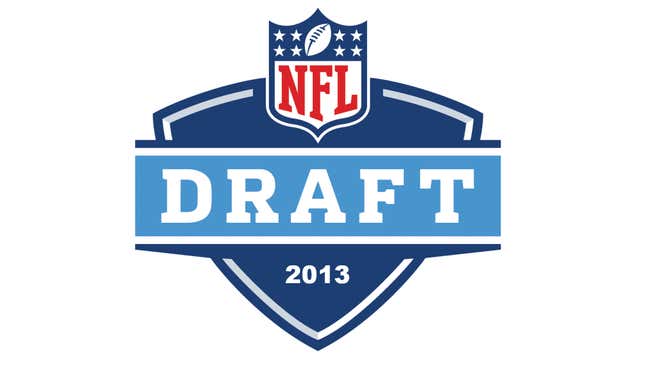 Conventional draft wisdom says to take the best player available, but sometimes a team needs something different. With that in mind, here's how Onion Sports predicts the first 10 picks of the NFL Draft will go:
Kansas City Chiefs: OT Luke Joeckel. Honestly, he's just all right, but it would mean so much to him to see that number 1 next to his name and get those millions of dollars
Jacksonville Jaguars: DE Dion Jordan. At 6'6" and 250 pounds, Jordan is the ideal defensive end to waste the first few years of his career in Jacksonville
Oakland Raiders: DT Sharrif Floyd. After a rough childhood bouncing between multiple homes, the heartwarming story of Sharrif Floyd will abruptly come to an end the second he gets drafted by the Raiders
Philadelphia Eagles: QB Geno Smith. A mobile, quick quarterback with a strong arm, the Eagles will finally have an offensive weapon the likes of which they haven't had since Michael Vick
Detroit Lions: OT Eric Fisher. Lions need a tackle with a lot of strength and endurance, as that person will be spending the majority of his time scooping up Matthew Stafford from the ground
Cleveland Browns: CB Dee Milliner. C'mon, it's the goddamn Browns, so does it really matter?
Arizona Cardinals: OT Lane Johnson. Johnson has the talent to play well in the NFL but will need a lot of motivation in order to protect the Cardinals' horrible, horrible investment in Carson Palmer
Buffalo Bills: WR Cordarrelle Patterson. The Bills front office is in agreement that Patterson will make the perfect mediocre receiver to complement the team's new mediocre quarterback
New York Jets: DE Ziggy Ansah. One of the most athletically gifted prospects in the draft, but the Jets should still manage to fuck up this kid's entire career
Tennessee Titans: DT Star Lotulelei. Has all the tools to become one of the prominent defensive tackles in the league, but who knows what will actually happen? We can't tell the future, and the honest-to-God truth is that nobody can. He could be great, he could be decent, he could be mediocre, he could be terrible—there's no way of knowing for sure with all the variables at play here. Sometimes you just gotta plunge in, hope for the best, and see how it all shakes out, you know?
This Week's Most Viral News: September 22, 2023
Follow @OnionSports for live coverage of tonight's NFL Draft at 8 p.m. EST.