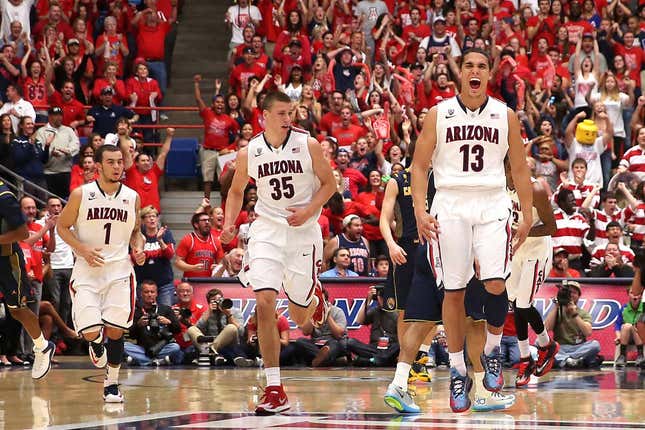 OSN shares its expert analysis on the teams that will come away with victory in this year's NCAA Tournament Sweet 16:
Florida vs. UCLA
OSN's Pick: Florida — As long as the Gators are hitting their shots, they'll accumulate points, and that will be key in determining the outcome of this heated matchup.
Dayton vs. Stanford
OSN's Pick: Dayton — Unlike their opponents, Dayton's players don't have anything else to fall back on.
Virginia vs. Michigan State
OSN's Pick: Michigan State — The Spartans simply don't have an answer for DeAndre Kane or Melvin Ejim, which isn't a big deal since neither of them plays for Virginia.
Iowa State vs. Connecticut
OSN's Pick: Connecticut — Scrappy underdogs UConn will outperform their seven-seed ranking in a heartwarming victory over powerhouse Iowa State.
Arizona vs. SDSU
OSN's Pick: San Diego State — If these two teams score a combined 130 points or more during Thursday's matchup, attendees will receive a coupon for automatic admission into either school.
Baylor vs. Wisconsin
OSN's Pick: Wisconsin — Wisconsin holds a slight edge in a game that is very difficult to predict because chaos governs our universe.
Kentucky vs. Louisville
OSN's Pick: Louisville — The Cardinals should be able to easily defeat the lower-ranked Wildcats if they manage to block out the cacophony of banjo playing produced by both teams' fans.
Tennessee vs. Michigan
OSN's Pick: Tennessee — Holding an 11-2 advantage, the Volunteers have far more seeds than the lowly Wolverines, a gap that will almost certainly be insurmountable.
Edgelords Explain Why They Love Elon Musk