CHICAGO—Talk-show superstar Oprah Winfrey celebrated losing her 20,000th pound in a star-packed gala at the Sutton Place Hotel in Chicago's Gold Coast Monday night.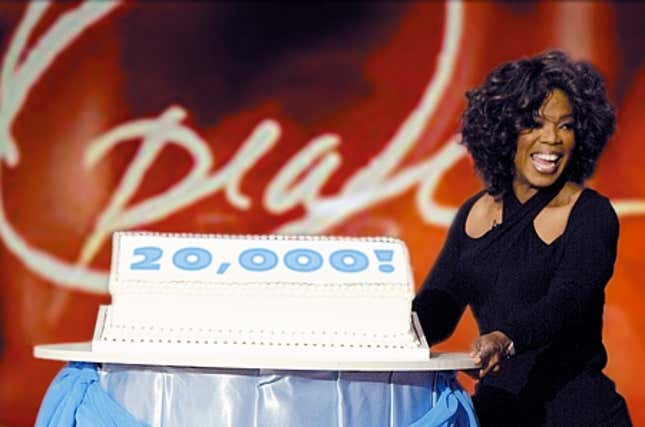 This Week's Most Viral News: September 22, 2023
"Tonight is an amazing personal milestone," Winfrey said. "I want everyone who has supported me through the years—my friends, my loved ones, and all of my wonderful fans—to share the joy I feel tonight in having shed my 20,000th pound."
According to her spokesman, Winfrey has been on 674 diets, embarked on 255 fitness routines, and weighed herself 4,349,571 times during her 30-year career in broadcasting and film.
Luminaries such as John Travolta, Bernie Mac, Patti LaBelle, U.S. Sen. Hillary Rodham Clinton (D-NY), Billy Crystal, Dr. Phil McGraw, and longtime boyfriend Stedman Graham joined the Oprah Winfrey Show staff in honoring the media icon's monumental achievements in weight loss.
The historic event was also showcased on Monday's episode of Oprah. Following a standing ovation from her studio audience, Winfrey explained that, during a weigh-in last Tuesday, she discovered that she had lost another pound, bringing her weight down to 139.
"I was recording my weight in my journal," Winfrey said. "You can imagine how excited and proud I was when I discovered that my one-pound loss that morning nudged my lifetime total to… 20,000 pounds!"
Over the audience's cheers, Winfrey added: "20,000 pounds! 20,000 pounds!"
The milestone follows Winfrey's recent loss of 33 pounds, following a protracted ballooning to 200 pounds, not long after a loss of more than 100.
"Oprah is absolutely extraordinary," said friend Gayle King, who helped organize the event. "Not only is she a talk-show host, actor, entertainment mogul, and philanthropist, but she's also a super-dieter. Oprah is so capable at what she does that she makes weight loss look easy. But it takes faith, staying power, and single-minded focus to keep losing thousands of pounds, gaining them back, and then losing them again."

Fans have lauded Winfrey for inspiring them to change their attitude toward weight loss.
"I felt horrible when I gained back the 60 pounds I'd worked so hard to lose," wrote one fan on an Oprah.com message board. "But Oprah has gained and lost that much countless times over. If she can do it, I can, too. Thanks, Oprah!"
Another fan wrote that she "share[s] Oprah's struggle."
"Pound number 428 and counting!" the post read. "Last week I gained five, and this week I lost two! Thanks, Oprah! Bless you for teaching me to be as fat or as thin as I can!"
The most eloquent tribute came from Maya Angelou, the celebrated author and poet, and a personal friend of Winfrey's. During the celebration, Angelou read a poem dedicated to Winfrey, "Water Into Air."
"As I lose, I gain," Angelou said. "I wing home to a place long forgotten. I swell as I recede, taking in all that has come before me. I molt. I shed. I diminish. But I feel no loss for I am free. My song slips its long confinement and joins the celestial roar. I was made of water, now I am air. I lose as I gain, but again I lose. I lose. I lose."
Far ahead of other celebrity weight-losers Rosie O'Donnell (15,860 pounds) and Roseanne Barr (7,229 pounds), Winfrey nevertheless appears determined to top her own record.
"I am going to ask my personal chef to whip me up some more of these breaded filet mignon appetizers," Winfrey said, piling her plate with filets during a post-celebration party. "Life is a process, people!"