WASHINGTON, DC—Defense Secretary Donald Rumsfeld announced Tuesday that Osama bin Laden, prime suspect in the Sept. 11 attacks on the World Trade Center and the Pentagon, has "at long last been found."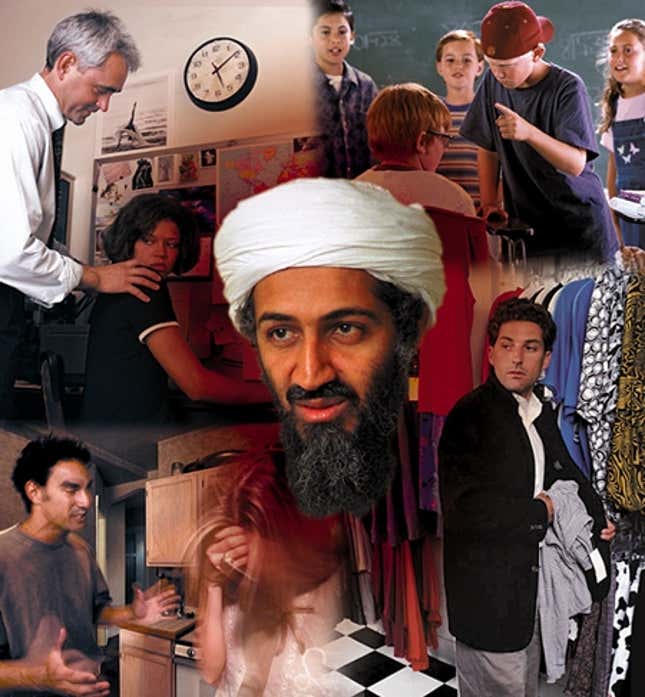 This Week's Most Viral News: September 22, 2023
"For more than two years, we combed the Middle East looking for bin Laden," Rumsfeld said. "Frankly, it was starting to be an embarrassment. You can imagine our surprise when we finally found him hiding deep inside the darkest recesses of each and every one of our souls."
Since toppling the Taliban regime in 2001, U.S. forces in Afghanistan had searched for bin Laden primarily along the rugged Afghan-Pakistani border, but overlooked that place inside every one of us that has ever raised his voice in anger or turned away from someone in need.
"We were so busy tracking the remaining members of the Taliban regime and freezing al-Qaeda assets that we missed what was right in front of us all along," Rumsfeld said. "Osama bin Laden wasn't hidden in a cave in the mountainous Pakistani province of Waziristan or huddled in the back of a Chitral meat-market stall. He was lurking in the blackness within us all, right there with the laziness and the jealousy."
"It just goes to show that sometimes it's easier to look for the man in the FBI dossier than it is to look at the man in the mirror," Rumsfeld added.
In addition to FBI intelligence reports, the military's search was aided by eight Ultra-High Frequency Follow-On communications satellites, submarines, aircraft, ground units, and global ground stations. But in the end, all they needed to do to find bin Laden was a little soul-searching.
"We used heat-sensing equipment to search in underground tunnels and studied aerial photography for evidence of movement in the desert," Rumsfeld said. "But did any of us ever stop and listen to a child's cry—really listen to it?"
Rumsfeld said efforts to find bin Laden, who was placed on the FBI's most-wanted list after the 1998 bombings of U.S. embassies in Nairobi and Dar es Salaam in Tanzania, were seriously misdirected for years.
"He evaded us for so long because he had such an ingenious hideout," Rumsfeld said. "Only someone as evil as bin Laden would think to crawl down into that hole inside every one of us, the one that makes us hate instead of love, forget birthdays, and ignore alternate-side parking rules."
The breakthrough that led to the discovery of bin Laden came Jan. 4, when CIA Director George Tenet realized he'd forgotten to send a Christmas gift to his son in Los Angeles.
"It was bad enough that I couldn't find the time to visit Dale over the holidays, but to fail to send a token of my affection?" Tenet said. "Well, it made me ask, 'What kind of terrible person does that?' I was telling [CIA Deputy Director] John McLaughlin about it, and he said that, earlier that day, he'd seen a teenager push past an elderly woman at a bus stop. John asked me, 'What kind of terrible person does that?'"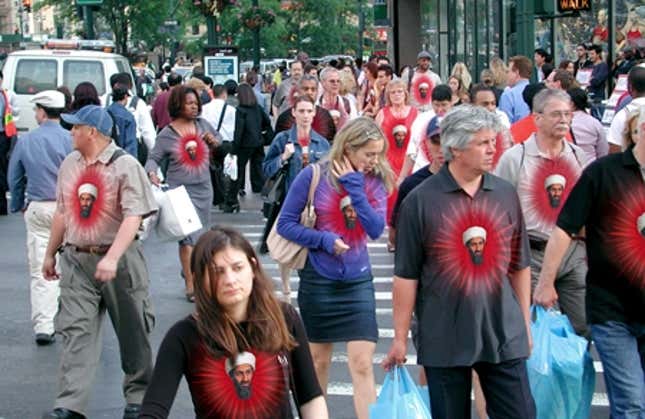 "The answer hit us like a ton of bricks: Osama bin Laden," Tenet said. "Just like that, we had the clue that convinced us to expand the parameters of our search."
Tenet presented his discovery to the U.N. Security Council the next day.
"There is a part inside each of us that makes us throw recyclable items in with the rest of our trash, let Mom go to voicemail, and eat coworkers' food out of the refrigerator," Tenet told the council. "It is a dark, dank, shameful place, and it is my belief that the man responsible for the events of Sept. 11 lurks therein."
In light of the new counter-terrorist intelligence, Attorney General John Ashcroft has urged lawmakers to expand the Patriot Act to allow federal investigators to search within the hearts of all Americans.
"Finally, we know to look inside the ugly part of ourselves that makes us under-tip waitresses and cut people off in clogged traffic," Ashcroft said. "But now, we need the authority to enter this desolate place and flush the terrorists out."
President Bush spoke in support of Ashcroft's vision for the new front in the war on terror.
"I know this classified information may be hard to hear," Bush said. "But I urge each and every American to perform a covert search of his or her own soul. Join me in quiet self-examination and self-interrogation. Ferret out the terrorist inside you and bring him to harsh and swift justice. Together, we can topple the last major stronghold of terror in this world: our own doubts and fears."
Bush added that, even though we know where bin Laden is hiding, drawing him out is largely beyond the power of Washington.
"There is only one way to defeat Osama bin Laden," Bush said. "The way to eliminate this evil man is for each American to love just a little bit more, see your brother's problems as your own, always look on the bright side, and leave every place a little better than you found it."