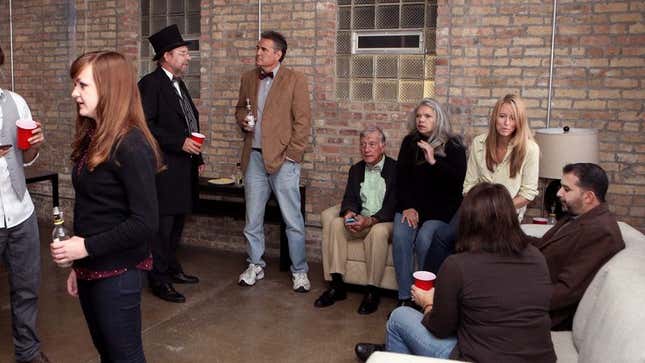 PEEKSKILL, NY—Describing a wild scene in which performers and stagehands were loudly conversing, laughing, and occasionally breaking back into their characters from the play, sources confirmed Sunday night that the cast party for the local production of Our Town is currently going off the rails.

FBI Investigating Fourth-Grade Kid Who Said He Has Seen Over 200 Dead Bodies
Members of the Peekskill Players, who just concluded a four-show run of the play at the Old Mill Theater downtown, told reporters the festivities at the home of assistant director Rachel Mullen have only grown more out of control as the night has progressed, spurred on by a 12-pack of craft beer and a bottle of Yellow Tail Shiraz purchased for "the best Webbs and Gibbses the world has ever seen!"

"At first we were just talking about our favorite moments from the show and it was pretty subdued, but since about 8:30, when the kids who played Rebecca and Wally left with their parents, things have really gotten nuts," said Jeffery Morse, 54, still wearing his stage makeup from the production, in which he portrayed Constable Warren, Grover's Corners' friendly sheriff. "Everyone's still pretty hyped up from the matinee. Rachel turned up the Chicago soundtrack, the guys from the lighting crew cracked open a bottle of Seagram's, and Grace even got up on the coffee table and belted out her solo from [the spring 2013 production of] Carousel."

"This is definitely the wildest cast party I can remember," Morse added. "At this rate, I might end up having to call my wife to pick me up."

G/O Media may get a commission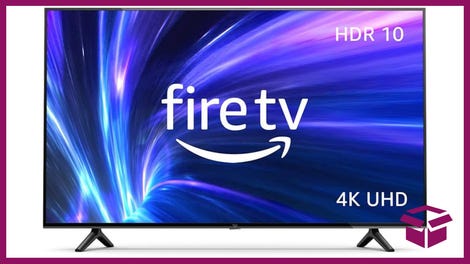 42% Off
Amazon Fire TV 50" 4K Smart TV
After digging into the sheet cake Mullen's husband purchased at Wegmans and had decorated with the words "Bravo, Peekskill Players," the 22 members of the group in attendance reportedly began signing each other's programs, which produced a series of risqué drawings on the cast's headshots. Sources said things got "really rip-roaring" after wardrobe master David Kelley wrote "I have a nice rack" in a speech bubble by Emma Cochran's photo, a reference to a time she offered to bring in a clothing rack from home for his use.

According to reports, the rowdiness reached a whole new level when Mullen suggested they all go down to the basement and watch the video of last season's performance of Brigadoon, inspiring Leslie Tobin to start a game in which everyone had to take a drink each time Dan Rankin flubbed his Scottish accent.

Meanwhile, 57-year-old Peekskill Players veteran and H&R Block associate Carla Withrow reportedly emerged from the bathroom wearing a bald cap from A Christmas Carol and had begun impersonating Our Town director Richard Burdick.

"Okay, the soda shop scene is working perfectly fine, so let's just go ahead and run it 20 more fucking times before we call it a night," said Withrow, pursing her lips and stroking her chin in what those present agreed was a "dead-on" impression. "Oh, and maybe we should just completely change all of the third-act blocking the day before dress rehearsal. Is everyone okay with that?"

With the party barreling on well past 11 p.m., Brian Holder was reportedly overheard saying that he "might still remember the choreo from Sweeney," and several tipsy members of the cast were seen attempting to recreate a dance routine they learned for a production of Sweeney Todd a few years back. According to partygoers, the soirée was so far out of hand by that point that Mullen's husband came downstairs in his robe to remind everyone he had an early morning tomorrow.

In addition, multiple guests at the party told reporters that, come to think of it, they hadn't seen set designer Margaret Dotson or audio tech Joe Navarro since the two went out to the porch with a bottle of mescal an hour or so earlier.

"You guys, this has honestly been one of the best shows the Peekskill Players have ever done," said house manager Kate Anderson, struggling to hold back tears as she addressed fourth-grade teacher Josh Verdin and local radio personality Anthony Fiore, both of whom were still wearing the fake beards from their Our Town costumes. "Like, everyone absolutely killed it. Even after all that bullshit with the cemetery scene, we completely nailed it."
"Oh, my God, it's gonna be so weird not seeing you guys every Sunday and Thursday," Anderson continued. "I don't know what I'm gonna do until Guys And Dolls auditions."

At press time, sources confirmed that a third button on Carla Withrow's prairie dress had been unfastened and she was beckoning anyone she could to dance with her in the center of the living room.