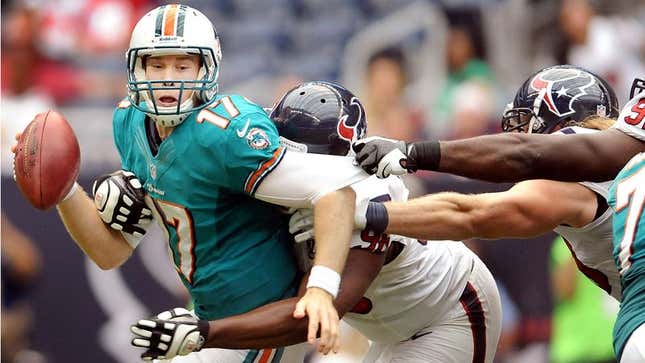 MIAMI—Following their convincing 30-10 loss during week one of the NFL season, several members of the Miami Dolphins displayed unheralded confidence this week, openly discussing their team's potential for finishing the year with a perfect 0-16 record.
This Week's Most Viral News: September 29, 2023
"Most coaches will tell their team to quiet down and just focus on losing one game at a time," head coach Joe Philbin told reporters Thursday. "But I look around that locker room and see a brand-new coaching staff, a rookie quarterback, a patchwork of underperforming wide receivers, and a defense lacking any form of identity—and I think, tell me why we can't start talking 0-16 right here, right now."
"We've clearly got the attitude and inexperience to make it happen," Philbin added.
The discussion of a perfect season began immediately after last Sunday's blowout loss to Houston, which proved to Miami that its defense could continue to give up huge plays and that its offense had all the pieces in place to create numerous turnovers per game. The bold Dolphins became confident the team could string together numerous defeats and run the table with 16 straight losses.
Outspoken veteran linebacker Karlos Dansby admitted that anything short of a winless season would be a personal disappointment to him.
"I know it seems crazy to talk about after one game, but I've been in this league a while and never seen a team this horrendous," said Dansby, registering a sentiment that was later echoed by every player on the roster with more than three years of experience. "Some guys play their whole career and are never part of a team like this, where you walk onto the field every game just knowing that whoever your opponent is, you have a way less talented team."
"We control our own destiny now," Dansby added. "And I have the confidence to say this team will go 0-16. You can write that down."
After losing their four preseason games, Miami started to buy into the idea that it could be dominated every single week and that an 0-16 season was possible.
With a schedule full of underperforming teams, the Dolphins can't afford to lose focus on any part of their sloppy, unspirited style of play, because, according to coaches, one good tackle or touchdown could ruin their chances of a perfect season.
The difficulty of achieving a perfect season was on display just last year when the 2011 Colts made it all the way to week 15 before a disappointing victory over the Tennessee Titans. That team chose a more traditional approach toward 0-16, refusing to discuss anything with the media beyond losing the next week's game.
"We chose not to talk openly about going all the way, but then again, we had Reggie Wayne, Pierre Garcon, Dwight Freeney, Robert Mathis, and Kerry Collins, who had at least played pro football before," Colts kicker Adam Vinatieri said in response to Miami's recent statements. "As badly as our organization may have wanted to achieve that 16-loss season, we knew we had enough talent to where a win seemed possible."
"But if your best player is Reggie Bush, that's a whole other story," he added. "So I can't knock them for being cocky about finishing 0-16."
Despite the media attention and the multitude of distractions that come along with it, Philbin claimed the Dolphins' preparation hasn't been affected at all, saying they were preparing to lose to Oakland this Sunday the same way they would prepare to lose any other game.
"This is the NFL, and just because you have less talent and poorer execution doesn't mean you can't pull out a win," Philbin said. "Especially when you're playing the Raiders."