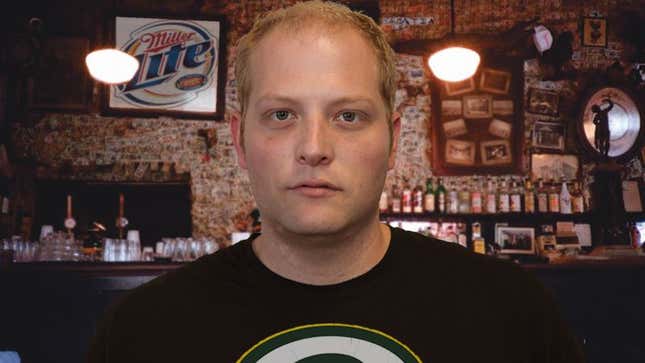 SHEBOYGAN, WI—Lifelong Packers fan and 33-year-old Sheboygan bartender Peter Cooke told reporters Sunday that his nine-month-old Packers fan blog—which just received its 1,000th visitor last week—might be his ticket to a better life.
Ron DeSantis Announces He Will Live As Slave For One Year To Prove It Not Bad
"I try to offer a fan's perspective on the team, and I know from talking to all the guys down at The Shanty that that's all most people want, anyway," said Cooke, noting that his buddy Zeke who designs websites helped him buy his packfanman.us domain for only $3.99 and "did a bunch of junk" to make it easier for Cooke to publish to his Wordpress site. "Hopefully it becomes a big destination for Packers fans and I can start raking in cash from ad revenue."
"There's tons of Packers fans all over the country," added Cooke. "I'm trying to get my stuff out there by e-mailing other blogs to get something linked. I know it's only a matter of time. You hear millions of stories about regular guys like me catching a break and making it big."
While Cooke said he was "still getting the hang of linking and some things," the 33-year-old told reporters that he is constantly thinking of ideas for new material and tries to write posts almost every day.
Cooke confirmed that he recently applied for press credentials for the 2013 season and that he feels good about his chances since he wrote the application "like a fan, and not some dusty old reporter," something he believes the Packers media relations department will find new and refreshing.
At press time, Cooke announced plans to get on Twitter soon, claiming that the move should put him on the fast track to quitting his bartending job and working as a full-time blogger.