CINCINNATI—In an attempt to capture a wider share of the marketplace, the Procter & Gamble corporation launched a campaign Monday to rebrand its popular Pro-V line of shampoos as the leading hair-care product for women with dry, brittle hair who also wish to manually bring their boyfriends to climax while showering.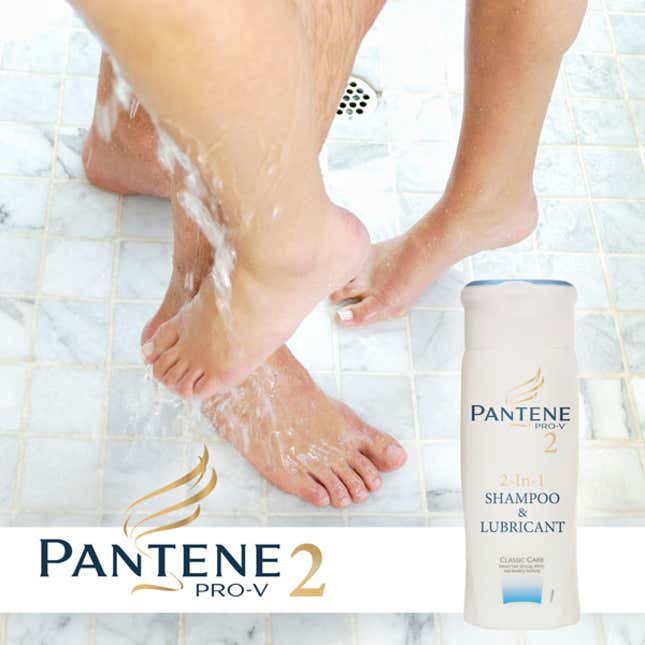 This Week's Most Viral News: September 22, 2023
"In addition to providing women with a luxuriant head of shiny, healthy hair, our new Pantene Pro-V2 line is ideal for vigorously working that special someone's member without the soreness and discomfort caused by other shampoos," spokeswoman Karen Radcliffe said. "With 20 percent more of the moisture-rich ingredients found in the original Pro-V formula, your hair will always look great, and his penis will never get dried out or chafed."
Print advertisements for the shampoo emphasize its nonslip ergonomic bottle design, as well as its availability in several different sizes. These include a travel size for conveniently masturbating one's boyfriend on romantic vacations, and bulk sizes, which according to the ads, are "perfect for that EXTRA-special man."
"If you have difficult-to-manage hair and a two-hander to contend with, Pantene Pro-V2 has got you covered," Radcliffe said.
In addition to a nationwide billboard and print campaign, a series of television commercials has begun touting the new shampoo's advanced penis-lubricating and hair-strengthening properties. One 30-second spot features a showering couple shown from the shoulders up, grunting and struggling uncomfortably while the woman strokes her boyfriend's phallus with a competing brand of shampoo. A split-screen animation then shows the shampoo's beneficial effects on both women's hair and men's genitals. The commercial ends with the couple opening a bottle of Pantene Pro-V2 together, after which steam obscures the two as the man evidently nears climax.
According to researchers at Procter & Gamble, Pantene Pro-V2 fills a consumer niche long ignored by shampoo manufacturers. Adam Jablonski, head of the team that developed the new shampoo, said many supposedly salon-quality hair products on the market fall short when it comes to providing a frictionless hand job.
"Pantene Pro-V2's hypoallergenic formula prevents the penile swelling and itching that can be caused by Herbal Essences and other shampoos with heavy botanicals," Jablonski said. "Additionally, there is none of the nasty burning sensation associated with medicated dandruff shampoos such as Head & Shoulders."
"And I hardly even need to mention the inherent difficulties of using exfoliating body scrubs with oatmeal," Jablonski added.
Consumer response toward the new shampoo has been positive in the 18-to-34-year-old female demographic at which the advertising is targeted. Jen Sandford, a 22-year-old student at Tulane University, said that Pantene Pro-V2 is now her shampoo of choice.
"I even bought the extra-soft companion chamois," Sandford said. "Jerking [boyfriend] Doug [O'Brien] off every single morning using L'Oréal conditioner used to be such a chore. But with this new Pantene, Doug's back to sleep and I'm off to class and looking great in no time."