LAS VEGAS—Clark County paramedics responded Thursday to a frantic 911 call from an Econo Lodge motel where the Lord Our God, Divine Creator and Ruler of the Universe, was found naked and unconscious following an unsuccessful suicide attempt, the third such incident in recent years.
Upon entering the premises and finding God unresponsive, EMTs reportedly spent 45 minutes reviving the omnipotent being, who sources said had used a leather belt to hang Himself from a showerhead after ingesting an unknown quantity of Ambien.
This Week's Most Viral News: September 22, 2023
"Our initial examination showed the Almighty had no pulse, and His all-seeing eyes had completely glossed over," said paramedic Geoff Redkinson, noting that a housekeeper had entered God's room at 9:30 a.m. to find the television on, empty whisky bottles strewn about, and lines of cocaine on a fold-out ironing board. "In addition, His skin—normally bathed in holy, radiant light—had turned a dull greenish-blue, classic signs of late-stage hypoxia."
"I immediately placed the Lord on his back and initiated CPR while a member of my team prepared to pump His stomach," he continued. "This succeeded in stabilizing the deity's vitals enough to transport Him to the hospital, where emergency doctors and clergy were waiting."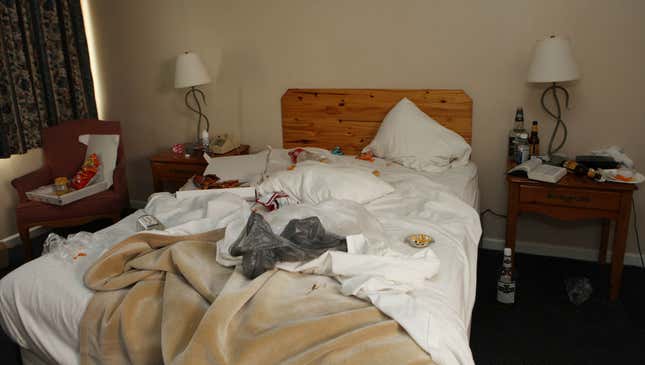 Those close to God reported He had recently grown far more depressed and withdrawn from humanity than usual, sleeping 16 to 20 hours a day and taking weeks to respond to even the most basic of prayers. His characteristically thunderous voice, sources said, had been reduced to a faint whisper that unpredictably gave way to tears whenever anyone mentioned salvation, kindness, mercy, or any of His works.
Then on Wednesday evening, the Supreme Being, who is said to struggle daily with the loss of His only son, untold millennia of war and genocide, chronic weight gain, and the aftermath of His messy 15,088 BC divorce, was reportedly "pushed over the edge" when 62-year-old San Antonio resident Cleon Jenkins lost his job at the local Toyota plant and with it his only means to pay for his wife's chemotherapy.
Hoping to offer some sort of explanation for the decision to end His infinite life, the Lord left a brief suicide note scribbled on a yellow legal pad.
"I am so sorry," He Who Commanded Light to Shine Out of Darkness wrote. "I'd hoped it didn't have to come to this. But I hurt constantly and I don't want to be here anymore."
"Goodbye," the note concluded.
The higher power's latest botched suicide attempt comes in the wake of several widely publicized previous tries, including a 1985 standoff with police on the lip of the Grand Canyon that ended with God stepping off the edge, plummeting downward, but then at the last second deciding to turn Himself into a bird and fly away before impact.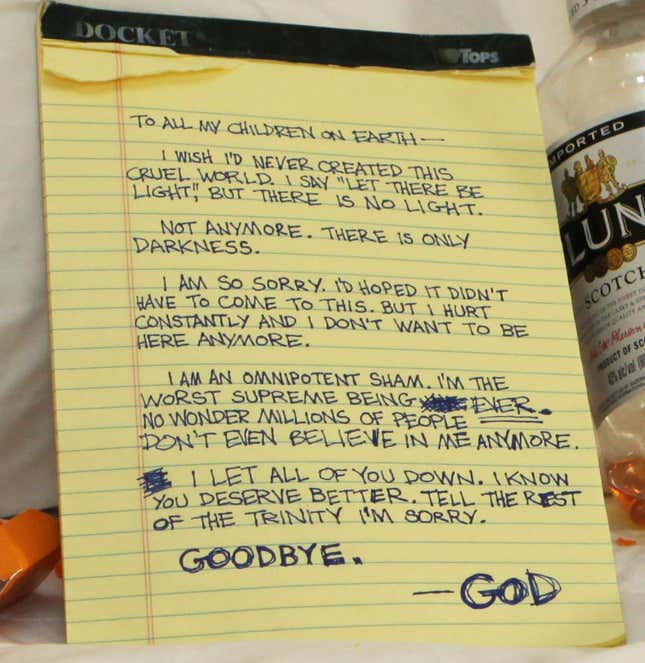 More recently, on a gloomy late-winter day in 2006, God made an impulsive trip to the outer solar system with the intention of throwing Himself in front of a speeding comet—only to turn back after noticing how beautiful Earth looks from deep space and realizing He couldn't go through with it.
Speaking to reporters at a hastily arranged press conference at Valley Hospital Medical Center, where God was admitted, divine spokeswoman Hayley Greenwood, 36, updated billions of concerned followers on the deity's condition.
"I am happy to report that Our Lord and Heavenly Father has regained consciousness and is comfortably levitating in the recovery room," Greenwood said. "Also, I can confirm that God has enrolled in a rehabilitation and support program at the local YMCA with the goal of returning to His position as the guiding light of our souls as quickly as possible."
"However, until then I ask that everyone respect God's privacy," she added. "The best thing you can do now is to keep Him in your thoughts and prayers during this very difficult time."
Paramedics Rush To Revive God Following Latest Suicide Attempt