COLUMBUS, OH–Backed by olfactory-education experts, parents of nasal learners are demanding that U.S. public schools provide odor-based curricula for their academically struggling children.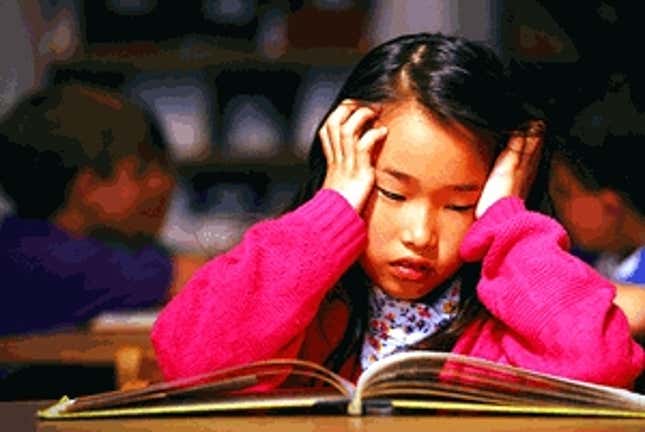 This Week's Most Viral News: June 9, 2023
"Despite the proliferation of countless scholastic tests intended to identify children with special needs, the challenges facing nasal learners continue to be ignored," said Delia Weber, president of Parents Of Nasal Learners, at the group's annual conference. "Every day, I witness firsthand my son Austin's struggle to succeed in a school environment that recognizes the needs of visual, auditory, tactile, and kinesthetic learners but not him."
Weber said she was at her "wit's end" trying to understand why her son was floundering in school when, in May 1997, another parent referred her to the Nasal Learning Research Institute in Columbus. Tested for odor-based information-acquisition aptitude, Austin scored in the 99th percentile.
"My child is not stupid," Weber said. "There simply was no way for him to thrive in a school that only caters to traditional students who absorb educational concepts by hearing, reading, seeing, discussing, drawing, building, or acting out."
Austin's experience is not unique.
"My 15-year-old daughter Chloe couldn't sustain her interest in academics and, as a result, she would goof off with her friends and get in trouble," said Michael Sweeney of Oswego, NY. "Now I realize that all those Ds and Fs did not represent any failure on my daughter's part, but rather her school's failure to provide an appropriate nasal-based curriculum."
According to Reyna Panos, director of the Nasal/Olfactory Secondary Education (NOSE) certification program at Brown University, children begin to indicate their nasal needs as early as the first grade, so parents need to be on the lookout for the telltale signs.
"Nasal learners often have difficulty concentrating and dislike doing homework," Panos said. "They also frequently have low grades in math, reading, and science. If your child fits this description, I would strongly urge you to get him or her tested for a possible nasal orientation."
Educators have been slow to recognize nasal learners, said Panos, even though her research finds that 10 to 20 percent of all students fall into the category.
"In the early years of educational psychology, children were believed to fall into one of two camps: visual and auditory. Eventually, kinesthetic and tactile learning styles were recognized, as well," Panos said. "But, to this day, nasal learning continues to go unacknowledged."
Panos said nasal learners do best when they are encouraged to use odor-based recall techniques in testing situations, and are allowed to organize and prioritize items by scent. The biggest challenge now, she said, is to "educate the educators."
"It's very gratifying to be a pioneer in a totally new field of education, but at the same time, it's frustrating to come up against such strong resistance," Panos said. "That's where groups like Parents Of Nasal Learners make all the difference: They've got to push, push, push until their children's needs are finally met."
Scholastic Scents is a Cambridge, MA, company attempting to fill the void in educational materials geared toward nasal learners.
"Our line of scratch-and-sniff textbooks won't be available until next school year," Scholastic Scents president Randy Bauer said, "but we do have a variety of educational packets such as the Oregon Trail fragrance set and our 'Speak & Smell' language workshops. I'd also recommend you browse our non-text book selections, such as the all-odor version of The Yearling."
However, according to Dr. Ira Greene, author of The Nose Knows: A Nasal-Based Curriculum Development Guide, such efforts do not go far enough. Greene said there are three distinct types of nasal learners: the goal-oriented nasal learner, the activity-oriented nasal learner, and the learning-oriented nasal learner. Each type, he said, must be treated differently.
"It's important to understand that not every nasal learner is the same," Greene said. "For example, while goal-oriented and activity-oriented nasal learners may see the prospect of olfactory reward at the end of a task as sufficient motivation, the learning-oriented nasal learner needs something more to sustain his interest."
For parents who suspect their children may be nasal learners, Panos recommended the Stanford-Binet Nasal Index Exam.
"This test asks students to respond to statements like, 'I enjoy smelling things,' and 'I would rather write a book report than smell one that has already been written,'" Panos said. "From this, we can determine the best way for parents to help teach that child. It would be nice if the schools gave such tests, but the sad fact is, for the child with special nasal needs, today's educational system stinks."