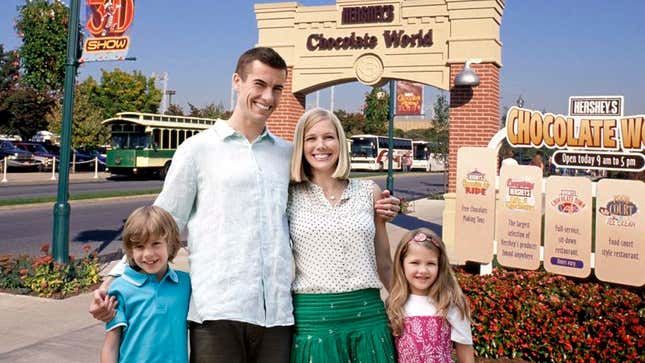 YOUNGSTOWN, OH—Fearing that their kids' impressions of the experience could quite possibly remain with them for the rest of their lives, parents Joel and Bethany Weyandt told reporters Tuesday they are worried their children are old enough to remember the details of their recent family vacation.
This Week's Most Viral News: September 29, 2023
The husband and wife said their son, Michael, 6, and daughter, Nora, 5, have both reached an age at which they are capable of forming and retaining distinct memories, stoking the couple's concerns that the kids will be able to recall numerous details of their trip to Hershey, PA, from the oppressive heat, to the numerous barbs the parents uttered at one another, to the hours spent waiting in various lines.
"It's sad to think that the kids are probably going to remember everything we went through on this trip—the tiny little hotel room, Michael's ear infection, all of it," said Bethany, noting in particular a heated exchange between her and her husband that occurred after he missed an exit on Interstate 80, as well as the 30 minutes of tense silence in the car that followed the argument, both of which she believed might now be part of her children's lifelong store of memories. "If Nora and Michael were still toddlers, we probably would have been in the clear. But they're too old now, so there's really no hope that the closed pool and the broken A/C at the hotel aren't going to leave a lasting impression on them."
"There are too many moments that I just know are going to stick with them, like how bored they were on the Gettysburg battlefield tour—they hated every second of that."
"Unfortunately, it's likely all going to be stuff they never forget," she added. "Even that lunch we had at Cracker Barrel when everyone was overtired."
The series of regrettably memorable vacation episodes reportedly began with a reservation error at the Comfort Inn, forcing the family to spend much of the first afternoon of their vacation waiting in the facility's lobby while the problem was resolved, which subsequently limited them to just a brief half hour visit to Hershey's Chocolate World before they were forced to leave at closing.
Moreover, the couple noted that there was little chance their children would forget that their father spent most every morning taking business calls, during which he would require the whole family to stay quiet. Additionally, the fact that the family had nothing to do but watch Night At The Museum on their iPad in their room for three straight afternoons due to a series of heavy thunderstorms would, according to the Weyandts, likely remain among their children's strongest associations with the vacation.
"There are too many moments that I just know are going to stick with them, like how bored they were on the Gettysburg battlefield tour—they hated every second of that," Joel told reporters, noting that even when he asked Nora if she wanted to get a popsicle after enduring the daylong excursion, his daughter simply replied that she wanted to go back to the hotel, a "probable sign" that the memory had been formed and was there to stay. "Even if they look back on this trip and the only thing they remember is the sunburn they got during our visit to the zoo, that's going to be bad enough."

"I want to believe that this is going to end up like our trip a couple of years ago when we all caught a stomach bug when we visited St. Louis—there's no way they remember any of that," he continued. "But I don't think we're going to be so lucky this time around."
While the Weyandts expressed confidence that their children would be able to look back on certain moments with fondness, such as the round of mini-golf they played at a local family fun center, the pair confirmed that such positive memories would almost certainly be overshadowed by the chaos that resulted when Michael got separated from the others at Hersheypark and spent 15 minutes crying in the amusement park's visitor center until security reunited him with his panicked family members. The parents added that this episode, along with a later emotional meltdown when Michael was scared by the height of the Ferris Wheel, would almost certainly be the first things their son recalled when thinking about the vacation in the future.
The couple further acknowledged their extreme fear that these events would perhaps be among the first thoughts their son and daughter would call to mind when thinking back upon their childhoods in general.

"You always hope that something like this doesn't register, but the fact of the matter is that they're both going to remember every detail of when Nora got carsick on the drive home and we had to pull over and clean her up with a handful of napkins from the glove compartment," Bethany said. "And sadly, that's something we're just going to have to accept."

"At least when we drive to Tampa to visit Grandma this Christmas, they'll be used to this kind of thing," she added.