Part Of Me Wants To See This Acrobat Fall To His Death
I'll admit I wasn't that excited to take my wife and children to the circus. I'm 46 years old so I'm not exactly in the target demographic. But I'll tell you, it's pretty hard not to be impressed by these trapeze artists, especially this guy right here in the blue leotard. He's so graceful and precise. And the courage he must have to do this every night? I can't even imagine. It must have taken him years of training to make everything look so effortless.
Still—and I know this is going to sound sick and twisted—there is a small part of me that wants to see him slip and plummet nine stories to his death.
Yes, I'm fully aware this is a demented thought, and it's one I hate myself for thinking. But ever since he started back-flipping—well, ever since the routine began, really—I've had this mental image of him mistiming a catch and frantically grasping at thin air as he drops like a brick into the center ring. Look, I'm sure it won't happen. I'm sure they've done this act so many times that it's automatic for them. There's just a very perverse side of me I can't explain that wants to see this human being pulverize every bone in his body.
Is there something wrong with me?
And if I'm being completely honest with myself, I also have to admit I'd like to know what it would sound like, too. You know what I mean? Would he let out a slight little yelp the second he realized he was going to fall 100 feet? Would he scream all the way down? Would I be able to hear his entire body break from the third row? What if he snapped his neck? What would that sound like? Does it make an actual snapping sound? I have no idea but, yeah, I guess I kind of want to know.
G/O Media may get a commission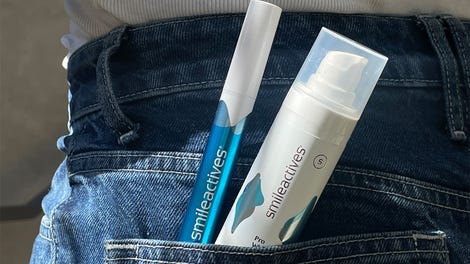 58% off
Whitening Powerhouse Pen & Gel Duo
Fucked up, right?
And here's the thing: I know this guy probably has family and friends who love him, people in his life who would miss him more than anything. But if he fell and died, I also know that, in the end, I wouldn't be emotionally affected at all. Not only would I be fine with it, but I'd be kind of excited to have witnessed something so unbelievable and shocking.
God, I hate dwelling on it, but it's true: I kind of want to see this trapeze artist die tonight.
---
Part Of Me Wants To See That Guy In The Third Row Have A Heart Attack In Front Of His Family
As a circus performer, I love a crowd like the one here tonight. From up on the trapeze I can almost feel their energy as they wait for me to grab the bar and take that first leap. Like this middle-aged dad in the third row, for example. He looks as if he's having as good a time tonight as he probably had the first time he ever went to the circus as a kid.
That being said, and I don't want this to come out the wrong way, but there's this small part of me—tiny, really—that kind of wants to see him have a massive coronary right in front of his family and drop dead.
Twisted thought, right? Ever since my first back-end planche, I haven't been able to stop thinking about this guy suddenly clutching his heart, keeling over in his seat, and dropping dead on the cold cement floor. I don't want it to happen, but if it did—if, say, right as I completed a pull-over shoot, I glanced down and he was experiencing a heart attack or a massive stroke—I don't think I'd be able to take my eyes off it. It's like there's this demented part of me I can't shut off that hopes this random, normal family man dies tonight.
Is something wrong with me?
Look, I know there's absolutely no chance it'll happen. I've done hundreds of shows without so much as an audience member even fainting. But what if some perfect combination of humidity, heart-pounding thrills, and a lifetime of poor health choices comes together, and, boom: The guy collapses in his chair, he hits the ground like a solid brick, his wife starts screaming, people around him call for help, the houselights flicker on, and the whole circus just stops cold. I know it's fucked up, but I sort of want to experience all of that.
I have nothing personal against this guy or his family, and maybe that's exactly it. Maybe that's why I kind of want to see him die. Because in the back of my mind I know that, in the end, even though I might be a little shaken up, his death wouldn't define my life the way it would his family's. I would go to Birmingham tomorrow and then Memphis the following week and get up on the trapeze like nothing ever happened.
His daughter, however, would forever associate the trapeze with her father's death.
Why the fuck did I just think that thought?! I am not a bad person. I swear to God I'm not a bad person. Or maybe I am. I don't know. You know what? I bet the other trapeze artists up here are thinking the exact same thing about that guy, but they just don't want to say it.
After all, it's just human nature, right?