NEW YORK—Sources close to the NBA commissioner say David Stern may yet succumb to the powerfully intoxicating sexual advances of Miami head coach Pat Riley and, in so doing, be convinced to allow the 12-57 Heat to enter the playoffs.
"It's so wrong. I know it's wrong. But it feels… no, not right, it can never be right. But it just feels so good," Stern reportedly confided to National Basketball Association executives after returning to his Manhattan apartment to find Riley nude, oiled, and glistening in the rose-scented candlelight of his bedroom. "I can't let the Heat into the postseason—it would be wrong. But does that mean wanting to be happy is wrong, too?"
Edgelords Explain Why They Love Elon Musk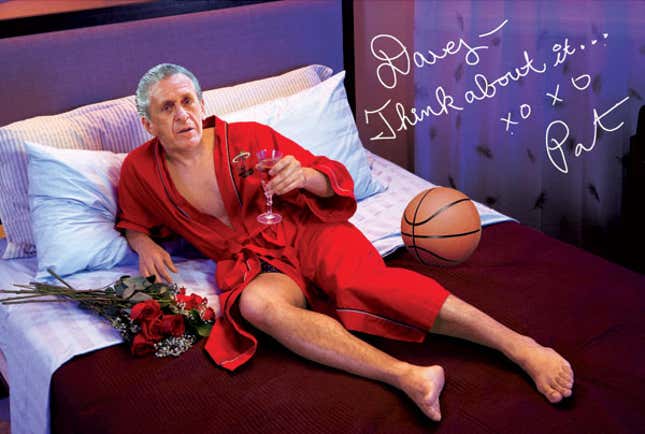 "I'm just so confused!" Stern cried before burying his head in his hands, running from the NBA's boardroom, and throwing himself onto a nearby divan, where he sobbed, inconsolable, through the morning.
Sources close to Stern say that Riley, who had not contacted the spurned commissioner since the end of the Heat's championship run in 2006, resumed his once-routine practice of sending Stern flowers roughly six weeks ago, "well before Valentine's Day, but well after Dwyane Wade was out for the season."
"I say flowers, but I tell you, darling—small English gardens would be more like it," said one NBA official who asked not to be named. "Then they traded Shaquille, and Pat sent David chocolates—gorgeous rafts of velvety-rich Belgian chocolates, the kind you send a lover who can shoehorn your team into some sort of consolation wild-card playoff round with the Sonics. Then, last week, Udonis Haslem went in for surgery and Pat sent—what else? Flowers, candy, a complete set of Teddy Pendergrass records, and nothing less than Pat Riley himself. In a gorgeous tux, with his hair perfectly oiled and his nails buffed clean and his skin smelling of sandalwood, cinnamon, and treachery."
"He told the press he was scouting college players," the anonymous official added, throwing his nail file across his office. "The liar! He was scouting poor, poor, lonely David."
Although Stern and Riley insist the matter is personal and between themselves as private citizens, certain items of their correspondence have been leaked to the press and hint at Riley's motives. "D: If I'm a wild card, then you get to tame me," reads the inscription on an erotically charged photograph of Riley posing provocatively in leopard-print silk sheets on a bed insiders say may be the one at Stern's vacation cottage. The photo is one of over two dozen recently handed over to reporters and which Stern insists are "a joke."
"Oh, believe me, it's all just a big joke to him," Stern said. "I let him have his way with me and the league and then… What? Am I alone, again, while he gets to walk off with his trophy? I don't know what to do, I don't know what he really wants."
"I mean, of course he wants his team in the playoffs. Who wouldn't?" Stern added. "But what if what we have is real this time? It would be worth it. Wouldn't it? The love of a man like that? It would be worth anything, anything at all."
Although Riley refused to comment directly on the matter, he released a rather cryptic statement to the press Tuesday morning that read, in part,
"If only he would touch my heart,

if he were to put his tongue, like a red arrow, like flames,

there where my heart is beating,

if he were to breathe on my heart, near the sea, weeping,

in the spray of the wave, in the middle of the wind,

For me, that would be playoff berth enough."
Although Stern did not address Riley's comments, he did hold a press conference to announce that "coercion in any form, whether it be bribery, extortion, or the offer of undying devotion, will not be tolerated by the NBA, especially from a certain slick grinning Lothario who thinks he can rewrite both the rules and Pablo Neruda to his own ends."
Stern also announced that, beginning this season, the NBA playoffs would include a special four-team "last place absolute one-last-chance longshot last-straw round," the details of which have yet to be determined.