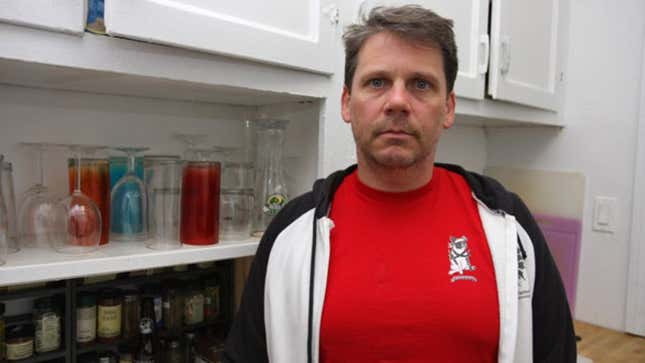 DUNDEE, IL—Hoping to get out more and expose himself to new things, pathetic man Eric Mayhew, 48, is considering taking some sort of sad little class somewhere, the longtime office worker said Monday.
This Week's Most Viral News: September 29, 2023
"Ever since the divorce eight years ago, I haven't really had much to do in the evenings," Mayhew, who is childless, told reporters. "I was thinking of maybe something with computers or something. It might be a way to meet some new people."
Though he is uncertain what he wants to study, Mayhew confirmed that enrolling in any course at all would be a nice way to break up his usual after-work routine of eating dinner during the local news, flipping around from channel to channel without ever really watching any program from start to finish, and falling asleep on the couch.
"I could sit in on some college classes," said Mayhew, finishing his third beer of the night. "Would they let me do that? In college I used to do things all the time. Maybe it'd be like that again. You never know until you try."
"Or a comedy class might be interesting," he continued. "I know they have those improv classes people can take."
He then remained silent for a few moments before picking up a Learning Annex brochure that sat alone on a narrow coffee table. Flipping through it, he revealed various listings lightly circled in red pencil.
"This one seems like it could be good," said Mayhew, pointing to a seminar entitled "Dare to Live Without Limits." "It's only a few hundred dollars to sign up, and I could swing that. Then again, it really doesn't sound much like my personality."
"This pamphlet is from last fall, anyway," he added. "I should see if I can find a more recent one."
Mayhew has failed to commit to several other vague ideas that have flitted across his mind in recent years, including the possibility of taking courses in bicycle repair, gardening, pottery, "How to Quit Smoking in 30 Days," bird-watching, model shipbuilding, and Tai Chi.
"I don't think I'd do too well in a martial arts class, because I'm not very competitive, and I've never been any good at contact sports," said Mayhew, his eyes downcast as he scratched the back of his head. "But Tai Chi is basically just standing in one place and swinging your arms around, right? I could do that."
"They also have something at the Y where they have you bouncing up and down on some kind of large inflatable ball," he continued. "Which sounds kind of fun."
Although Mayhew has continued to express interest in a variety of adult-education opportunities, it remains unclear whether he will ever summon the will to attend a class.
Sources close to the pathetic man were not available for comment, as none particularly close to him exist.