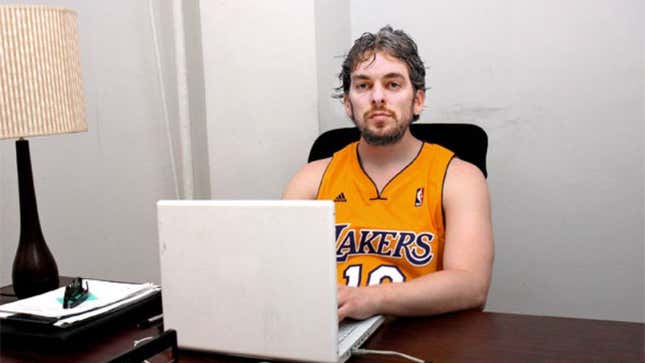 LOS ANGELES—Claiming he was unaware of the existence of a Los Angeles Lakers-Boston Celtics rivalry until numerous media outlets suggested their 2008 Finals matchup would revive it, curious Lakers center Pau Gasol researched the topic Wednesday by entering "Lakers + Celtics + Rivalry" into the Internet search engine Google.
CDC Issues Dire Warning That Nick Cannon Is Feeling Horny
The All-Star center expressed surprise upon finding that search results yielded nearly 75,000 websites about the topic, including a Wikipedia entry devoted solely to the Celtics-Lakers matchup.
"I guess these teams go way back," Gasol told reporters, adding that he was also intrigued to learn that the Lakers themselves have a history that precedes their 1996 signing of Shaquille O'Neal. "Apparently, before I was born, the Lakers and Celtics used to play each other all the time, and the games were intense. It seems to have been a really big deal."
"Listen to this," the visibly impressed Gasol said before reading from a printout of the Wikipedia page. "'The rivalry originated in the 1960s, when the Celtics defeated the Lakers six times in eight years to claim the championship. The classic matchup featured greats such as Bill Russell and Bob Cousy for Boston, and Elgin Baylor, Joe Montana, and Jerry West for Los Angeles.'"
"Man," Gasol added, "I wish those guys were still alive. I would love to talk to them about it."
Gasol's Internet search history confirmed that the information gleaned from the initial Wikipedia page spawned a number of related Google searches, including those for "Kevin McHale," "Magic Johnson," "Bill Russell," "Red Auerbach," "Kobe Bryant + sexual assault," and "Pau Gasol."
Gasol said his interest in the topic was first piqued after being repeatedly asked to compare his potential matchup against Celtics center Kevin Garnett to that of "Chamberlain vs. Russell." Though Gasol said he was happy to eventually learn the Chamberlain to whom reporters were referring was former Los Angeles Lakers star Wilt Chamberlain, and the Russell was former Boston Celtic Bill Russell, Gasol admitted he was still struggling with the question's relevance to the actual 2008 Finals.
When asked if this newly acquired information about the rivalry had further inspired him to beat the Celtics, or had created a deep-seeded hatred for the Boston team, Gasol responded, "No, not really. It's all very interesting though."
Gasol's teammates echoed that sentiment, saying that though it was worth knowing that the Celtics and Lakers had played one another 10 times in the Finals over 75 years ago, they now considered the San Antonio Spurs or the Dallas Mavericks their biggest rivals.
"I don't remember this because it was years before I was born, but I was reading that at one time the Lakers had guys with crazy names like Kareem and Magic," said Gasol, adding that the player photo of the latter reminded him of a thinner "Mr. Johnson," an eccentric local movie-theater owner who often hovers around the Lakers locker room, tells the team "good job," and always offers advice. "He's a nice guy and doesn't mean any harm, so we let him stay."
"But apparently that rivalry between that Magic guy and Larry Birdman [sic], who my dad said was a pretty great shooter, saved the NBA," Gasol added. "I don't know about that. I'll tell you, though, on those YouTube videos, that Lakers coach with the fancy suits and the slicked-back hair looked ridiculous."
Gasol said that his teammates were equally interested in learning more about the rivalry's history, with the exception of guard Kobe Bryant. According to Gasol, when the Lakers star was informed that his name was not mentioned in the initial Wikipedia entry, an angered Byrant walked away without saying a word. Upon revisiting the page several minutes later, Gasol said the header "Russell vs. Bryant" had been edited into the site, and a rudimentary Wikipedia page for a 1988 Nintendo video game titled Bryant vs. Bird now existed.