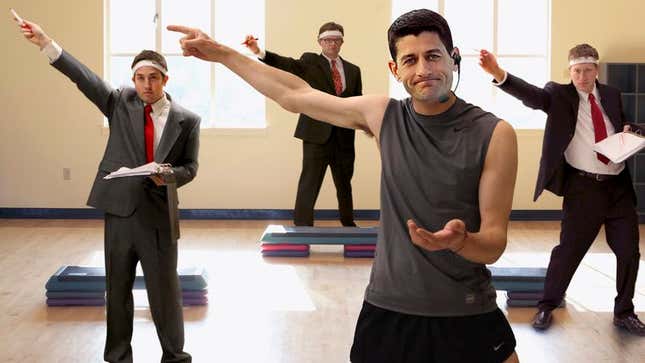 WASHINGTON—Republican vice presidential candidate Paul Ryan took a short break from his busy campaign schedule Wednesday to announce the official release of his new 90-minute high-endurance Extreme Budget Shredder instructional video.
This Week's Most Viral News: September 22, 2023
According to a press release, the video will allow fiscal conservatives to follow along with the Wisconsin legislator as he guides them through a wide variety of exercises in austerity designed to "trim those government expenditures" and "burn away all that unwanted debt."
"Prepare to see your budget get lighter and leaner than it's ever been," Ryan says in the introduction to the video, wearing a tank top, compression shorts, and a hands-free microphone. "It won't be easy, but with me guiding you every step of the way, pretty soon those $1.1 trillion deficits will be nothing but a distant memory."
"All right, now, let's get that heart rate up with a set of light transportation infrastructure cuts," Ryan continues as he demonstrates how to do away with costly bridge and highway repairs to a room of seven men and women dressed in formal business attire. "Only $10 billion more to go. C'mon, keep it going! Quick breaths! Reduce those allocations!"
Promising to "increase balance and stability," Ryan's program claims it is specifically designed to target the budget's core using a "dynamic reduction approach" to eliminate fat from the government's major spending areas.
The video reportedly features "over 70 new and turbocharged financial reforms," ranging from 30-second-interval stimulus plunges to quicker and more explosive discretionary-spending chops aimed at "getting rid of all those dreaded earmarks." The program also concentrates on trimming green energy subsidies, using Ryan's trademark "Solyndra slashes" to quickly drop investments in geothermal, wind, and solar power research.
"Oh, yeah, we're really in the groove now," Ryan says a half hour into the video, after he finishes running up the eligibility age for Social Security. "Don't forget to keep stretching those tax dollars, and remember that the more you feel the burn, the faster you're shedding those Supplementary Security Income plans. Man, that feels good, huh?"
The Wisconsin representative then allows for a quick 60-second break during which he chugs a 32-ounce protein shake, pounds his chest with his fist, and tells viewers to "get ready to blast Planned Parenthood next."
Later in the program, Ryan unveils several more advanced cost-cutting measures, including "maximum intensity" public education tucks to isolate excess Pell and Title I grants, and a rigorous 20-minute "Social Insurance Shredder" routine that the congressman says is "guaranteed to remove any traces of Medicaid and Medicare from your system."
"There are no more excuses for having a bloated budget now," Ryan adviser Dan Senor told reporters. "Drawing from his experience on the House Budget Committee and the theories of Friedrich von Hayek, Paul has developed a unique and incredibly effective plan to slim down any federal deficit. In just 40 minutes a day, you can get those tightened budgets you've always wanted in time for the next fiscal year. And have fun doing it, too!"
Senor confirmed the Extreme Budget Shredder video also comes with a free booklet explaining how to maintain fiscal health after completing the 60-day program, including tips for "bulking up" defense spending by using vouchers as a cheaper substitute for care programs for veterans and people with disabilities.
Ryan's methods have already garnered a very positive reception, with many saying their policies have been "completely transformed" by his program.
"I was so embarrassed by my big, inflated budget that I couldn't even bring myself to look at it," said Florida governor Rick Scott, proudly displaying before-and-after pictures of his budget, which is now $4.6 billion thinner. "But after just three weeks on 'the Shred,' I immediately started seeing results. And not only did the debts go away—they stayed away."
"I never in my wildest dreams thought I'd be able to lose 50 unemployment and housing assistance programs for the poor," Scott added with a triumphant smile. "But if I can do it, anybody can."