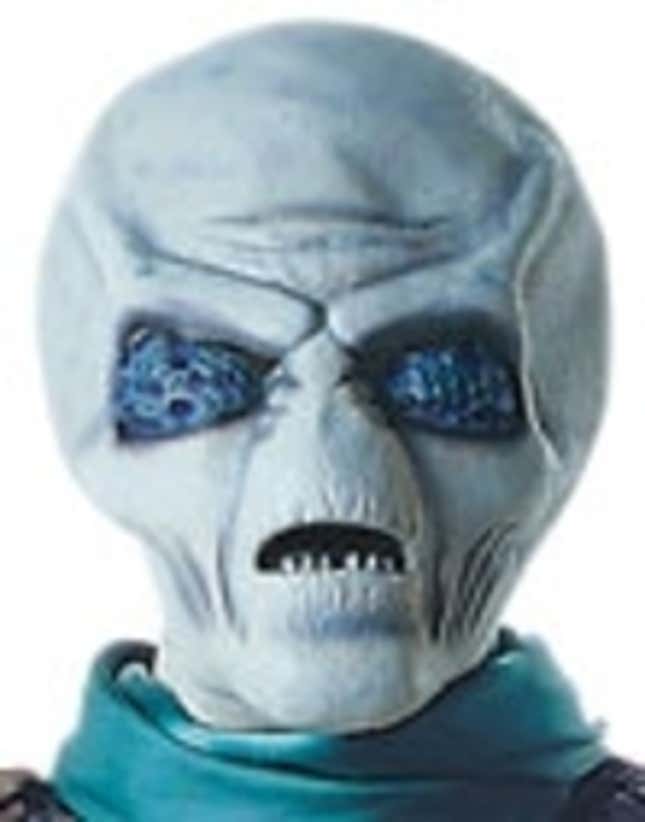 Citizens of Earth! I greet you on behalf of our leader, the grand exalted Emperor Xervandian. We have been dispatched from Zarvox, the 18th planet in the Klaator-Na quadrant. Do not be alarmed. We do not wish to harm you. Ours is a peaceful mission. We come in search of quality name-brand footwear at reasonable prices.
This Week's Most Viral News: September 29, 2023
Our journey was long, more than 2,000 light years, and our feet are tired. We command you to assemble a great selection of comfortable, great-looking shoes in a wide range of sizes and styles—top brands like Nike, Timberland, Steve Madden, 9 West, Candies, and Rockport. And we refuse to overpay.
In exactly one hour, we will arrive on your planet's surface. Have a convoy of friendly, helpful salespersons ready and waiting. At 1600 hours, we will commence scanning your planet's surface for the season's hottest mid-calf length boots in classic colors like black and brown, as well as fun, attention-grabbing red and pink.
We are a powerful race, but we are not a violent one. The wars you wage on your planet are an outdated notion to us, as we prefer more intellectual pursuits. We also enjoy jogging, hiking, basketball, and golf, so we will accept nothing but the best in athletic footwear from Adidas, Reebok, and Converse. The citizens of our planet are in need of all manner of sport shoes, from cross trainers to hiking boots.
Bring them now, humans!
We have known about your watery planet for eons, but avoided contact as we patiently waited for you to develop sturdy, cushioned insole technology that allows the foot to properly breathe. The fires on our planet have left our own stockpiles of shoes and boots depleted. Zarvox has exhausted all reserves of great-looking, comfy classics by such designers as Charles David and Kenneth Cole.
Will you cooperate, People of the Blue-Green World? All we ask for are shoes that offer fashion, comfort, and value. We have noted the accelerated rate at which Earth produces fun new styles and are impressed. Will you deny us your supply of boat shoes, casual boots, sandals, clogs, loafers, and mules? Or will you help us complete our interstellar shoe quest?
I need not point out our superior weapons technology. We feel no need to threaten you with our Nitro-Electrion cyclo-blasters. We will make no trouble for you if you give us what we require: great shoes at a great price. With quick, courteous service. And a full, no-questions-asked 30-day return policy.
We have seen your cities. They light up the sky for many miles. We could not help but be impressed by their beauty and great selection of urban footwear by Fubu, Lugz, Dada, Mecca, and South Side. Such brands will serve us well upon our return home.
While our initial gyromagnetoscopic scan of Earth detected the presence of shoes that would look great in the office, like Dexter, Bass, and Bostonian loafers, our journey across the stars will not be successful until we also have something that looks great after hours. We must see Hush Puppies! We must see Minnetonka! We will see LB Evans! People of Earth, believe what we say. We will know the right pair when we see it, and we will not bow to high-pressure sales tactics.
Now is the time, humans, for you to await additional instructions. As soon as the hull of our ship is de-ionized and ready for krilliation, we will make our descent for shoes. We can only pray, for the sake of our two worlds, now united in purpose across the great expanse of stars, that you have a great selection for the kids, as well.