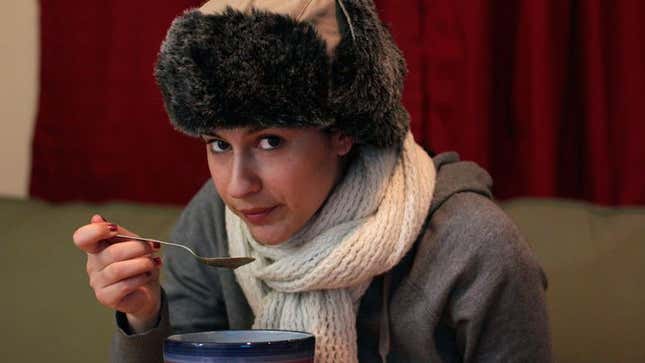 SILVER SPRING, MD—Meteorologists at the National Weather Service announced Monday that Americans should begin preparing for perfect soup weather, which will hit many parts of the country as early as midweek.
This Week's Most Viral News: September 29, 2023
By Wednesday morning, much of the U.S. should begin seeing heavy soup weather suitable for unseasonably large portions of soup. Additionally, parts of the Northeast could see overnight temperatures drop to lows ideal for thick bisques or hearty stews.
"There are already severe soup weather patterns developing over the entire northern part of the United States," NWS official David Reyes said while standing in front of a digital map of the U.S. emblazoned with soup-bowl icons. "A high pressure system coming down from Canada will bring low temperatures; light, fluffy snow; and bright sunshine perfect for curling up in front of a fire with a robust potato-leek chowder."
"The latest meteorological data suggest that we should be prepared for more than just mugs or cups of soup," Reyes continued. "We are looking at a weather system consistent with huge, brimming bowls of piping-hot soup that will really hit the spot."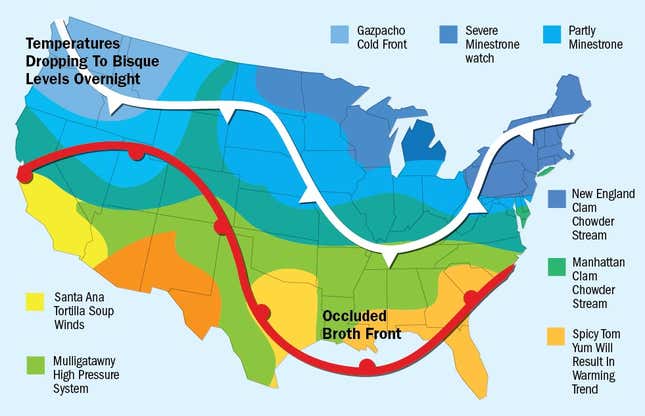 Reyes added that the NWS was deeming it "highly advisable" to use oyster crackers whenever possible.
According to forecasters, this could be the best soup weather since the NWS started keeping records in 1909, a year in which giant pots of spicy crawdad gumbo were seen as far north as Pennsylvania. In response, health professionals have set out important wellness guidelines. Dr. Linda Naik, a spokesperson for the Department of Health and Human Services, said that people in affected regions should ready themselves for snuggling into the warm, woolen collars of their cable knit sweaters and throw on an old black-and-white movie before digging into steaming bowls of soup at least as thick and rich as a tomato broth.
"Exposure to these conditions can quickly result in rosy cheeks and a case of the shivers," Naik said. "After an extended periods of tobogganing and snowball fights, you will likely feel chilled to an extent not remediable by simple hot cocoa. So it is vital that you have the necessary fresh ingredients on hand for plenty of beef barley, clam chowder, and buttery split-pea soup."
"Mmmm!" Naik added.
Naik directed citizens to the HHS website for tips on closing one's eyes, smiling, and inhaling deeply through one's nose over a hot bowl of soup, as well as for recipes recommended for children and the elderly, who are particularly susceptible to enjoying perfect soup weather.
In the wake of today's forecast, Americans seem to be taking no chances. Reports have come in from across the country of stores being completely sold out of ladles and Crock-Pots in anticipation of the looming conditions.
Still, though meteorologists are predicting once-in-a-lifetime soup conditions, some citizens remain skeptical, claiming the situation has been blown far out of proportion.
"This happens every year," Lancaster, PA contractor Dale Reardon said. "They say we're going to get the best soup weather in 50 years and everyone gets out their bowls and spoons and cooks all day long for nothing."
Added Reardon, "Just watch; we'll be lucky if we get even a miso cold snap."