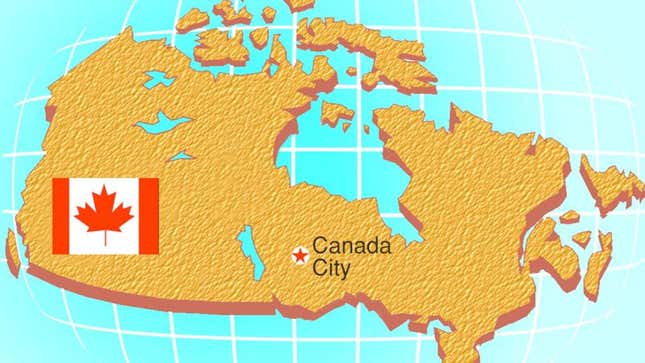 It's Monday morning, and Toronto resident Steve Dorman shares a quick breakfast of "eggs" (a native food) with his "wife" (an officially state-sanctioned mate), and discusses yesterday's poor showing by the hometown team in "baseball" (a popular local sport). After a kiss on his wife's cheek, he hops on the "subway train" (a mode of subterranean transport) to the office.

Onion Explains: The Rise Of China Pt. 1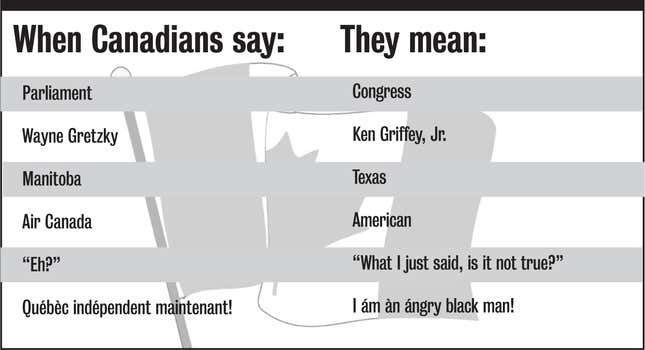 This is life in exotic Canada City, the capital set deep in the heart of the mysterious land known as Canada (pronounced CAN-a-da).
Like his estimated 35,000 fellow countrymen, Dorman is proud to be a "Canadian." Located 120 miles north of Buffalo, NY, Canada is, according to Dorman, "a nation with a government and laws distinct from those of the United States." It also has a military, a system of taxation, and periodic free elections to select political leaders. It even has its own currency, says Dorman, various denominations of "dollars" that can be exchanged for the many products manufactured in Canada, including Canadian bacon and ice.
Canada City, Canada's largest community, is located in a place called a "province," a subdivision not unlike the cantons of Switzerland. There are 10 Canadian provinces in all, from Nova Scotia in the east to British Columbia in the west. And, much like America's states, nearly every one of the provinces has its own capital. But make no mistake—there's nothing provincial about these provinces. Canada has both feet planted firmly in the 20th century.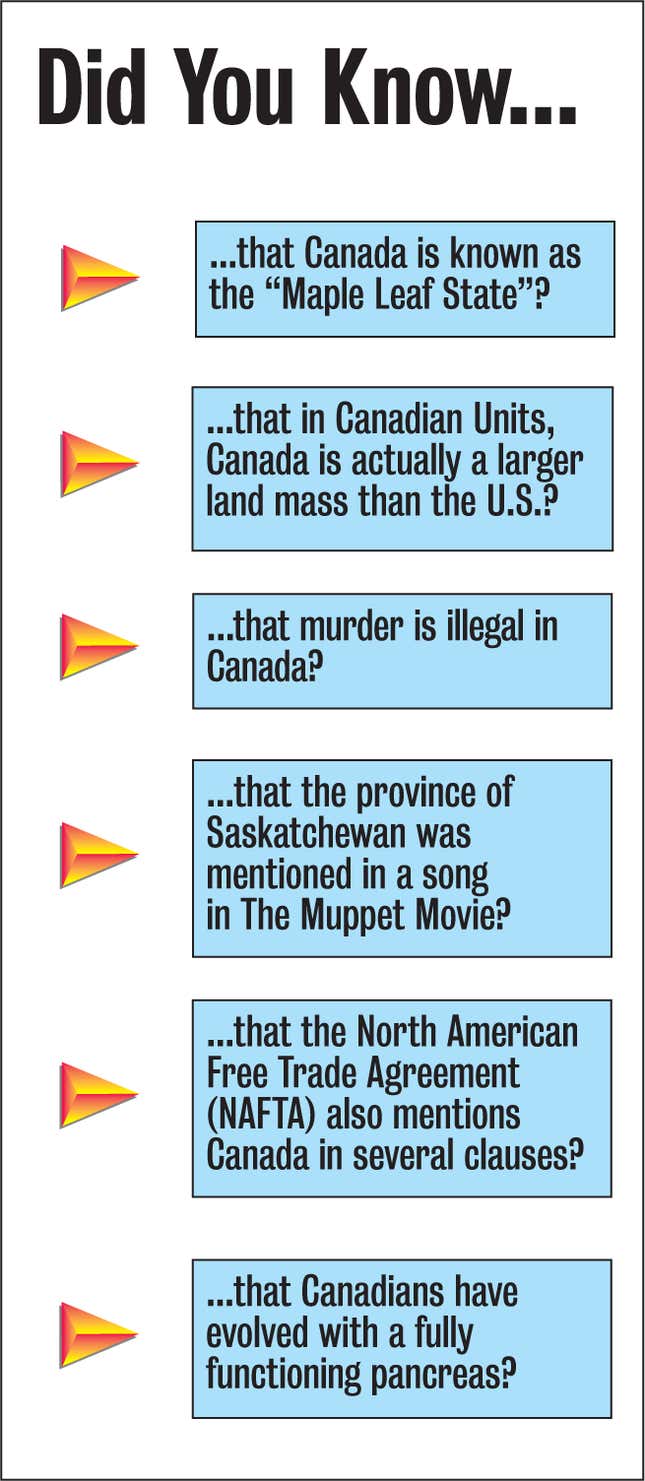 "In fact, Canadians enjoy advancements such as refrigerated food, zippers and printing," notes Dor-man, an "accountant" who goes to work wearing the comfortable trou-sers, dress shirt and necktie that form a traditional Canadian costume. "Our industries are large and varied, ranging from logging to automobile manufacturing."
Not too shabby for a nation that just 240 years ago had no electricity.
One area in which Canada certainly has the U.S. beat is languages. Canadians speak not only English, but also French. In fact, according to Prime Minister (roughly Canada's equivalent of a president) Jean Chrétien, "French is the primary language in some parts of the country, and English is in others. The national language question has divided our nation terribly, with Quebec even recently threatening to leave the union."
Canada has produced many prominent people who have gone on to great success in hockey. Among them is Colorado Avalanche goaltender Patrick Roy, who says hockey is the "national sport" of the Canadianers.
"It's in our blood, it's part of our heritage, and it brings people together," he says of the sport Canada picked up from America in the late '50s. So appreciative is Canada, it even has hockey teams called the "Oilers" and "Jets," named after its favorite American football teams.
Despite the language problem and other difficulties, at least one Canadianer is op-ti-mistic about his country's pro-spects in the new millennium.
"Canada will remain free, proud and strong in the new century," says Dorman, heading off for another day of what in Ca-nada is known as "work." "Our nation will continue to be a beacon to those throughout the world who value liberty, dignity and human rights."
Aww, isn't that cute? At times like this, there's really only one thing left to say: Oh, Canada!
This feature has been provided by the Knight-Ridder news service.