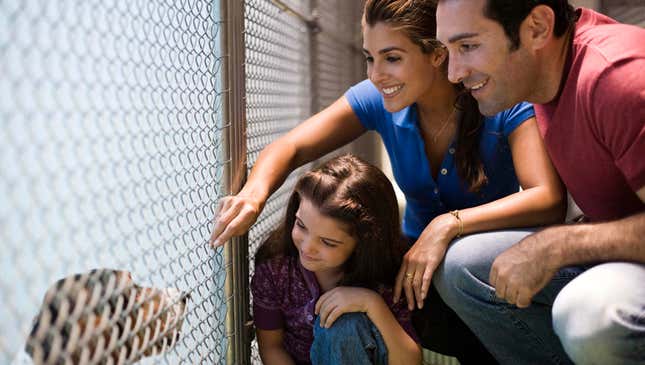 Animal shelters across the country are filled with dogs, cats, and other animals that need homes, though bringing a pet into your family can be both a rewarding and challenging experience. Here are some tips for finding the perfect pet and making sure its transition into your home goes as smoothly as possible:
Most dogs require a certain amount of regular exercise, so just go with a cat.
Owning a turtle combines the thrill of staring at a rock with the fun of cleaning a reptile.
Explain to your kids that a pet is not just a fun diversion, but a time bomb of tragedy with a 3- to 15-year fuse.
You may be asked to provide a reference, so it's a smart idea to remain on good terms with any dogs you may have met in the past.
Don't forget about exotic pets. Your new best friend might be a chinchilla, iguana, or blood fluke.
Before adopting a new dog, make sure your family has its story straight in case the shelter asks what happened to the old dog.
Remember that pet adoption is a perfectly acceptable option for couples who are unable to conceive a pet naturally.
Adjusting to a brand-new owner can be stressful for animals. Move into the shelter for a few weeks prior to taking your pet home so it can get used to you.
If you're trying to decide whether or not to adopt a pet rat, a good rule of thumb is to not do this.
When you're visiting the shelter, remember that they'll all die if you don't adopt them.
This Week's Most Viral News: September 29, 2023