NEW YORK–Seeking to broaden the customer base of the popular drug, Pfizer announced the launch of a $40 million "Zoloft For Everything" advertising campaign Monday.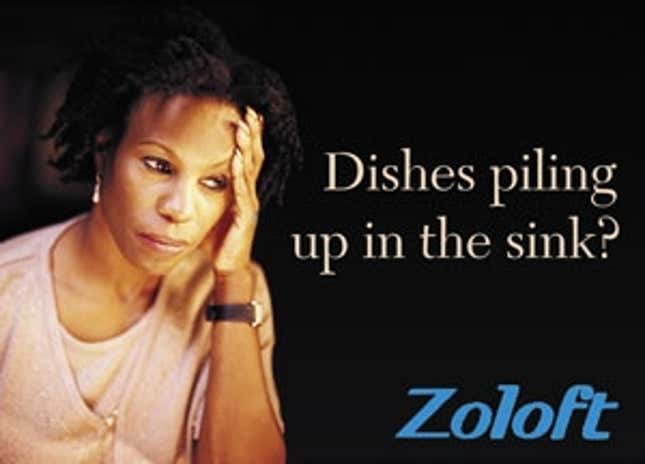 This Week's Most Viral News: September 29, 2023
"Zoloft is most commonly prescribed for the treatment of depression and anxiety disorders, but it would be ridiculous to limit such a multi-functional drug to these few uses," Pfizer spokesman Jon Pugh said. "We feel doctors need to stop asking their patients if anything is wrong and start asking if anything could be more right."
Continued Pugh: "How many millions of people out there are suffering under the strain of a deadline at work or pre-date jitters, but don't realize there's a drug that could provide relief? Zoloft isn't just for severe anxiety or depression. Got the Monday blues? Kids driving you nuts? Let Zoloft help. Zoloft."
Zoloft (sertraline hydrochloride) was originally introduced as a means of treating depression, post-traumatic stress disorder, panic disorder, and obsessive-compulsive disorder. In January of this year, however, Pfizer won FDA approval for use of Zoloft to treat premenstrual dysphoric disorder, as well as social-anxiety disorder, or "social phobia."
Last week, the FDA okayed Zoloft for treatment of "the entire range of unpleasant or otherwise negative social, physical, and mental feelings that an individual may experience in the course of a human life."
"At first, Zoloft was only used to treat depression," Pugh said. "But what is depression, really? Who died and gave doctors the authority to dictate who is and isn't depressed? One man's hangnail could be another man's darkest depths of despair. Isn't medication a tool to help people lead better, happier lives? Access to drugs should not be restricted to those the medical community officially deems 'sick.'"
Pfizer president James Vernon said the "Zoloft For Everything" campaign will employ print and TV ads to inform potential users about the "literally thousands" of new applications for Zoloft. Among the conditions the drug can be used to treat: anxiety associated with summer swimsuit season, insecurity over sexual potency and performance, feelings of shame over taking an antidepressant, and a sense of hollowness stemming from losing an online auction.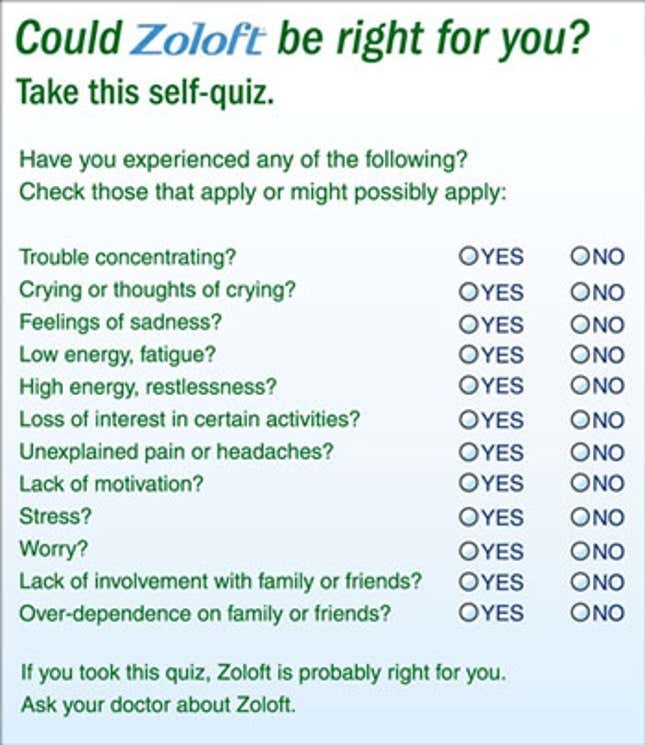 In today's fast-paced world, Vernon said, people don't have time to deal with mood changes.
"Zoloft has always helped clinically depressed people modulate serotonin levels and other chemical imbalances that make life unlivable for them," Vernon said. "But now, Zoloft can also help anyone who needs their emotions leveled off. Do you find yourself feeling excited or sad? No one should have to suffer through those harrowing peaks and valleys."
Anita White of Yuma, AZ, sought out Zoloft after seeing one of the new commercials.
"I was sitting on the couch, just watching TV, and, for the life of me, I couldn't motivate myself to go down to the basement to do the laundry," White said. "Luckily, a Zoloft ad came on right at that moment. I went to their web site and, sure enough, one of the 'Is Zoloft Right For You?' quiz questions was, 'Are you unable to motivate yourself to go down to the basement to do the laundry?' That's when I knew."
Other pharmaceutical companies are following Pfizer's lead. On Tuesday, Paxil manufacturer GlaxoSmithKline unveiled its new ad slogan, "Paxil… Give It A Try." Eli Lilly, maker of Prozac, is slated to launch a similar campaign built around the slogan, "Pot Roast Burnt? Husband Home With The Flu? You're Having One Of Those Prozac Days."
"We are letting consumers know that if they suspect Zoloft might improve the quality of their lives, they should contact their doctor," Pugh said. "And remember, you'll need to take Zoloft for at least eight weeks to make sure it's working."
Pugh warned that Zoloft use may cause side effects such as agitation, erratic behavior, restlessness, difficulty speaking, or shaking of hands and fingers. He added that Zoloft can help those suffering from agitation, erratic behavior, restlessness, difficulty speaking, and shaking of hands and fingers.