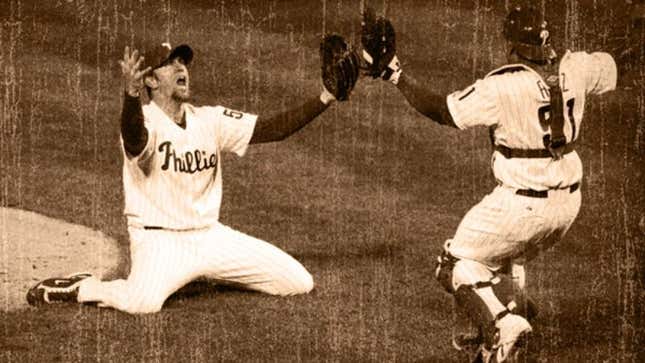 PHILADELPHIA—The last time the Philadelphia Phillies brought a World Series title back to the City of Brotherly Love, the nation's financial sector was in complete ruin, the cost of a gallon of milk was only $2.74, fans watched the Fall Classic while huddled around their slightly-less-streamlined high-definition television sets, and Philadelphia slugger Ryan Howard was just 28 years old.
This week Howard, 29, hopes to lead the Phillies to their first World Series championship in more than 360 long days and end a title drought that has been punctuated by several embarrassing losses, including a 2009 opening-day defeat by the Atlanta Braves and a June loss to the Atlanta Braves. During its infamous dry spell, the team has also come up short twice, winning both an NLDS and an NLCS title but having absolutely no World Series ring to show for it.
To put into perspective just how long the Phillies have gone without a championship, the earth has almost made one full orbit of the sun since the franchise last paraded through downtown Philadelphia holding the famed Commissioner's Trophy.
"We have a good group of guys this year, and if we block out all the stuff about how we haven't won a World Series in more than 5,000 waking hours, we'll be fine." Howard said. "Frankly, I'm tired of all that talk. Yes, I know Michael Jackson was still alive the last time we won, and I know Boston Legal was gearing up for its final episode. But look, when the umpire says 'Play ball,' none of that matters."
"After 364 days of constantly coming up short, I think this is finally our year," Howard added.
According to Phillies manager Charlie Manuel, if his players get wrapped up in the fact that they haven't raised a World Series banner since April 5, 2009, they'll never be able to play to the maximum of their ability against the New York Yankees. The veteran manager admitted, however, that going nearly 52 straight weeks without a championship is bound to shake any team's confidence.
"The bottom line is we're a pretty inexperienced team, and for many of these young players, this will be the first time they've been to the World Series in a year." Manuel said. "A lot has changed in that time. If you would have told me last October that this country would elect a black president before the Philadelphia Phillies made it back to the World Series, I would have laughed in your face."
While Philadelphia players admitted the 11-month championship-winless streak has been difficult for them personally, most agreed that it's the fans who've suffered most, enduring more than 500,000 minutes without a World Series victory.
"Our fans are incredible," said left fielder Raul Ibanez, who was brought to the Phillies during the offseason in the hopes that he could help Philadelphia finally get back on the winning track. "If I were them, I would have given up on us weeks ago, after we lost our 69th game and failed to win the National League East by more than 10 [games]. But they stuck with us."
Though the Philly faithful are understandably disappointed with their team's title drought, many believe this will be the season when the team breaks the so-called Curse of 1981—the year in which the Phillies failed to follow up their 1980 championship season with a World Series victory.
"I guess part of me feels like the long wait will make a title all the more special," season-ticket holder Mike Oliver said. "And even though I don't like to compare teams, this Philly squad feels similar to the one who beat the Rays back in the day. They had guys like Jimmy Rollins, Chase Utley, Cole Hamels, Jamie Moyer—guys who could really play the game and knew how to win; not like today's players."
"Man, whatever happened to Jamie Moyer?" Oliver added. "He's got to be dead by now."
"Truthfully, I never thought I would live to see the Phillies get to another World Series," longtime fan David Oswald said. "When I was diagnosed with pancreatic cancer last November, the doctor only gave me eight months."