CALHOUN FALLS, SC—Garry Melcher's plans to have sexual intercourse at last weekend's DragonCon 2001 were unsuccessful, the 27-year-old comic-book collector and science-fiction fan conceded Tuesday.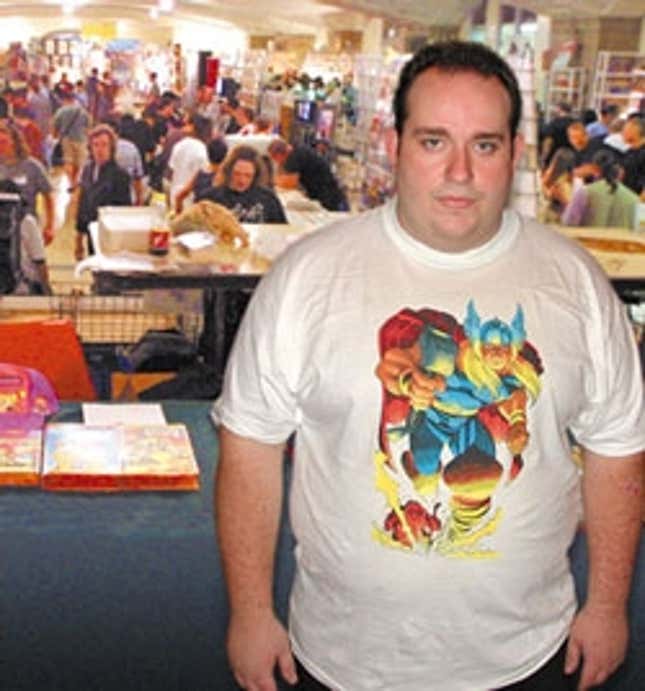 FBI Investigating Fourth-Grade Kid Who Said He Has Seen Over 200 Dead Bodies
"I was really hoping to meet some ladies at DragonCon for a little of the old horizontal bop," said Melcher, who has been unwillingly celibate for the last 17 months. "It didn't really pan out, though."
Billed as "America's largest annual convention for fans of sci-fi, fantasy and horror, comics and art, games and computers, animation, science, music, television, and films," DragonCon 2001 was held at the Hyatt Regency in downtown Atlanta from Aug. 31 to Sept. 3. Unfortunately, not one of the convention's 20,000-plus attendees was willing to copulate with Melcher at any point during the four days of the event.
"I drove down to Atlanta with my best friend Andy [Razowsky], but I opted against sharing a hotel room with him, just in case I ended up needing a little privacy," Melcher said. "In fact, I was even thinking of going to DragonCon just by myself, to do a lone-wolf sort of thing."
G/O Media may get a commission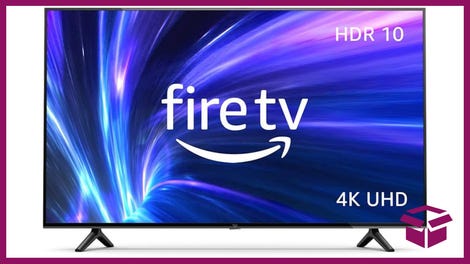 42% Off
Amazon Fire TV 50" 4K Smart TV
According to Melcher, women in his hometown of Calhoun Falls "wouldn't know the Green Lantern from the Green Arrow." As a result, he has not had a date since former girlfriend and longtime Illuminati: New World Order opponent Carrie Lenz broke up with him in March 2000.
"I know a lot of girls online, but that's not really the same," Melcher said. "I needed to see some face to face."
Melcher said he was greatly looking forward to DragonCon, which offers attendees many opportunities to socialize. Events this year included three dances—the Classic Style Gothic Industrial dance on Friday, '80s New Wave on Saturday, and Electronic Body Music, Synth-Pop, and Modern Gothic-Industrial on Sunday—as well as unofficial dances and drum circles each night on the Hyatt Regency's Pool Deck.
"The whole week before DragonCon, people on the Internet bulletin boards were posting messages about different parties they'd be throwing," Melcher said. "They were all like, 'Anyone can come. It's in Room 645 Sunday night. See you there!' I hadn't been to a party in a while, so I was pretty psyched."
As DragonCon approached, Melcher found himself daydreaming about some of the possible convention scenarios that might lead to sexual congress.
"I imagined some girl and I talking about the new Lord Of The Rings movie," Melcher said. "Then I could say, 'Oh, I have the trailer on my laptop back in my hotel room if you want to see it. I was also thinking it'd be really cool if I was up against some girl in a trivia contest, and it came down to us battling it out neck-and-neck… I could definitely see things getting heated in a situation like that."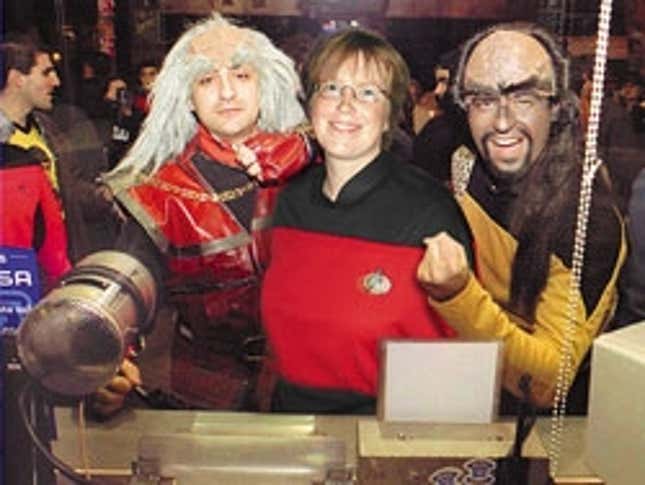 Added Melcher: "The crazy thing is, I did actually wind up entering a trivia contest. Unfortunately, I got knocked out on the first question. I should've known [Angel cast member] Andy Hallett's hometown was Osterville, MA."
Upon arriving at DragonCon, Melcher found himself disappointed in the dating pool, noticing a gender ratio decidedly skewed toward males.
"I guess girls aren't into dragons and superheroes as much as guys are," Melcher said. "That fact really hit me when I first walked into the main exhibition hall: Talk about a total sausage fest."
Though a distinct minority, some females were present at DragonCon.
"There was this one girl dressed up like Black Canary. She had the boots and the fishnet stockings and everything," Melcher said. "I couldn't really talk to her, though, because there was a pretty dense crowd of guys around her at all times."
Melcher's luck did not improve, even when he attended events more likely to draw females.
"Andy and I went to this Sailor Moon thing because we knew girls would be there," Melcher said. "Make no mistake—we do not like Sailor Moon. The animation totally sucks."
At the Sailor Moon symposium, Melcher finally spoke to a number of women in the target 18-to-30 age group. The women, however, were only interested in talking about Sailor Moon.
"This one girl asked me if I wrote fan fiction, and I said yes," Melcher said. "That worked pretty well until she started asking me which Sailor Scout was my favorite."
Subsequent efforts to meet women were similarly unsuccessful. Saturday evening, Melcher attended a special get-together in the Hyatt Regency's Colonel's Room. The event was populated with dozens of long-haired, middle-aged men and a handful of drunk, heavily made-up 15-year-old girls. The following night, Melcher attended a party he had heard about in an online chat room. Held in Hyatt Regency Suite 239, the party consisted of 20 people discussing comic books as They Might Be Giants' Lincoln blared on a boombox.
"It was an awesome party, but I was nervous about not knowing anyone, so I ended up drinking way too much," Melcher said. "I distinctly remember talking to this one girl who actually did inking on the last Batgirl series—right before I puked off the balcony."
"The next day, Andy had to drive the whole way home while I slept in the back seat," Melcher said. "Oh, well, I guess there's always DragonCon 2002."