Here are some helpful hints to make your next dinner party a smashing success: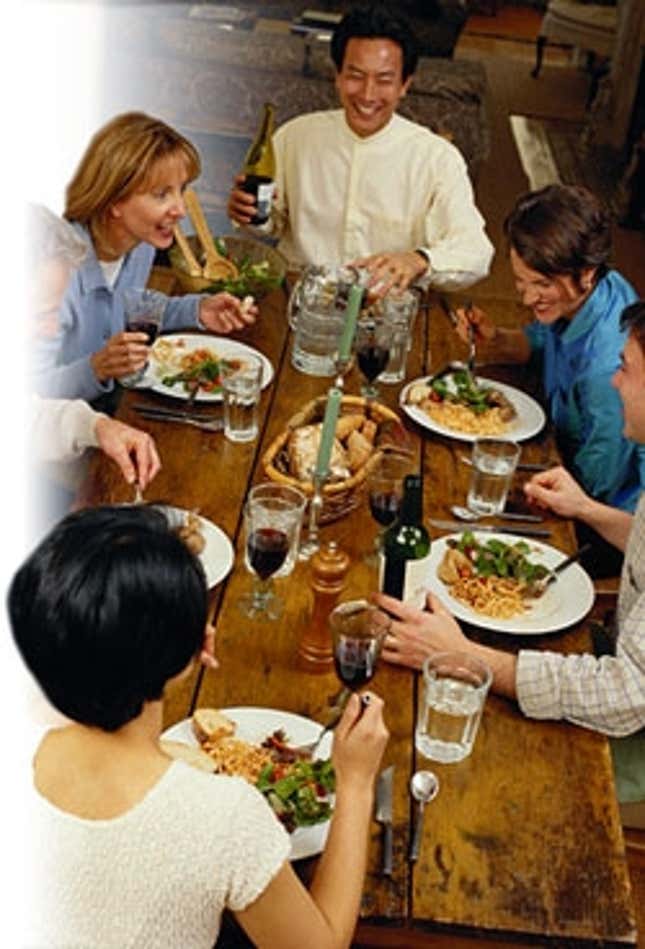 This Week's Most Viral News: September 22, 2023
Before dessert is served, the table should be cleared of all items from previous courses. This includes napkins, styrofoam plates, Popeye's wrappers, stadium cups, sporks, ketchup packets, and empty Thunderbird bottles.
If someone is murdered at your dinner party, save face by explaining that you are hosting one of those "How To Host A Murder" mystery parties.
When selecting a wine for the evening, first determine whether your motivations for the party are political or romantic.
For a truly elegant and tasteful affair, do up a bunch of froofy Martha Stewart stuff.
When hosting a romantic dinner for two, avoid using the good china, as your date may want to sweep the dishes off the table and make love right there.
If asked about a recipe, never tell them you got it from the label on the back of a Ragu jar.
Just because you haven't a friend in the world doesn't mean you can't throw a dinner party. Here's a possible guest list: Mrs. Butterworth, Chef Boyardee, Molly McButter, Mrs. Dash, Mr. Goodbar, and Bar Keeper's Friend.
Bon mots should be tossed off to the left, continuing in a clockwise direction.
You wouldn't believe how much lighting a big, fat joint will improve the reception your food gets.
If you are a clumsy, screwball waiter, you can easily avoid spilling a tureen of chowder over the shocked countess' head by simply making sure that no live lobsters clamp onto your nose.
If you are unsure where to seat the hermaphrodite, outside generally suffices.
Your fancy silverware isn't fooling anyone. Everyone knows you're having an affair and that this dinner is a desperate, transparent ploy to mask your floundering marriage.