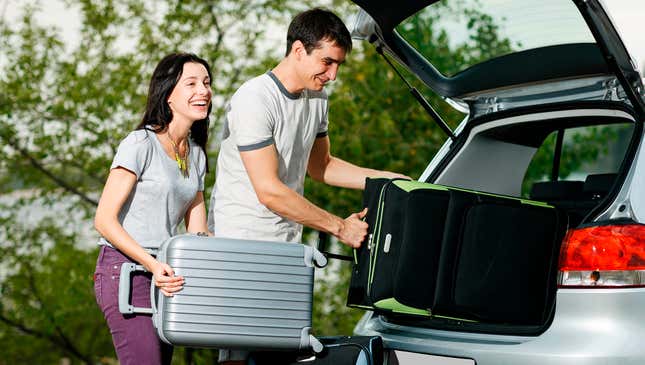 With summer fast approaching, many people are planning long car trips to visit tourist attractions, see old friends, or simply hit the open road. Here are some tips for a fun and fulfilling road trip:
Preparedness is your best ally when driving long distances, so practice looking out car windows for at least a week before embarking on any road trip.
Assemble a ragtag group of friends who have some stuff to work out and maybe something they're running away from.
If you're having trouble visualizing the idea of one long road trip, try looking at your vacation as a series of tiny commutes.
The whole point of a road trip is to have fun, so wherever you're headed, make sure to leave time for a side trip to Tommy Bartlett's Robot World.
Operating a car can be exhausting, so make sure you switch drivers every three to four minutes.
Protect your vehicle from overheating by applying a thick layer of SPF 50 to its exterior.
Drive with ham strapped to the hood of your car for a chance to see our nation's glorious array of native birds.
Always keep a spare tire in your trunk in case you find a strong tree branch over a swimming hole.
Wait, wait, this is exit 264 right here. Get in the right lane. You're good. This guy is letting you in. YOU'RE GOOD! JUST GO!
When night falls, pitch your car into a tree to keep bears from getting at your food.
Make sure you don't have your life-changing epiphany until the penultimate day of the road trip. Any earlier and the rest of the drive will just seem like a waste.
Supreme Court: 'We Wear Gold Crowns Now'