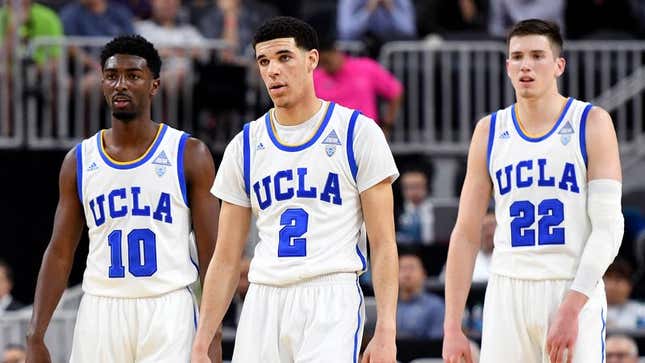 The 2017 NCAA Men's Basketball Tournament has provided thrilling upsets and amazing comebacks in the first two rounds. Onion Sports presents a guide to the 10 players to watch in the Sweet 16.
Ron DeSantis Announces He Will Live As Slave For One Year To Prove It Not Bad
---
Lauri Markkanen: Arizona's Finnish freshman forward is just the latest product of Sean Miller's famed Jyväskylä-to-Tucson recruiting pipeline.
---
Devonte' Graham: The Kansas point guard has amazed college basketball fans nationwide by having a recent arrest that only had to do with a traffic ticket.
---
Derek Willis: Kentucky will rely on the old-school veteran leadership of their only starter born before 1996.
---
Isaac Haas: Purdue's 7'2'' junior is a specialist who excels at getting the ball down when it gets stuck between the rim and the backboard.
---
Sindarius Thornwell: The South Carolina senior guard and SEC Player of the Year was completely unknown until he had one good game in the NCAA Tournament.
---
Quentin Goodin: The playmaking freshman hopes to overcome long odds to bring a national championship to wherever the fuck Xavier is.
---
Lonzo Ball: The star point guard has already verbally committed the next seven generations of his family to play for UCLA.
---
Josh Jackson: The Kansas small forward has been able to maintain extreme focus throughout the season knowing that his teammates and coaches will always make excuses for his criminal behaviors.
---
Aldo: This south Florida native has provided Baylor with the end-to-end speed and staunch defense only a 1,100-pound, 15-foot crocodile can offer.
---
Frank Mason III: Millions of fans will be cheering on the Jayhawks' Mason in the hopes that he'll solidify their only correct Final Four pick.