SILVER SPRING, MD—His long black hair flowing behind him as he threw himself around, across, and over the field at Animal Planet Stadium in his trademark reckless, acrobatic style, 9-week-old puli Troy Pupamalu dominated Puppy Bowl V Sunday by relentlessly hurling his body into squeaky-ball carriers and punishing adorable downfield retrievers with torrents of blindside licks.
At the conclusion of the two-hour contest, which was won by everybody for the fifth straight year, Puppy Bowl organizers honored Pupamalu with the Most Valuable Puppy award for causing five fumbles, recovering three lost plush footballs, and returning a bouncy hedgehog toy for an 80-yard touchdown. Long known for his physical play, Pupamalu was fearless in his pursuit of intimidating pit bull mixes, larger and fluffier dogs, and his own tail.
"There are not many puppies who can come into such a pressure-filled environment and make an immediate impact on every playful interaction," said Harry Kalas, Puppy Bowl play-by-play announcer and NFL Films narrator. "Pupamalu may seem out of control when he risks injury by leaping over the dog pile, but then he'll execute a textbook tackle by staying low and wrapping up the hind legs."
"You don't find a mix of talent and heart like this very often," Kalas added. "He is such a good puppy. Isn't he? Isn't he? Yes, he is a very good doggie."
In the opening minute of the game, Pupamalu was credited with making a critical stop when he delivered a crushing blow to Candy Apple after relying on his instincts to sniff out the running play and the Weimaraner's butt. Pupamalu's hit dislodged the ball, which he scooped up before he rumbled down the field, breaking numerous halfhearted jaw tackles before being rambunctiously nuzzled out of bounds at the 10-yard line.
G/O Media may get a commission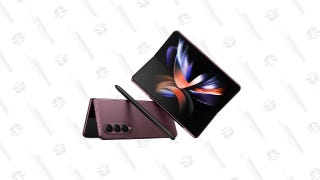 Save Up to $300
Galaxy Z Fold4
Pupamalu was an eagerly disruptive force throughout the game as he provided the cutest little coverage against the dog-in-motion you ever saw. The puppy was also incredibly disciplined about coming when he was called, consistently maintaining gap control to limit the success of the wildcat formation. The spirited canine had 16 rollicking tackles for a loss, tipped two water bowls, and held the offense to under 300 yards of passing.
Despite often being associated with his wild long hair, sources close to Pupamalu say that he is actually a very quiet individual on and off the field.
"Just look into those big brown eyes and you can see that Troy is an incredibly thoughtful little guy," said Kyle Jasperson, a trainer at Southern California obedience school. "But he's a rascal, too. Whether he's rolling around on his back or chewing on the floppy ear of a German shepherd, the intense friskiness of his play does all the barking."
While Pupamalu adeptly defended against short-, medium-, and long-haired puppies, the young canine was too enthusiastic at times, forcing Animal Planet referee Andrew Schechter to call him for unnecessary ruff!-ness and illegal paws to the face, penalties enforced during the ensuing lickoff. Pupamalu was also initially given a Puppy Foul for expelling feces in the end zone; however, after the referee called a "Time Oust" to dispose of the waste matter, the instant replay clearly showed that quarter-hound-dog Buster was at fault for the offense.
Pupamalu came under intense scrutiny on Tuesday, partially for being adorable but also because a report in the The Daily Rover rubber-newspaper toy alleged that the dog had attempted to conduct an illicit relationship with a prominent member of the Bissell halftime kitty-cheerleading squad, and claimed to have photographic proof of the couple frolicking together. As of press time, Pupamalu's agent had blamed the outcry on the "over-emotionalism and blatant anthropomorphism of cat people." Pupamalu himself has refused to comment on the accusations.