WASHINGTON, DC—After months of aggressive campaigning and with nearly 99 percent of ballots counted, politicians were the big winners in Tuesday's midterm election, taking all 435 seats in the House of Representatives, retaining a majority with 100 out of 100 seats in the Senate, and pushing political candidates to victory in each of the 36 gubernatorial races up for grabs.

CDC Issues Dire Warning That Nick Cannon Is Feeling Horny
While analysts had been predicting a possible sweep for months, and early exit-poll numbers seemed favorable, politicians reportedly exceeded even their own expectations, gaining an impressive 100 percent of the overall national vote.
"It's a good night to be a politician," said Todd Akin, an officeholder from Missouri. "The American people have spoken, and they have unanimously declared: 'We want elected officials to lead this nation.'"
Already confident they would have an easy time in the Midwest, a region long known for electing politicians, as well as with poll-going Americans in the deep South, politicians also picked up seats in each additional area of the country.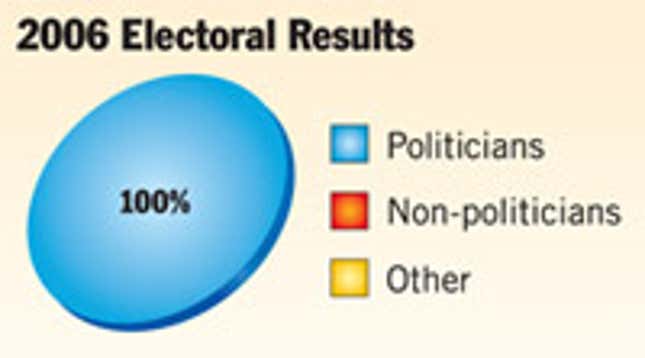 "We expected politicians to take Washington, Indiana, Oregon, Minnesota, Pennsylvania, Michigan, North Carolina, Maryland, South Carolina, Georgia, North Dakota, Mississippi, Montana, Vermont, Maine, Kentucky, California, Iowa, Alaska, Connecticut, Florida, Idaho, Louisiana, Alabama, Virginia, Delaware, Wisconsin, and Arkansas," said Georgetown University political science professor Barbara Steward. "But the fact that voters in the urban areas of Rhode Island and the farmlands of West Virginia, along with every other state, all put politicians into office is quite extraordinary."
"Even in the most hotly contested local races that went down to the wire, politicians still came out on top every time," she added.
This year's results are the most unanimous since the last election two years ago, in which politicians enjoyed widespread victories unrivaled since the election before that, and the one in 2000.
Politicians managed to appeal to all economic and ethnic backgrounds, genders, and age groups, enjoying equal success among both liberal voters and conservatives.
Issues advanced by politicians dominated not only the Senate and House races, but also all state, district council, county, and town-board elections.
"It looks like politicians are poised to dominate the political discourse of the country for years to come," said analyst Maria Lawson of the Free Enterprise Institute, who as long ago as December of 2004 had picked congressmen to once again take over the House of Representatives. "This should allow them to pursue their own political agendas almost unimpeded, sign even more bills into law, and appoint fellow politicians to committee chairmanships, special interest commissions, and other posts of power."
Added Lawson: "While it's still too early to tell, after the success of this election, it might not be too long before we see another politician in the White House."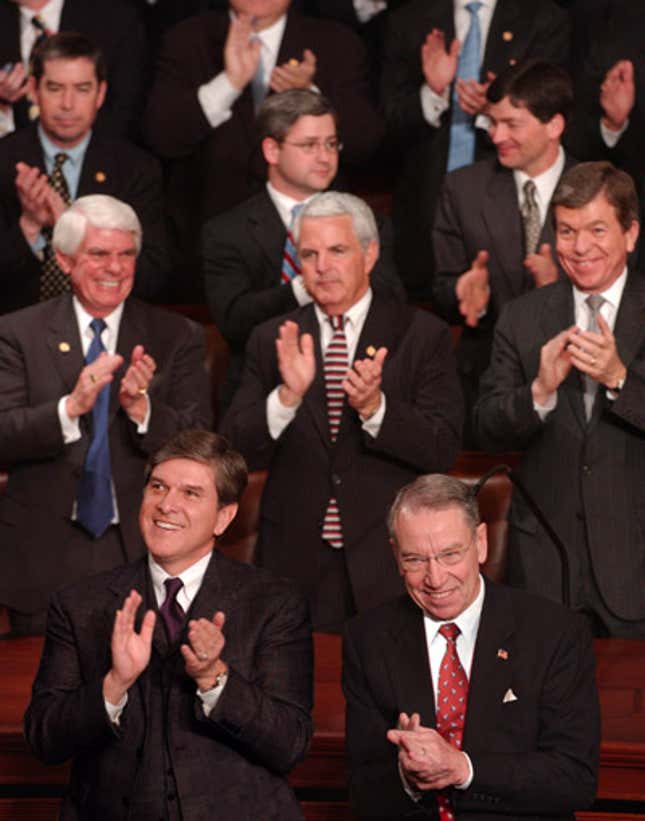 Despite fears that the dozens of campaign-finance violations, soft-money misappropriations, infidelity charges, hidden drunk-driving records, and protracted congressional cover-ups leaked just days before the election would hurt their chances, politicians were still elected over non-politicians in every single race.
"The fact that not a single non-politician even ran for office is just further proof that the American people tend to vote for politicians during times of war," Steward said. "Past data also suggests that the American people tend to vote for politicians during times of peace, as well as, generally speaking, every two years."
Some voters, however, such as Arkansas native Patrick Bunter, who first voted for a politician—Harry Truman—in 1948, are calling this latest victory "politics as usual."
"Over the years, I grew disappointed with the job the politicians were doing, yet I kept on voting for them out of loyalty," Bunter said. "This time around, I swore I'd go with someone else, but frankly, looking at the ballot, I didn't see any other choice."