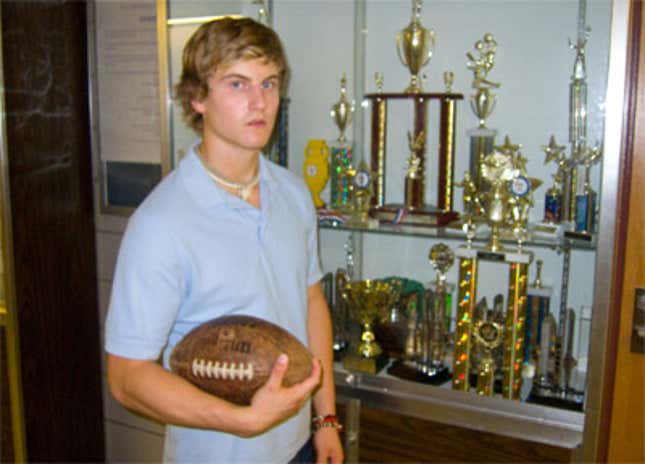 Yesterday, America was introduced to Trevor Wilson, the brave young man from Granton, Kansas who heroically gunned down a potential school shooter before the shooter could even obtain a gun. But to those who know him, Trevor's act of heroism was no surprise; The handsome football star and prom king has been serving as a role model for Granton's youth for years.
Edgelords Explain Why They Love Elon Musk
Numerous Granton residents told The Onion News Network about Trevor's history of volunteer work, including once trapping all of the squirrels in the town's downtown park and exterminating them by hand.
"No one asked him to do it," recalled family friend Ellen Haggerty. "Trevor just saw that the squirrels were a bit of a nuisance, so he caught them in traps he made and then took them down to his basement and videotaped himself as he killed them one by one. It was so sweet."
Trevor's teachers have equally glowing praise for Trevor. A short story he wrote for an English class last year about a young football player killing a classmate and wearing his skin as a coat was described as "extremely detailed" by his teacher Ron Wurther.
"The assignment was to write a three-page story, but Trevor turned in a 109-page hand-written manifesto. I've never seen a student apply himself so thoroughly."
Other teachers echoed the statement, including one who spoke in awe about a working crossbow Trevor built himself for a science project.
Sadly, despite his good deeds, Trevor has had to face tragedy many times. Seven of his previous girlfriends have gone missing. But the plucky youngster says he won't let even these losses keep him from having a great attitude toward life.
"I feel as powerful as a god," Trevor told reporters yesterday. "I am the Flesh Master. My thirst must be slaked with blood."