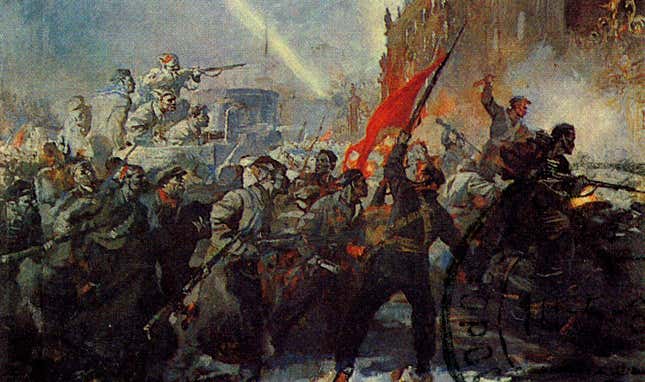 You probably remember the basic elements of the Russian Revolution: the ubiquitous poverty that stoked its flames, the resulting murder of the country's royal family, the provisional government that tried to pick up the pieces.

Now toppling an empire and reassembling it into a republic is hard work, requiring plenty of nutritious and delicious brain food on demand. With that in mind, it's no surprise that—during their days-long legislative brainstorms—the Soviet provisional government ordered as much takeout in 1917 as an agoraphobic millennial in 2021.
You may ask—"What exactly is your factual source for such a preposterous tidbit?" To that, we report: "Satire is approximately as accurate as actual history." And when satire comes from comedy legend Mel Brooks, we're inclined to laugh, shrug, and accept the distinct possibility that it totally could have happened like that.
Forty-two years after Brooks unleashed History of the World, Part I, he has teamed up with today's biggest names in comedy to give us what we all wanted: a sequel.
The new Hulu Original Series History of the World Part, II, an eight-episode, landmark four-night event, is jam-packed with sketches that valiantly rewrite history. The show's stars include Ike Barinholtz, Nick Kroll, and Wanda Sykes with appearances from guest stars including Seth Rogen, Sarah Silverman, Josh Gad, and Kumail Nanjiani.
The Russian Revolution is one of the show's ongoing sketches, led by Nick Kroll (Big Mouth, Kroll Show, Parks and Recreation) as Schmuck Mudman, a delivery man shilling from his shtetl outside Moscow in 1917, amidst the mishegoss of the Russian proletariat assassinating the Tsar's family and establishing a makeshift government.
His day job peddling mud pies courtesy of "Putzmates" is just enough to keep mud on his table for his shockingly hot son (Charles Melton of Riverdale) and political firebrand wife (Pamela Adlon of Better Things and King of the Hill), but the Golde to Schmuck's Tevye wanted more.
When Schmuck offhandedly reveals that the fat cats of the current bureaucracy are some of his best customers (i.e. Stalin, Lenin, and Trotsky), his lady love has a stroke of brilliance. She will use her husband's culinary connections to annihilate this Russian Tammany Hall and put the real working class in power.
There's just one tiny problem that the Bolshevik revolutionary and the putz never saw coming: their hunky son falling in love with a Russian refugee—the dethroned princess Anastasia Romanov.
Tune in to watch it all unfold.
Watch the Hulu Original Series History of the World, Part II, a landmark four-night event, now streaming only on Hulu.
This post is a sponsored collaboration between Hulu and G/O Media Studios.