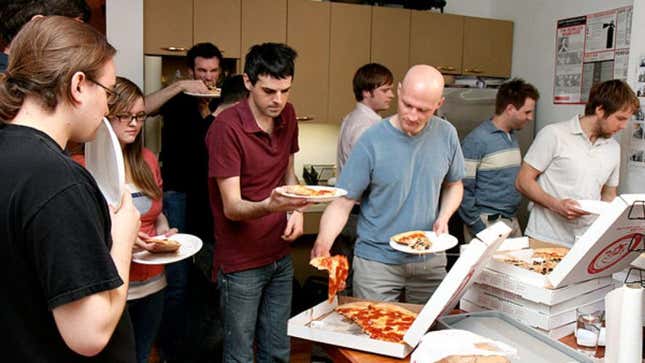 NEW YORK—A massive employee backlash over low wages and increased workload was narrowly averted this week when company management arranged to have eight large pizzas delivered to the design firm Cobalt Media, instantly quelling months of mounting resentment and dissatisfaction.
This Week's Most Viral News: September 29, 2023
The pizzas—topped with pepperoni, mushroom, and extra cheese—effectively cooled down the angry mob, which had reportedly reached its boiling point. According to Cobalt sources, the free Italian pies arrived approximately 20 minutes after a company-wide e-mail detailing upcoming cutbacks was sent out late Friday morning.
"Everyone's been fed up and ready to explode at management for weeks," production designer Carolyn Wurster said. "But then all those pizzas showed up, and it just didn't seem like the right time to start demanding a legitimate healthcare plan or salary raises that reflect the amount of work we do."
Added Wurster, "They ordered like 10 huge pies."
Purchased from nearby restaurant chain Antonio's, the complimentary pizzas had an acute calming effect on the tense office environment within minutes. Heated discussions about managerial incompetence were quickly replaced with friendly banter about favorite junk foods, while angry rumblings over a series of unexplained layoffs were supplanted by conversations about upcoming weekend plans.
A number of Cobalt employees still committed to protesting with a possible work stoppage were silenced upon seeing that, in addition to the tasty pizzas, a two-liter bottle of Pepsi had also been supplied.
"Almost every day I think about quitting and never coming back," said Michael Schappel, whose duties often require him to work on weekends for no additional pay. "However, seeing those pizzas, it made me wonder if I hadn't been too hard on management."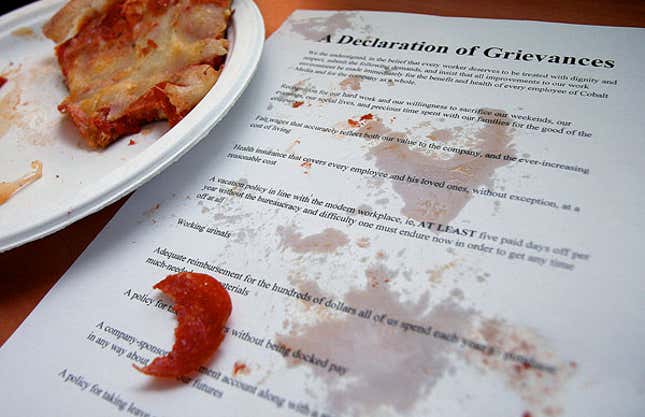 "At least the garlic knots showed they were thinking about us," Schappel continued.
Besides suppressing the overwhelming office acrimony, the pizzas appeared to subdue frustrated employees on a physical level, leaving many full and slightly fatigued. Art director Craig Warren, who was seen just two hours earlier pacing back and forth in anger, skulked quietly back to his desk after consuming four slices of sausage and ham; and receptionist Margaret Doyle reportedly forgot all about a meeting she had scheduled with Cobalt supervisors to discuss her dismay over being denied maternity leave.
"We were going to hand in a petition giving management an ultimatum, but it's not like the whole thing can't wait until next week," project coordinator Phillip Beinart said. "I don't have much time to finish the drawings for our newest account—especially after taking that extra-long lunch break."
Cobalt upper management has successfully tempered employee hostility in the past. In 2006, growing resentment over the lack of a 401(k) plan was successfully allayed by a surprise order of gourmet cupcakes. And in 2007, a $25 gift certificate to an online novelty store effectively convinced employees that converting storage closets into offices and sharing them with three coworkers was not as bad as they had initially thought.
While no measurable improvements have been observed since the free lunch, Cobalt employees said they believe the pizzas—particularly the more expensive Hawaiian-style pies—signaled an important turnaround in management philosophy, and could eventually lead to more substantial changes.
"Today, they give us free pizza, but a month from now it might be those new computers they've been promising, or even those vacation days they took away a couple of years ago," veteran designer Chuck Meyer said. "Or maybe it's more free pizza, which would be pretty good, too."
Cobalt president Robert Weinblatt, who is based at the company's headquarters in Chicago, said ordering the pizzas was the right thing to do.
"After hearing that our staff was so unhappy, I wanted to make it clear to everyone how much our workers mean to us," Weinblatt said. "Also, Antonio's Pizzeria is one of our clients, so it didn't cost the company a dime."