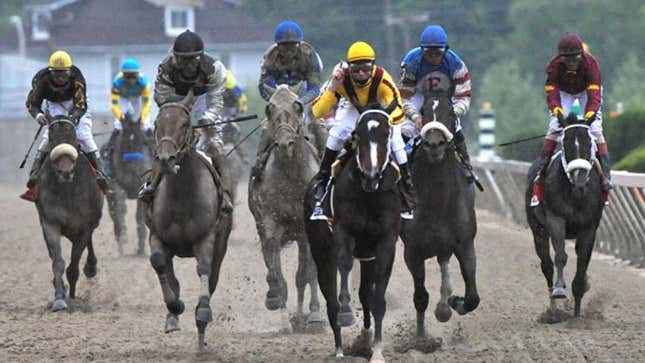 BALTIMORE—By becoming the first filly to win the Preakness Stakes in 85 years, thoroughbred Rachel Alexandra inspired millions of women Saturday to believe that they too could one day win the legendary horse race.
This Week's Most Viral News: September 22, 2023
"The Preakness Stakes has been dominated by male horses for decades," said Melissa Snow, an advocate for gender equality in sports. "Rachel Alexandra's incredible triumph represents a change in the status quo—a change that will inspire women for generations to come."
"Finally, women have an athletic role model whose esteemed hoofprints they can follow to greatness," Snow added. "It won't be long before a woman trots out to the winner's circle to have the coveted garland of black-eyed Susans placed around her neck."
According to the filly's spokesperson, Diane Pearce, the thoroughbred's incredible feat of finishing the race with a 1:55.08 time after starting from the unfavorable 13th post will serve as a great motivation to women, because it shows that anything is possible as long as they train hard, gallop with all their heart, and eat all their hay.
"Rachel Alexandra has shattered the perception of the role of female athletes in horse racing," Pearce said. "When she crossed the line, no one cared about her looks or how much she weighed—they only cared that she won. Do you know what that means for a female in today's society? This victory was for any woman who has been dreaming since she was a little girl of rounding that final turn, racing neck and neck with a colt, and then sticking out her muzzle to win in a photo finish."
Karen Lucero, 22, told reporters that narrow-minded preconceptions about women's roles have kept her from ever entering the Preakness, with trainers, friends, and family telling her for years that it would be impossible for her to compete on a 1-and-3/16-mile dirt track against a 1,500-pound quadruped. However, after Rachel Alexandra's victory in the second leg of the Triple Crown, Lucero has chosen to ignore her detractors' claims that, as a woman, she lacks the necessary strength, speed, and number of legs.
"If I listened to everything people said, I'd never accomplish anything," Lucero said. "The important thing is that you give it your best no matter what, even if sometimes you finish five minutes after the horses or get trampled coming out of the gate."
"You can never give up," she continued. "If you pick yourself off the ground and keep on going, you just might give a little extra encouragement to a young girl or foal watching the Preakness on television."
While Rachel Alexandra's milestone achievement has eliminated numerous barriers and elevated the status of females in the sport, women claim that numerous obstacles remain, as racing insiders often treat women as if they do not belong on the horseracing track. An overwhelming majority of the women competing in the Preakness said that none of the male horses ever spoke to them except in terse, almost animalistic snorting noises.
However, not all women are impressed with Rachel Alexandra's win. Members of the Radical Feminist Foundation have attempted to discredit Rachel Alexandra's victory by noting that a man controlled the filly during the entirety of the race. The Berkeley-based group also asserted that her deliberate willingness to be subjugated by jockey Calvin Borel, who rode on top of her back and forced the thoroughbred to travel in the direction and at the speed he determined, had not done anything to further the women's movement. RFF president Robin Kaplan said that, by allowing Borel to not only control but possibly even beat her, Rachel Alexandra had tacitly endorsed the oppression of females.
"This is a despicable effort to advocate the patriarchal power structure," RFF vice president Robin Kaplan said. "That stupid horse has set feminism back 50 years."