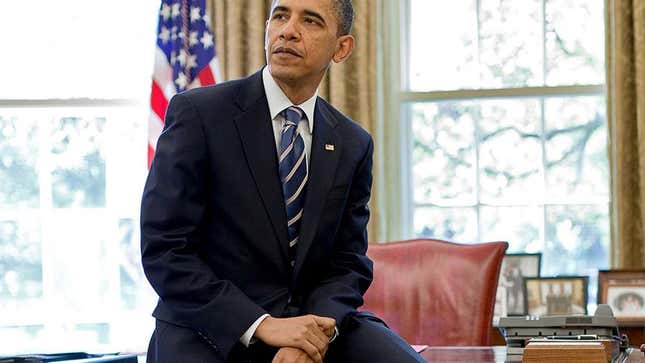 WASHINGTON—President of the United States, basketball fan, and former Chicago resident Barack Obama once again weighed in on the future of LeBron James Wednesday, saying how much he would enjoy seeing the superstar play for the Bulls, and also that he, President Obama, was in fact the leader of the free world.
"As I've mentioned before, I think LeBron would look great in a Bulls uniform," the president told reporters during a special morning press briefing in the Oval Office. "It's a great basketball city, and I think he'd fit right in. Just like I fit in here in my office—which, if you hadn't noticed when you entered, is the Oval Office, the center of power of the United States and, by extension, the Western world."
"Sorry, I think I may have gotten sidetracked there and said something irrelevant," added the president, walking casually over the presidential seal on the White House rug. "Or possibly not. In any case, I think LeBron would be perfect for the Bulls and their excellent core of young players. It's a team game, and in any team game it's important to have good teammates, as I'm fond of telling my own teammates, like the joint chiefs, the secretary of state, and, you know, the nation of Britain."
James, who becomes a free agent July 1, is being courted by many NBA franchises and is said to be considering New York and Miami as possible destinations. However, President Obama said that as a basketball fan, and as the man with ultimate authority over the CIA, FBI, and the most powerful military in the history of the world, he personally would counsel James to strongly consider Chicago.
"Let's just say I think it would be in his best interest," Obama said. "And I say that purely as somebody who remembers how great it was when Michael Jordan played for the Bulls. Not at all as one of the handful of individuals on the planet who can order a deadly predator drone attack with a single telephone call. Those drones are very precise, I've found. I told LeBron as much during a conversation last week."
As the free agency period nears, the president has repeatedly mentioned the possibility of James playing in Chicago, most notably to TNT's Marv Albert, but also to Russian prime minister Vladimir Putin and during a personal helicopter visit to the residence of NBA commissioner David Stern.
Many fans claim the president is displaying an unfair bias toward Chicago, allegations Obama responded to while idly flipping through a leather folder embossed with the words "NUCLEAR LAUNCH CODES."
"Let's be clear: I think what LeBron James has done for the city of Cleveland and the state of Ohio is remarkable," Obama said. "However, it's also been pointed out to me that my approval ratings in Ohio have dipped. And though losing LeBron would be heartbreaking for Ohioans, I wonder if it would be as heartbreaking as, say, losing $645 million in federal education funding, or even $2.2 billion for a statewide infrastructure improvement program."
"But where was I?" said Obama, looking up and smiling. "Wasn't I just talking about basketball? You see what happens when you become president of the United States? You try to have a lighthearted conversation about sports and suddenly you're discussing the very survival of entire American cities."
Though Obama has made it clear in recent conversations about James that the chief executive of the United States has the power to sign or veto legislation, nominate executive and judicial officers, grant pardons and reprieves, and, under the Patriot Act, imprison anyone with enough salary-cap room to court the MVP, many in the sporting community have noted that the president has no constitutional authority to determine the career path of a professional basketball player.
President Obama said that he agreed, at least in principle.
"Listen, my opinion as the man who holds the highest office in the land is just that—an opinion," the president said. "Any fan would want his favorite team to sign the best player out there. It just so happens that as the most powerful basketball fan on the planet, I can apply a certain amount of pressure others can't."
"Which makes sense," Obama added, "because, well, I'm the president of the United States of America."