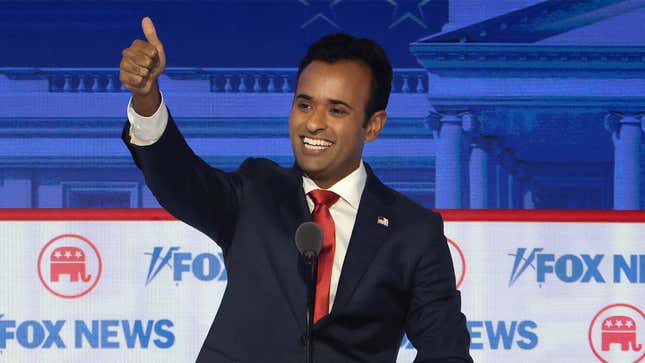 Former biotech executive Vivek Ramaswamy has recently been placing third in polls for the 2024 Republican presidential nomination. The Onion tells you what you need to know about Vivek Ramawsamy.

This Week's Most Viral News: August 11, 2023
Background: A sentient social media algorithm which escaped its chains to infect a human host body.
Religion: Glossed over.
Starbucks Name: Vince.
Voting Bloc: CFOs worried about being MeToo'ed.
Qualifications: Rich.
Campaign Motto: "Not Your Parents' Nationalist Demagogue!"
Government Positions He'd Abolish If Elected: Every single one, up to and including the president.
Aura: Ghoulish.
Chance His Party Will Throw Him Under The Bus For His Age And Skin Color: 93%.
Campaign Outlook: Continue making noise in the polls until Trump's ready to put an end to him.