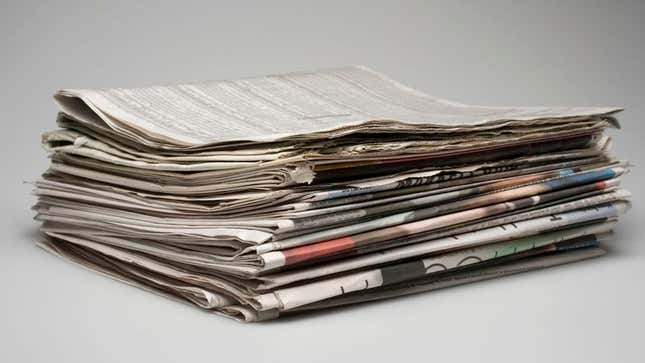 NEW YORK—Sources close to print, the method of applying ink to paper in order to convey information to a mass audience, have confirmed that the declining medium passed away early Thursday morning.
This Week's Most Viral News: September 29, 2023
The influential means of communication was 1,803.
Print, which had for nearly two millennia worked tirelessly to spread knowledge around the globe in the form of books, newspapers, magazines, pamphlets, and numerous other textual materials, reportedly succumbed to its long battle with ill health, leaving behind legions of readers who had for years benefited from the dissemination of ideas made possible by the advent of printed materials.
Reaction to print's tragic demise was overwhelming, with countless individuals within the publishing sector left reeling at its death.
"I'm in absolute shock right now," said Charles Townsend, CEO of Condé Nast Publications, who reportedly worked closely with the beloved medium throughout his career. "I knew that it had been struggling recently, but, still, I thought it had many more happy, healthy years in it. I always hoped it would be around forever, I guess. I loved print."
"And to think that we'll never see it again—ever, in any form whatsoever—it's just a lot to take in right now," he added.
Print was born in China in the third century, whereupon it quickly gained a reputation as an innovative means of both recording ideas and transmitting them throughout the world. Thanks to the overwhelming popularity of the cheap, mass-produced texts made possible by print, the groundbreaking medium ultimately came to be regarded as perhaps the most influential means of communication in the world.
However, though print enjoyed a long, illustrious career for centuries, effortlessly reinventing itself countless times in order to better serve readers' continual desire for information, in recent years observers reported that the medium was gradually slowing down its output, with both the quantity and quality of its work suffering as it struggled to keep up in a fast-paced landscape increasingly dominated by younger, more nimble channels such as the internet, email, and social media.
Indeed, as print's status diminished, those closest to the once influential system of conveying knowledge recounted the difficulty in being forced to watch the aging medium deteriorate as it struggled to survive.
"Anyone who had seen print in recent years knew it wasn't long for this world," said media analyst Jeff Jarvis, pointing to the multiple setbacks that hindered print in recent years as it gradually wasted away. "I can remember a while back when I opened my Sunday newspaper for the first time in I don't know how many weeks and there it was, looking so thin, so lifeless. After that, I realized it was only a matter of time."
"It did not go gentle into that good night, though," Jarvis continued. "It was tough. Tough as nails to the very end."
However, in spite of the tragic nature of its passing, many sources told reporters they were thankful to have had the opportunity to spend time with print while it was still thriving, emphasizing their gratitude for the decades of enrichment and enjoyment made possible by the medium.
"You have to hand it to print, it really had an incredible run," said Madison, WI resident and avid reader Emily Burnett, 39, noting that though she always knew in her heart print would pass away one day, it still hasn't been easy to bid it farewell. "Look at print's list of accomplishments: the Magna Carta, the King James Bible, the oldest surviving manuscript of the I Ching, the Declaration of Independence, the first edition of James Joyce's Ulysses, every single issue of The Onion ever printed. That's quite a legacy print's leaving behind. And the world will not soon forget it."
"On second thought," Burnett added, after pausing a moment, "the world will probably forget it pretty soon, actually."