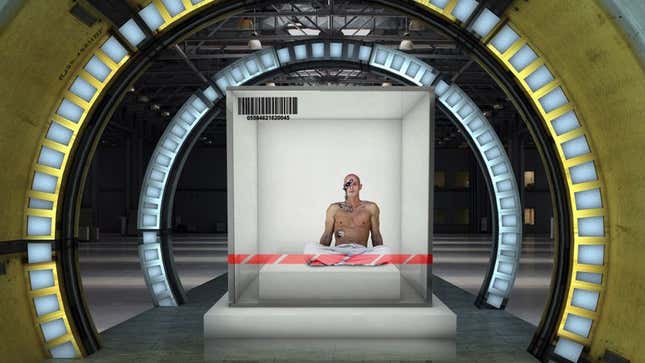 WASHINGTON—Decrying the conditions of their incarceration as excessively harsh and inhumane, a leading prisoner advocacy group on Monday officially condemned the treatment of supervillains currently held in the nation's impenetrable magnetic detainment cubes.
Jimmy Carter Becomes World's Heaviest Man At 850 Pounds
In a strongly worded statement to the press, members of the Justice Project expressed outrage at the U.S. prison system—which typically keeps supercriminals physically restrained with stasis waves during their interminable stays in magnetically sealed hexahedrons—and claimed that the punishment inflicted upon these nefarious individuals constitutes a gross violation of both international law and universal humanitarian principles.
"What these supervillains endure while being held inside detention cubes within the cavernous underground silos of this country's top-secret military compounds is absolutely deplorable," said Justice Project director Mary Sorenson, noting that the nation's detained nemeses often have their hands painfully bound by manacles of pure tungsten and spend 24 hours a day on full lockdown behind invisible force fields. "These individuals are kept in perpetual solitary confinement, with neither sound nor daylight allowed to permeate the walls of their hermetic isolation chambers as they angrily vow vengeance on their captors."
"We cannot stand by and allow this to continue," she added. "Whatever their crimes against mankind, these diabolical villains don't deserve to be abused and degraded while fully immobilized by plasma beams and encircled by rings of swirling photon energy."
Sorenson said her team has observed numerous cases of supercriminals being subjected to prison conditions that threaten both their physical well-being and their precarious, already-deranged mental states. Specifically, the reform advocate lamented the cerebral strain inflicted by neural control chips that allow offenders to be incapacitated at a moment's notice, as well as the emotional trauma caused by being detained indefinitely and completely alone in a transdimensional vortex.
The group also denounced corrections facilities in which evildoers are routinely pinioned within the heart of a raging volcano or forced to fight for survival after being jettisoned onto the surface of a distant prison planet.
Furthermore, the Justice Project has long critiqued the "cruel and highly unusual" practice of maintaining a high-frequency sonic disruptor field over supervillain cell blocks to disable the malefactors' telepathic powers, calling this method an affront to basic superhuman rights.
"You simply cannot place a cold-blooded mad genius inside a matter-bending gyroscope that spins him into an alternate reality and expect him to undergo any kind of substantive rehabilitation during his 2,000-year exile in the Phantom Zone," said Sorenson, noting that reducing convicts to the size of a thimble using a shrinking ray and placing them within the walls of a miniature holding colony constitutes a flagrant breach of the Geneva Conventions. "If we treat someone like that, just imagine what astoundingly evil crimes he's going to commit when, inevitably, he gets out."
"Besides, if we as a society approve of such torture, then truly we are no better than the sinister individuals constantly scheming to kidnap the leaders of the United Nations or set fire to the Isle of Manhattan with their minds," she added.
Reached for comment, top corrections officials defended their methods, admitting that measures such as injecting supervillains with a powerful serum that overrides their malicious instincts or trapping them deep within the molten core of the earth may be severe, but are nevertheless vital to the nation's security.
"These are violent, unpredictable lunatics with superhuman strength and cunning we're dealing with here," said George England, chief warden at the Claustrum Detention Facility in the Mojave Desert, who supports his prison's controversial policy of transporting inmates forward in time to a point at which the planet is a barren wasteland lacking food and water. "Sure, some people want us to coddle these villains by allowing them to pace back and forth behind 2-foot-thick Plexiglas, but you do that, and the next thing you know they've used their psionic energy to pull the guns out of the guards' holsters and escape through a smoldering hole in the ceiling. Then it's the Judgment Hour all over again. Well, I'm not about to allow that on my watch."
"It may not be a perfect system," he added, "but if deep-freezing these maniacs with a cryo-blast and sending them spinning into the farthest reaches of space is what we need to do to protect our multiverse, then so be it."