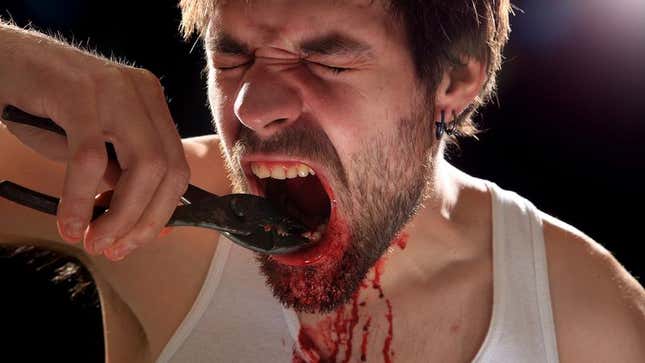 WESTFORD, MA—Seeking to gain control over his unhealthy compulsion to bite his fingernails, decisive and forward-thinking local man Jeremy McCarthy informed reporters Wednesday that he had proactively confronted the problem by removing each one of his teeth with a pair of pliers. "Nail-biting is a very unpleasant habit and one I've been dealing with for years, so I finally just sat down and determined that if I honestly wanted to better myself, I needed to face up to the situation, grab the heavy-duty slip-joint pliers from my toolbox, and start yanking," the 33-year-old sales consultant said confidently through his bloodied and newly toothless mouth. "Taking charge of a problem is always the hardest part. Once that was done, it was easy enough to just open wide and wrench those teeth out one by one, from my molars on forward. It only took a couple minutes, and I genuinely couldn't be happier with the results." The resolute man added that he also planned to cut off each of his fingertips with a handsaw "just to be sure" he would not succumb to any lingering nail-biting temptations.
This Week's Most Viral News: September 22, 2023
---
Check out Comedy Central's new series, 'Review Thursdays' at 10/9c where EVERYTHING is up for review.
Brought to you by Comedy Central Review