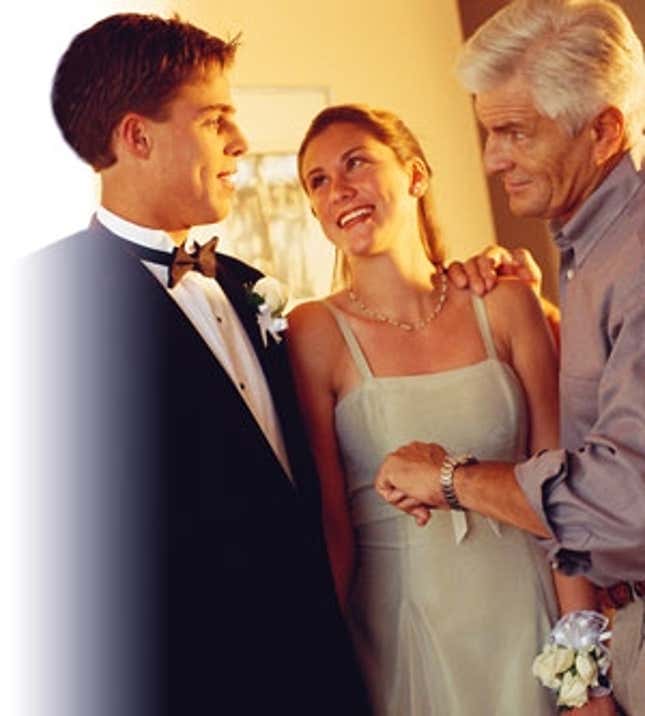 Prom season is just around the corner. Here are some tips to help make your prom night unforgettable:
The prom is a magical experience, a chance to do such grown-up things as get all dressed up, drink nine Smirnoff Ices, vomit in a limo, and pass out in Mom's azalea bushes.
The theme is one of the most important elements of a prom. Choose carefully between "Tropical Paradise" and "Stepping Out In Style."
Do not attempt to finger-bang your date until a slow song comes on.
Prom night is one of the most memorable nights of your life, so don't ruin it by neglecting to wax. No guy wants to go down on a gorilla salad.
Don't forget the corsage! Fresh flowers are necessary to mask the smell of sweat and foot odor in your school's dank, poorly ventilated gym.
Try to plan ahead, so you are not more than two or three months pregnant for your prom.
Next to a bridesmaid dress, a prom dress is the most important dress you will ever wear.
Achieve local celebrity and serve as a valuable cautionary tale by drinking too much at the post-prom party, plowing your Trans Am head-on into another car, and killing yourself, your date, and four kids from St. Vitus.
Impress your date with corsages for both wrists, plus a third to strap to her forehead.
If you were not asked to prom, you can still have fun by putting on a dress, buying a taco-salad party platter from the local Pic-N-Save, and dancing in your bedroom as a portable radio plays the latest Top 40 hits.
Don't feel pressure to have sex just because it's prom night. Stopping at a tongue up the ass is perfectly acceptable.
This will be the biggest night of your life if you happen to die in the next few weeks.
This Week's Most Viral News: September 29, 2023