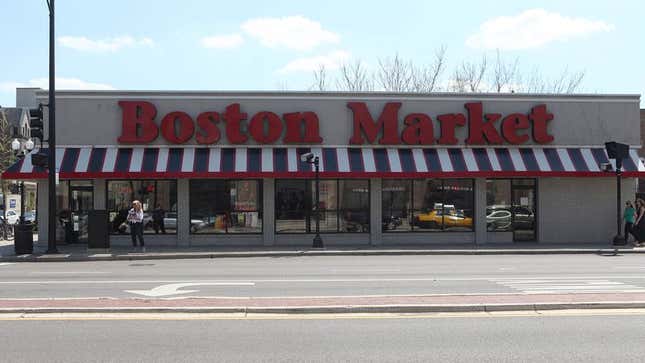 GOLDEN, CO—Visibly beaming with pride, Boston Market CEO George Michel told reporters Thursday that the food at his restaurant chain "has rarely, if ever, been more disgusting."
This Week's Most Viral News: September 29, 2023
"From macaroni covered in congealed, room-temperature cheese to rotisserie chicken so fatty and greasy that it makes you gag just by looking at it, our food right now is extremely, extremely gross. And nauseating!" said a broadly smiling Michel, adding that he couldn't be more pleased with how revolting the current menu is. "We didn't think we could get there, but I can honestly say that Boston Market's already bland, unwholesome pseudo-cuisine that has made customers feel sick for years is, if anything, more stomach-churning than ever."
"Just look at this watery, greenish-grayish limp spinach," Michael said, picking up a forkful of the slimy food product, putting it in his mouth, wincing immediately, and becoming noticeably ill. "Repulsive! Now, if you'll excuse me for a second."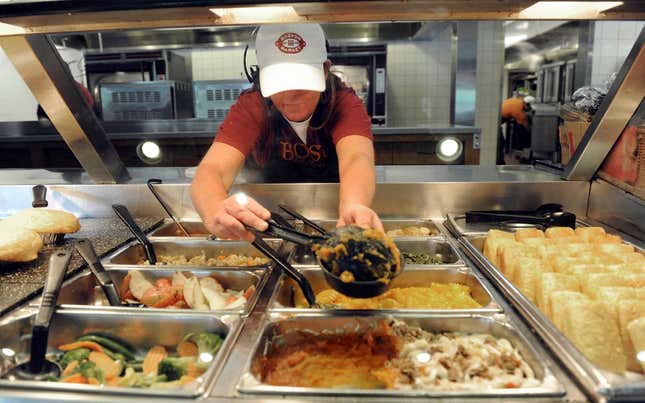 According to Michel, it took determination and patience to arrive at a point where the food at the restaurant was "as close to inedible as it gets." Employing Boston Market's "three Gs" philosophy—Gross Food, Gross Ingredients, Gross Everything—Michel said the franchise was able to provide its customers with cornbread so hard it can be used as a doorstop, gravy that has a thick film of fat in every scoop, and cranberry walnut relish that tastes as vomit-inducing as it sounds.
Michel proudly confirmed that whether it's a small suburban franchise in Daly City, CA or a large urban location in New York City, he could now walk into any Boston Market, take one whiff of the meatloaf, and immediately begin dry heaving.
As an added bonus, Michel noted, the coffee also tastes like complete and utter dog shit.
"Now, don't get me wrong, our food has always been gross, but we asked ourselves, 'Could we lower the bar even further?'" he said. "Five years ago, people could cut into a piece of our famous chicken and maybe guess whether it was white or dark meat. Now, it just looks like one clump of some sort of compacted food product. In the past, the mashed potatoes tasted like instant, but could we get them to taste like the kind served to prisoners in the federal penitentiary system? The answer is yes. And could the fluid our sweet corn sits in for hours on end become greyer and murkier? I'm happy to say it could."
"The zucchini and squash still taste slightly different from one another, but don't worry, we are working on that," Michel added. "And on the plus side, I can't even think of our chicken pot pie without also imagining human shit being drenched in gravy."
Though he is happier than ever with how utterly sickening every food item has become, Michel emphasized there is no reason to get complacent, and repeatedly stressed that the food at Boston Market could always be grosser. That's why Boston Market recently added bone-in St. Louis–style ribs to the menu. The ribs offer the franchise, sources say, a chance to make the overall food quality "off-the charts repellent," and according to Michel, that was an opportunity he couldn't pass up.
"First you have the barbeque sauce, which we could make revolting in our signature Boston Market fashion by letting it become hardened piles of goo," Michel said. "And then there is the meat itself. We always said if we're going to serve ribs, they'd better turn our customers' faces either green or pale white. That's why every bite is a mixture of fat, gristle, and God knows what."
According to Michel, he likes to carve out time in his schedule every day to think of different menu items and then contemplate how foul Boston Market could possibly make them.
"Imagine if we served lamb chops," Michel said. "Maybe add some of our sweet Thai chili sauce to them? Hell, we'd have lines to our bathrooms stretching around the block."