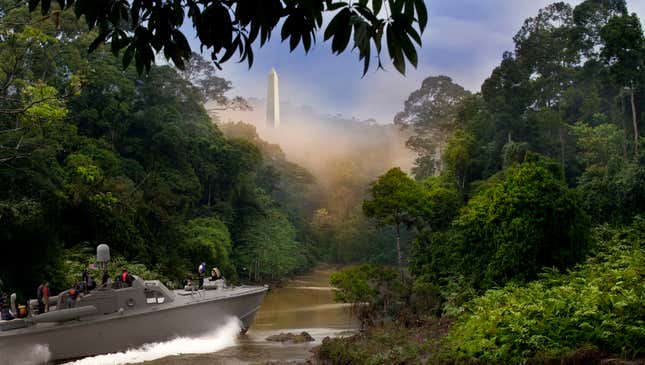 WASHINGTON—Staring out at the thick, foreboding jungle, a covert military intelligence unit sailed their patrol boat up an overgrown, booby-trapped stretch of the Potomac River in search of a deranged Gen. John F. Kelly, sources confirmed Wednesday.
CDC Issues Dire Warning That Nick Cannon Is Feeling Horny
According to the boat's crew, the small detachment of soldiers had been dispatched on classified orders from high within the U.S. military's chain of command to locate the retired general and current White House chief of staff, who was rumored to have gone insane after traveling upriver to join the Trump administration months ago.

"No one ever sails this deep into Washington, but that's where Kelly's gone, and that's where we're headed to track him down," said the attack craft's commanding officer Capt. Joseph Collins as the vessel passed silently through a narrow stretch of the river where the Lincoln Memorial towered above the canopy and the banks were lined with hidden rows of sharpened punji stakes. "When they gave us this mission, they filled us all in on Kelly's background. He's a four-star general, the military's scion son, sent to bring order and stability to the White House. But I guess something inside him must have just snapped."

"God knows what happens to a man when he's been in this environment so long," Collins added, as the crew nervously scanned the mist-shrouded shoreline for signs of an ambush.

Several reports indicated that the Navy patrol boat reached the American 14th Street Bridge outpost at approximately midnight and encountered a visibly dazed serviceman who made the weary crew's "blood run cold" while recalling the traumatic events witnessed in the nation's capital, describing Washington, D.C. as the "world's asshole." In addition, the commanding officer briefly considered turning back after spotting the mutilated body of Reince Priebus floating down the Potomac, but ultimately decided to continue the mission.

Anonymous intelligence sources reported that Kelly's tenure as chief of staff had begun with optimism that the general's tactics could change the course of the struggling Trump administration. However, military leaders soon became concerned after Kelly's daily status reports grew increasingly gruesome and incoherent, often including rambling philosophical passages on the fundamental chaos of human nature as well as graphic photographs of the summary executions of suspected rogue staffers.

Military officials reportedly made the decision to track Kelly down after a September incident in which the former Department of Homeland Security secretary had reportedly begun a briefing by tossing the severed heads of multiple Washington Post reporters into the White House press pool.

"You try not to think about some of the things you've heard about him, like how he supposedly wears a necklace made from the tongues of White House leakers," said the boat's seaman David "Stretch" Trudeau, adding that the crew had heard reports that a previous ship sent on their mission had disappeared, with rumors that the soldiers aboard had all joined forces with Kelly. "It's hard to imagine what could make one of the most respected strategic minds of his generation throw away a five-decade military career like this, but then again, who knows what it's like to be that deep inside this administration."

"They should never have left him out here like this," Trudeau continued.

At press time, the crew had reportedly emerged from thick underbrush onto the White House South Lawn to find Kelly standing amidst a circle of his followers ritualistically slaughtering a trussed, naked Senator Bob Corker (R-TN).