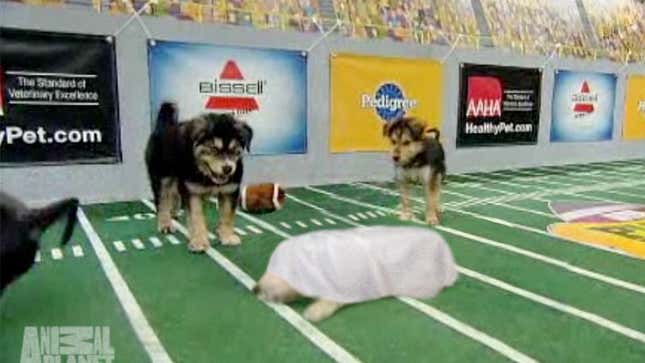 SILVER SPRING, MD—Puppy Bowl VII, puppy football's biggest annual event, came to a complete standstill Sunday when Alvin, a 3-month-old schnauzer mix, suffered a freak spinal injury while chasing down a loose squeaky football.
This Week's Most Viral News: September 29, 2023
The injury, which occurred only minutes before the Kitty Halftime Show, followed a routine midfield burst of play. Slow-motion footage from the sideline and water-dish cameras show Alvin romping flat out down the sidelines before taking a risky crossing route to come at the football from an angle, at which point two larger puppies, Amy, a golden retriever, and Big Red, a 13-week-old shepherd mix, laid a massive hit on Alvin, who responded with a shrill yelp that was suddenly and ominously cut off.
"I heard something snap and I knew immediately something was wrong," said play-by-play announcer Jeff Bordner, who watched as a team of veterinarians attended to Alvin, who lay motionless on Animal Planet Stadium's turf. "We applauded when he was carried off the field, but it didn't look good. The replay shows his neck twisting at almost a right angle."
Sources at Silver Spring Animal Hospital, where Alvin was rushed after the injury, said that the pup has no feeling in his paws, and that even if he lives he will more than likely never frolic on his own again.
"In order to reduce swelling, we lowered Alvin's body temperature by pumping an ice-cold saline solution into his little veins," said head veterinarian Dr. Richard Cooper, adding that an emergency tracheotomy was performed when Alvin was admitted and that the puppy is currently breathing with the aid of life-support machines. "But with the severity of his injury, he's going to have a long road ahead of him. There's a chance he could live, but it would be a difficult life. He would never be a normal dog."
Cooper added that thus far, Alvin remains unresponsive to his favorite chew toy.
Though the Puppy Bowl eventually continued with its typical array of puppy touchdowns, bone-gnawing, and the presentation of the Most Valuable Puppy award, there was no denying that the energy was sucked out of the stadium immediately after the hit that nearly severed Alvin's spinal cord. During the second half, the puppies appeared to be just going through the motions, with few even responding to the camera-mounted remote-control car on the field. Some simply lay down on the field for long stretches at a time.
"They knew something was wrong when Alvin didn't come back. He's known among the other pups as extremely playful, as a puppy who would never miss the opportunity to play on puppy football's grandest stage," said Puppy Bowl referee Andrew Schechter, adding that he didn't call unnecessary ruff-ruff-ruffness on the play because the hit was clean. "Look, when a puppy goes across the middle unprotected like that, there is always a chance something terrible can happen."
"This is the Puppy Bowl," Schechter added. "Everyone, even your pug mixes, are going at a higher gear. Boy that was a tough injury, though. To be honest with you, when that puppy's neck snapped, it sounded like a bundle of wet celery being twisted, and his head was just hanging there, limp, like it wasn't even connected to his body. I was pretty close to the action, too, so I saw firsthand the look in Alvin's eyes. He was so confused. So scared. Then of course he went into shock and passed out."
Ironically, the incident comes at the end of a season during which Animal Planet officials had placed increased emphasis on the safety and well-being of Puppy Bowl participants. All puppies involved in the game had been fully vaccinated and wormed and were sponsored by certified shelters. Moreover, all were expected to go to good homes after the game.
Animal Planet extended their heartfelt condolences to Alvin's intended eventual owner, a 5-year-old girl named Lauren.
"Believe me, we've tried to get them into little helmets," said Marjorie Kaplan, president of Animal Planet Media. "But they don't like them. They seem to think they don't need them, and they wiggle and squirm until you just give up. Even if you do get a helmet on them, they just get it over their eyes and walk backwards until it gets all cockeyed on their little faces, and then they look up at you like, 'Please can I take it off now? Please?' and oh, jeez, it's just too cute."
"It doesn't seem so cute now," Kaplan added. "After seeing that poor puppy broken and dying on the Puppy Bowl turf, I don't know if anything will ever be cute again."
In related news, the Green Bay Packers edged out the Pittsburgh Steelers 31-25 in Super Bowl XLV.