NEW YORK—The stars of the popular Bravo reality show Queer Eye For The Straight Guy spoke out Monday against the recent rash of vigilante homosexual makeover groups, whose members, while often well-meaning, have left hundreds of Americans inappropriately and even tragically made-over.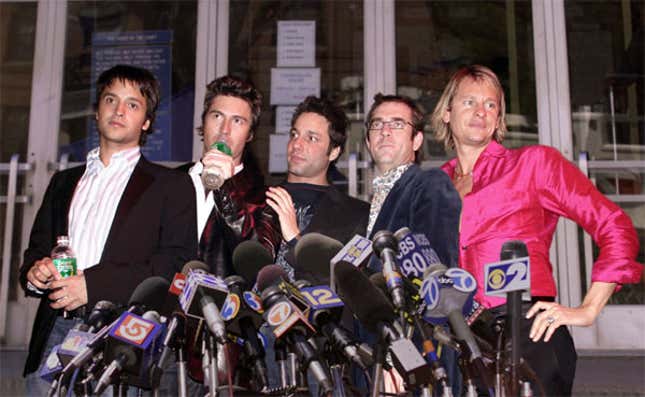 This Week's Most Viral News: September 22, 2023
"These vigilante activities represent the darker side of Queer Eye's success," grooming expert Kyan Douglas said. "We at Queer Eye and Bravo strongly condemn this behavior, and we want to remind homosexuals who are considering performing unwelcome makeovers that we are professionals with years of training and expertise."
Reports indicate that roving bands of homosexuals have forcibly de-cluttered the homes of thousands of clumsy fashion hostages since the summer of 2003, when Queer Eye debuted. Though none of the unsolicited-gay-makeover incidents have resulted in fatalities, FBI Fashion Crimes agent Jason Broderick said the deep humiliation victims suffer makes many of them want to die.
The Fab Five, as the Queer Eye cast is known, said they chose to break their silence after the abduction and forceful makeover of 28-year-old Jeremy Hastings of Elko, NV. During Hastings' 72-hour ordeal, he was subjected to a sassy wardrobe critique and a merciless remodeling of his living room, kitchen, and bathroom. His hair was reportedly wrapped in foil for nearly an hour during a multi-part hair-dyeing incident.
Hastings, who managed to escape from his captors Saturday, was found "dazed and browsing" in the scented-candle aisle of a Reno-area Bed Bath & Beyond.
Elko Police Chief Mike Poehlman called Hastings' ordeal "one of the most graphic instances of lifestyle overhaul in Nevada history." According to Queer Eye culture vulture Jai Rodriguez, forceful makeovers are "a total distortion of the Fab Five's intent."
Another recent abduction involved Martin Eisner of Valdosta, GA, who was accosted in June by several men whom eyewitnesses described only as "shrill." Thirty-six hours after his disappearance, Eisner was found with his sleeves pushed slightly up and his shirt half-tucked. Reclining in a brand-new, knockoff Eames chair, Eisner was largely unresponsive, saying only, "Why does my wall have two colors now?"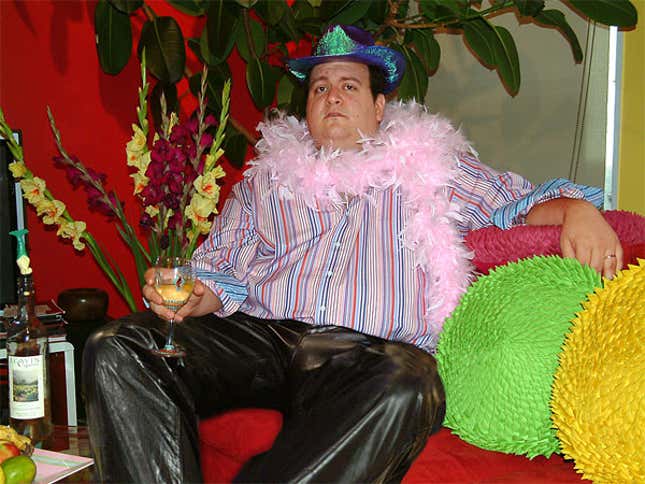 Members of the Fab Five explained that vigilante homosexual makeovers, unlike the legitimate, tastefully trendy televised versions from which they take their inspiration, "often use metrosexuality as a crutch."
"The average makeover vigilante has a well-intentioned desire to improve the appearance of straight America, but he just can't curb his love of everything that sparkles," Queer Eye fashion savant Carson Kressley said. "That's why you'll sometimes find bald, overweight makeover victims sporting ruffled shirts and bright orange spray-on tans."
According to the Fab Five, incidents of aggressive "over-moisturizing," though often unreported, have been widespread.
Kressley said that, while he and his co-stars "completely get" vigilante frustration with slovenly American men, gays should not take matters into their own hands.
"Makeover violence is never, ever the solution," Kressley said. "If you see a straight guy in torn sweatpants heating up a Hot Pocket in the microwave, use your queer eye for one thing only: to dial up a qualified homosexual lifestyle advisor on your cell phone. You want someone who can address severe style dysfunction with sensitivity and tolerance."
The Queer Eye team had several tips for distinguishing a genuine homosexual makeover gang from an unauthorized one.
"If you don't see a TV camera crew filming the gang during a makeover, then it is most definitely an imitation," Kressley said. "Real homosexual makeover experts downplay pastels, consider arugula and sun-dried tomatoes passé, and would never encourage an overweight cubicle worker from Bowling Green, OH to wear an ascot."