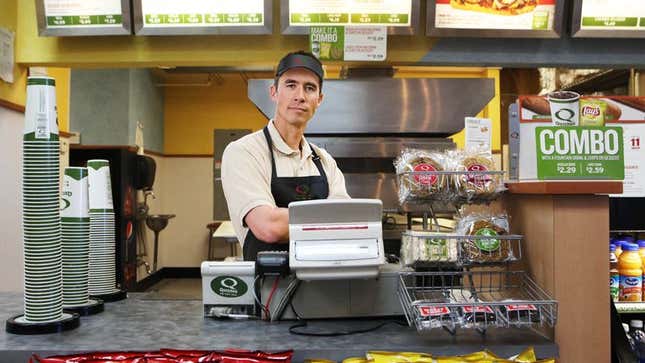 GAINESVILLE, FL—Effortlessly cutting into a piping hot Baja Chicken sandwich, Kevin Coleman may not stand out among the half-dozen black-aproned sandwich makers at the Quiznos on Southwest 34th Street. But his rise to the top of this deli-style fast food restaurant has taken a somewhat unconventional route.
This Week's Most Viral News: September 22, 2023
Chatting with reporters Wednesday, Coleman explained he first got his foot in the door 12 years ago when he took a job in the basement as a lowly Quiznos mail clerk, signing for boxes and processing shipments in the sandwich shop's massive 50,000-square-foot parcel receiving center. Though he now describes his work in the mail room—a buzzing facility lined with pneumatic tubes that speed thousands of important letters throughout Quiznos' Gainesville franchise—as a step in the right direction, it was nevertheless a long, long way from the bright lights of the conveyor toaster and the pepper bar.
By his own account, Coleman's success was the result of hard work, perseverance, luck, and the "raw desire to create toasted subs," something the 29-year-old Floridian has dreamed of as long as he can remember.
"As a kid growing up, the sandwich makers at Quiznos were my idols," said Coleman, adding that once he began delivering their mail, he handled thousands of fan letters addressed to the franchise's sub makers. "So when I started working here, I did everything I could to be near them and just learn, you know? I'd purposely push my mail cart slowly behind the counter during the lunch rush so I could hear them take sandwich orders and watch how much oil and vinegar they'd put on the Classic Italian."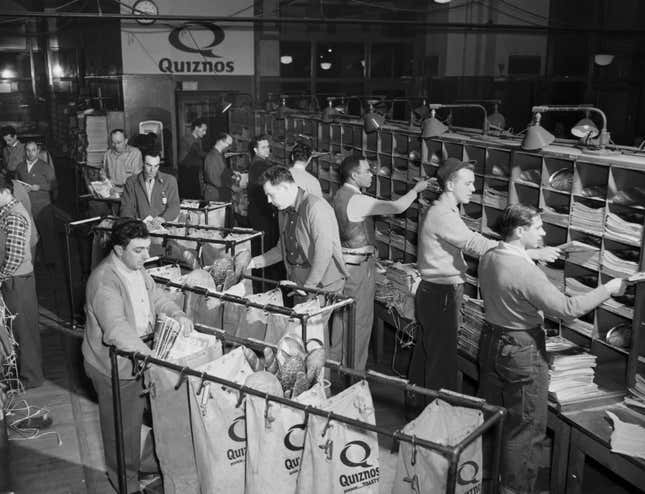 "Most of the mail-room guys thought I was a total kiss-ass, but I knew they all secretly wanted to be up front," Coleman continued. "Face it, everybody wants to wear the visor."
Eventually, at the encouragement of "Old Man Gus"—the head mail clerk and a former sandwich maker himself whose career was tragically cut short due to arthritis—Coleman applied for a position answering phones at the Quiznos switchboard. According to Coleman, his new job placed him at the nexus of every department in the 28-seat strip mall eatery, including the public relations office, the research department, human resources, accounts, and the video library.
It was there, while patching through hundreds of thousands of calls each day, that he would overhear numerous conversations about Quiznos sandwiches and pick up key insights into signature sauces, artisanal flatbreads, and sub sliders.
Around the same time, Coleman got to know the personal assistant of a junior sandwich maker, and his new acquaintance would sometimes let him practice making sandwiches at 4:30 in the morning, two hours before the store opened. With his increased presence in the kitchen, Coleman's drive did not go unnoticed.
Dana Kreider, a veteran Quiznos sandwich maker, described once seeing the young telephone operator slow-toast a Turkey Ranch and Double Swiss until its char lines formed perfect diagonal rows, an ability that few—if any—sandwich makers ever achieve without years of formal training.
"A lot of these guys who work in our mail room or the file warehouse waltz back here thinking they can toast sandwiches, but somehow this kid was different," Kreider said. "He had that spark, that intangible thing that all Quiznos sandwich makers have."
But while his sandwich-making skills were improving, Coleman felt stagnant in his day job.
"On the one hand, I had a pretty comfortable life, but on the other, I was watching my dream slip away," said Coleman, who in 2004 turned down a promotion that would have made him assistant vice president of takeout-menu printing, a position that came with a large pay bump but would have taken him off the sandwich-making track entirely. "All that time I was basically making sandwiches whenever I could, wondering when or if my big break would ever come."
"Then really late one night I was putting the final touches on a juicy Prime Rib and Peppercorn when [assistant manager Jorge] Chavez walked over, grabbed the thing out of my hand, and took a bite," Coleman continued. "He chewed for what seemed like an eternity. After a long pause, he looked me right in the eye and, without a uttering a word, handed me an apron. That was the moment my life changed. That's when I became a sandwich maker."
Despite his new role among the Quiznos elite—a job that comes with his own parking spot, private office, and access to the location's state-of-the-art gym—Coleman still finds time to stop by the mail room every now and then and chat. Unfortunately, Old Man Gus died just days before Coleman's first shift as a sandwich maker, a loss Coleman honors every time he fastens his Quiznos pin to his green and red collared shirt.
"Back when I first started here, I never in a million years thought I'd be working the same sandwich line as my heroes—greats like Dave Nestro, Keisha Greer, Phil Nguyen, and Perry Tramell," Coleman said. "But now for a lot mail-room guys, that's a real possibility."
"After what I've achieved, there's hope that someday instead of being stuck in a minimum wage, dead-end job, they could be toasting sandwiches for a living," he added.